Gibson & King Seal The Deal in Florida Crappie Masters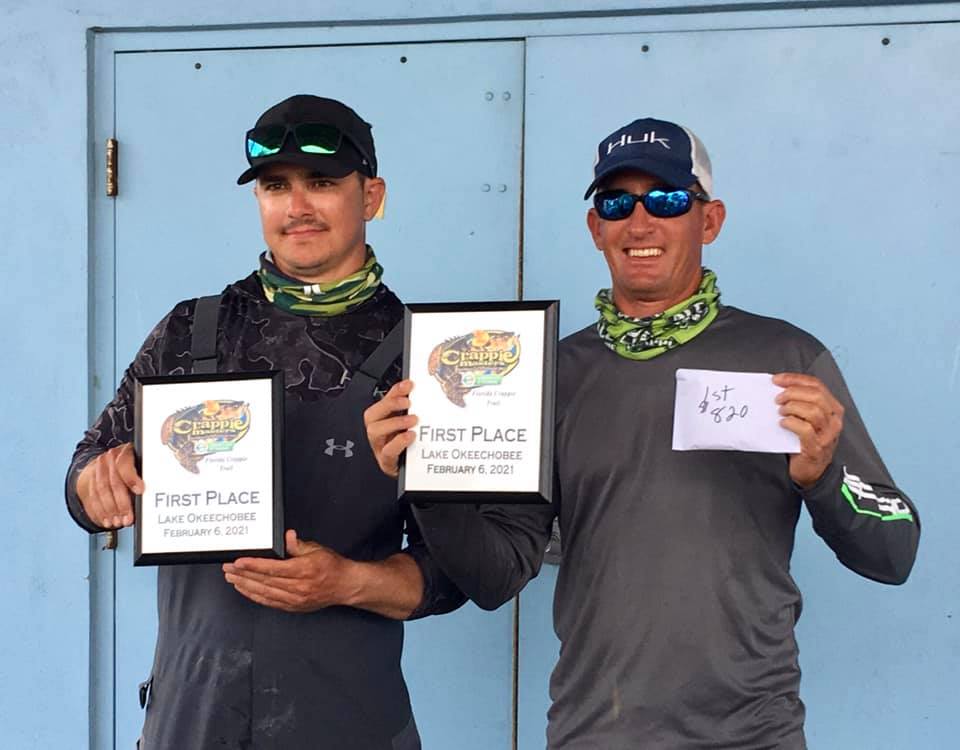 By Greg McCain
If a third-place finish in one of Florida's initial 2021 crappie tournaments felt good for ACC Crappie Stix pro staff member Brad Gibson, a first-place finish felt even better.
The Okeechobee guide finished the deal in his latest event, winning the Crappie Masters Florida Crappie Trail tournament on Lake Okeechobee last Saturday (Feb. 6). Gibson and another local stick, Calvin King, paired to win the title with a 10.34 seven-fish limit.
The Crappie Masters championship came two weeks after Gibson had finished third behind King's team in the Jiganomics Outdoors Lake Okeechobee Crappie Series qualifier in late January.
"He actually won four tournaments on the lake last year, he and his father," Brad said. "I finished third just behind them in the tournament a couple of weeks ago. After that, he had called me up and said, "Let's fish the Crappie Masters together'."
The results were somewhat predictable although putting two quality crappie fishermen in the same boat doesn't always translate to tournament success.
"I personally feel like Calvin and I are the two best crappie fishermen on Lake Okeechobee," Brad said.
Despite their combined experience and a good game plan only formulated the night before, the day started slowly. Heavy fog kept them confined to their starting spot, an area filled with a jungle of vegetation around a big island. The idea there was to intercept crappie headed back under the grass after they fed in surrounding open water overnight.
"It's a place with gator vine, hyacinth, cattails, matted up stuff that they move under and stay all day long," Brad said. "They come out and feed at night and early in the morning. We thought we could get in there and catch them before they get back into the thick, heavy cover. You can't even get a boat back into it."
Brad and Calvin spent an extended period there because of the fog but left with only one quality crappie.
Eventually they reached the spot that yielded six of the seven fish weighed in. They quickly popped a couple of good ones in the 1.6 range and slowly culled through multiple crappie to improve their total. They also competed with both recreational and other tournament fishermen in an area that featured pencil reed heads up to about 12 feet round.
"Most were staging," Brad said. "All of them were filled with eggs except for one that had already spawned out.
"There weren't many on each spot, maybe one or two on each, but there were a good many fish in the general area. They were just waiting to move up and spawn."
The team checked several other locations as the day progressed but found that wind had muddied up the water. They made the decision to return to the isolated reeds to fish the final hour.
"I'm glad we did. Calvin flipped in and caught a good one on the very first drop when we came back," Brad said.
Even though they eventually culled up to their final weight in the closing minutes, Brad said he still wasn't sure they had enough to win.
"I thought it would take 10 or better to win the tournament," he said. "Pre-fishing had proved so tough for some of the competitors that they decided not to fish the tournament. Some of the other guys were predicting something like nine pounds or 9 ½ would win."
A lost fish in the final stages of the tournament, one Brad called easily the biggest of the day, was also cause for concern.
"Calvin stuck an even bigger fish than we had caught earlier, probably between 1 ¾ and 2 lbs.," Brad said. "It ended up coming off. I thought that fish would have won for us for sure. I knew we were right at 10 lbs., but I was thinking that one (lost) fish was going to end up costing us the tournament by an ounce or so."
The drama built even more as Brad and Calvin stood in the weigh-in line. The competitor in front of them revealed part of his catch, which included "two or three big fish at the top of the cooler," Brad said.
That single fishermen weighed 10.01. Only when Brad and Calvin's limit pushed the scales to 10.34 did the win seem secure.
Brad and Calvin caught all of their crappie single-pole fishing hand-tied hair jigs produced locally by Glenn Harris Jr.
"One of them was a red and black head with a white bottom," Brad said. "The other was the G3 Slab Slayer kinda named after me, a pink head, chartreuse body, and Mylar tail. We alternated back and forth between the two and caught all of the fish on one or the other."
Brad said ACC Crappie Stix rods are always a key ingredient in his crappie fishing success. In fact, both he and Calvin used the 10-foot rear-seat jigging rod (GS10R) in the tournament. Paired with 20-lb. braid, the combination always proves tough enough even in the gnarly vegetation characteristic of Okeechobee.
"Absolutely, they are a great rod," Brad said. "I told a client just the other day that I still have the first one that (ACC owner) Andy (Lehman) gave me about two years ago. I've put I don't know how many, five or six thousand crappie, in the boat in that time and haven't broken it yet. The only (ACC) rod I ever broke I stepped on. They're tough."
While 30 years experience on Okeechobee makes for a place of comfort and refuge, Brad said the tournament win will likely take him to another famed Florida crappie venue later this year. He and Calvin qualified for the Crappie Masters Florida State Championship on the St. Johns River in September.
"Yes, I will have to get up there and figure out how it's done," Brad said. "I've never fished it."
To book a trip with Brad on Lake Okeechobee, like G3 Outfitters Guide Brad Gibson on Facebook, follow him on Instagram, or call 863.634.0728. He guides for both crappie and bass on the lake and also offers hunting services around Okeechobee.