ACC pro staffers post solid Florida finishes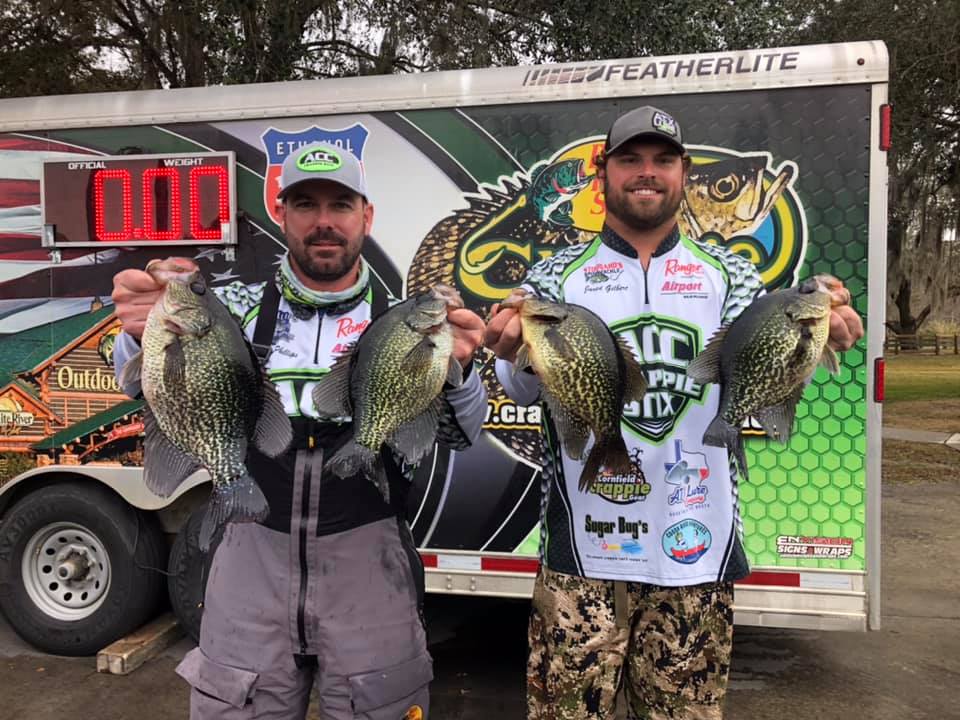 By Greg McCain
The abundant crappie fisheries of Florida serve as home waters for a few ACC pro staffers and as something of a home-away-from-home for others.
That scenario played out last weekend (Jan. 22-23) as pro staff members posted solid finishes in tournaments on two classic Sunshine State crappie venues. 
Versatile guide Brad Gibson (like G3 Outfitters Guide Brad Gibson on Facebook or call 863.634.0728) plucked a heavy limit from his home waters during the Jiganomics Outdoors Lake Okeechobee Crappie Series qualifier Saturday, finishing third overall. At the same time, Alabama-based guide and tournament pro Jonathan Phillips capped a third-place finish in the two-day Crappie Masters Florida State Championship on the St. John's River.
Brad, who provides both fishing and hunting services on and around Okeechobee, weighed just over 10 lbs., barely out of second place and a matter of ounces out of first after a hard day of fishing.
Pre-tournament practice and guide trips had provided Brad several possibilities for tournament success. Typical of competitive fishing in general, the crappie proved difficult to fool on a couple of Brad's starting spots.
He fished the Kissimmee River initially with little success and quickly moved to plan B, a lightly fished area that yielded several tournament-quality crappie in practice.
"I fished there for 20-30 minutes without a bite," Brad said. "I finally caught a fish right at 15 inches."
Normally that length is cause for excitement on Okeechobee. Brad's high ebbed when he saw something somewhat unusual for an early-year fish, even one caught in Florida.
"Normally a fish that size on Okeechobee weighs 1¾ or maybe a little better, but it had already spawned out. It had no shoulders. It weighed 1.27. That was a heart-breaker. I worked the area over again later in the day and never got another quality fish out of that area."
Thankfully Brad had pinpointed a plan C leading up to the tournament and managed to boat most of his limit from the third spot. 
"I had two fish about 1.6 back-to-back on one little pencil reed head and several more good fish (from that general area)," Brad said. "I just kept working and finally managed to put together a pretty good limit."
Brad caught his fish vertical jigging bank and grass edges with what he called his favorite ACC Crappie Stix rod, the 10-foot rear-seat jigging rod (GS10R). Most of the fish bit jigs made by Glenn Harris, mainly in white and black/chartreuse.
"We had to work hard," Brad said. "We did a lot of running. We probably boated 60-70 fish during the course of the day. I kept thinking plan B was going to work out for me, but it didn't after that one fish."
While Brad was doing his damage on Okeechobee, Jonathan and new tournament partner Jared Gilbert also made a strategic Day 2 move to vault up the leaderboard on the St. Johns. Jonathan said the fishery has become special to him and his family in recent years and not just because of the crappie fishing.
"The last three or four years, it's become something of a vacation spot for us because it's such a unique fishery," Jonathan said. "Lots of water, alligators, all the other wildlife, plus the fishing that goes with it make for a great trip."
Both Jonathan and Jared, practicing in separate boats, found plenty of quality crappie in advance of the tournament. Jonathan practiced with a family friend for a couple of days, and then his wife, formerly his tournament partner, joined him the day before competition started.
"Determining exactly where you want to fish is a challenge down there because of the length of time it takes to get from point A to point B because of the idle zones," Jonathan said. "So you have to choose carefully."
Jonathan chose a popular St. John's destination, Lake Woodruff, for Day 1. He and Alicia had pre-fished there the previous day and caught several two-lb. crappie before leaving them biting.
A weather change brought 15 mph winds the first tournament day, which saw Jonathan and Jared boat 12.47. That total was good enough for a 10th-place tie and allowed them to advance to the final round on Saturday.
"We spider rigged, went back old school," Jonathan said. "I hadn't spider rigged in a while. That's one of the few places remaining where you can pull and catch the fish you need. I hate to call spider rigging old school, but that's what it has become.
"But I brought all my (trolling) stuff and I'm glad that I did."
Jonathan and Jared utilized the 16-foot ACC Crappie Stix trolling rod and caught most of their fish on the Moon Jig by Skipper's Jigs (tipped with a minnow) and a "yellowish" ATX jig made specifically for trip.
"That's one pole designed as well as any trolling rod I've ever used," Jonathan said. "I have put those things through torture with clients and other types of fishing through the years, and they just hold up well."
The small-profile jigs were another key.
"The fish want something really small," Jonathan said. "They eat bugs around those lily pads and grass shrimp. They don't want a big honking minnow on there."
The Day-2 move was dictated by the fish caught on Day 1. They were all males that had moved up shallow.
"I told Jared that we've got to catch female fish if we were going to make a move," Jonathan said.
They found the right fish in a river arm off the main part of the St. John's. Spider rigging deep holes in bends of the river, they couldn't see the fish on LiveScope. Patience, however, revealed that the big females would come off the bottom and feed.
"They were plastered on the bottom," Jonathan said. "We couldn't see them on LiveScope. We couldn't put the bait in their face. We finally put the bait 8-10 feet off the bottom and waited for one to come get it.
"I really feel like if we had done that two days in a row we would have had a really good chance of winning that tournament."
Even with a slightly better bag than on Day 1, Jonathan and Jared needed some last-minutes culls to reach third place. With less than two hours remaining, they had to make a decision to continue their spider rigging or to move to the shallower fish Jared had found in lily-pad beds during practice.
"I've got to give it to Jared," Jonathan said. "There's more to tournament fishing than putting two good fishermen together in a boat.
"After we had caught three two-pounders in a short time, I looked at him and asked, 'are your fish bigger than these'? He said no. We stayed with it and stuck a 2¾ fish and then two more over two lbs. If we'd had a little more time, I'm not sure what might have happened."
The late flurry, anchored by the 2.77, pushed the final-round total to 14.92. 
Jonathan runs Team Phillips Guide Service (334.391.9735) on the lower Coosa and upper Alabama rivers. He encourages all visitors to south-central Alabama to visit Stoddard's Bait & Tackle in Wetumpka, one of his primary sponsors. Stoddard's stocks the ACC rods and other tackle Jonathan uses in tournaments.