Pro Staff Profile: Bryce Acreman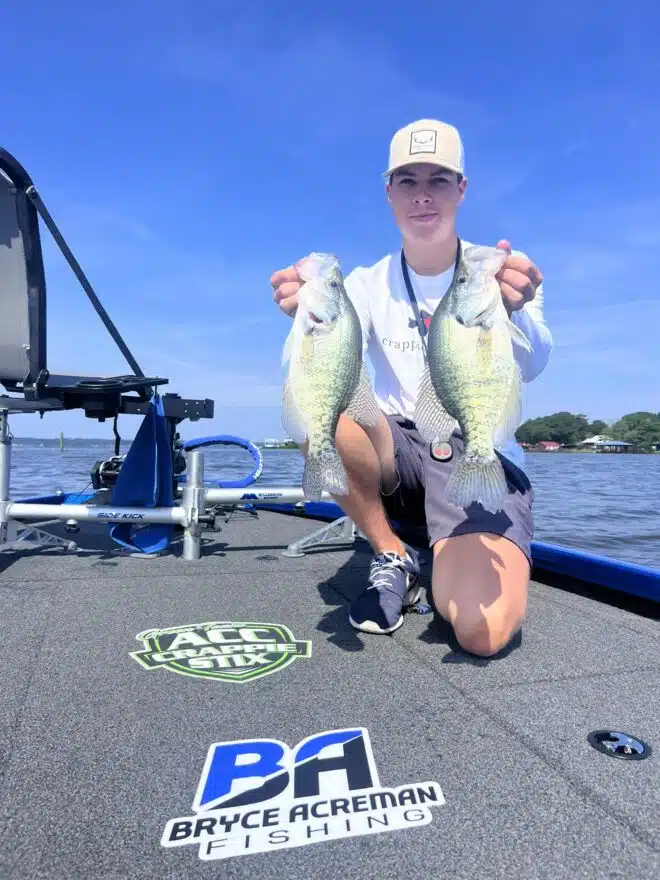 By Greg McCain
Like many youngsters in Louisiana, Bryce Acreman developed a love for fishing on the bayous, backwaters, lakes, and rivers near his home just north of Monroe.
In his earlier years, he called the Ouachita River home but also soon developed an affinity for Lake D'Arbonne and for Poverty Point Reservoir. He also fished even closer to home in Sterlington, often sharing the boat with his dad, Jeff, other family members, and friends.
"I've always fished my whole life," said Bryce, now one of the youngest members of the ACC Crappie Stix pro staff. "I enjoy the outdoors. I was never the kid to just sit in the house all day. If the sun was shining, I was outside doing something.
"I grew up crappie fishing on the Ouachita River, old-school single-poling. My dad and my grandpa fished it, but nobody fished a lot. I enjoyed going out there and developed a love for crappie fishing.".
A pivotal moment in the advancement of Bryce's crappie fishing game came late in 2019. He had fished in traditional ways up to that point, but the acquisition of Garmin LiveScope forward-facing sonar technology for the family boat turned a hobby into a passion.
"When LiveScope came along, it was really the game-changer for me along with a lot of the younger generation," Bryce said. "I really started LiveScoping about three years ago. I always enjoyed crappie fishing, but really when it clicked was when I started LiveScoping. I would take it out and try to catch fish and get so frustrated.
"I would come back home and fall asleep watching YouTube videos, how to catch crappie on LiveScope. I would take that knowledge back out on the water and spend hours and hours out there. I finally got the knack of it."
Bryce encountered a few bumps along the way to pursuing his goal of becoming a tournament competitor. When he first installed LiveScope on the boat, it came with a hitch. He couldn't drive his rig to the lake. At the time, he had only a learner's permit.
"I would always try to find someone of age to go along because I didn't even have a license," Bryce said. "I only had a permit. If I could find someone old enough, my dad would let me haul off. I only started fishing solo when I was 16."
Fast forward about three years — he turned 19 on July 29 — and Bryce's passion for crappie fishing has evolved along with his knowledge of LiveScope. When it came time to find a tournament partner, he didn't have to look far. His dad was more than willing to team up.
"We fish together in all the tournaments," Bryce said. "He's for sure my partner and takes care of me."
Bryce and his dad entered the tour-level crappie fishing world early last year, fishing a Crappie Masters event and later an American Crappie Trail tournament on D'Arbonne. They also fished local and regional trails and recently competed in the Crappie Masters Bracket Showdown on Lake Erling in Arkansas.
While their introduction to national-level competition has been limited to this point, the team gained valuable knowledge in those first few attempts. They put that experience to use this year, qualifying for the fall classic in the CrappieKings trail that fishes D'Arbonne, the Ouachita River, and Lake Erling. Fishing against some of the best teams around, they finished fifth in the trail standings to earn their berth in the late October CrappieKings classic.
"It's been fun competing," Bryce said, "and learning how to be a better tournament fisherman and team."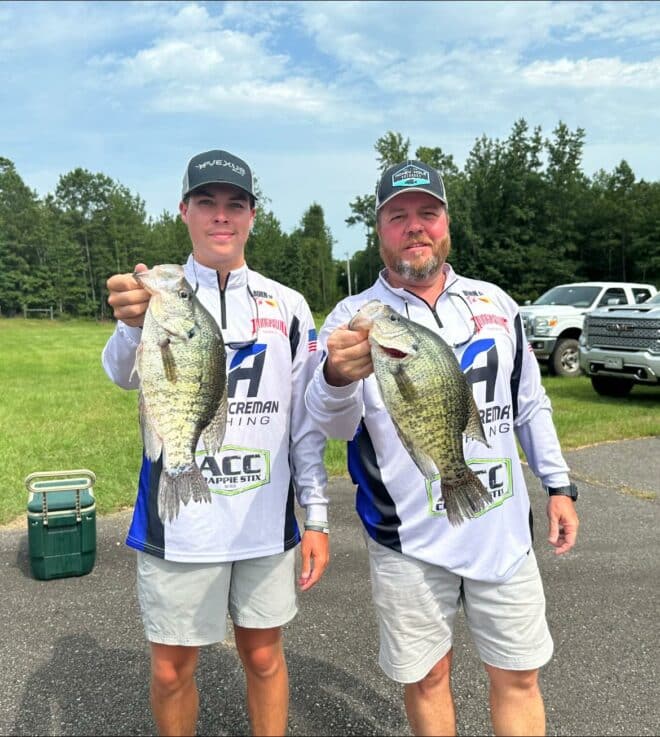 Bryce actually thanked both of his parents, Jeff and his mother, Crystal, for their support of his passion for crappie fishing, calling them his "biggest supporters." He has also developed connections within the fishing community, beginning his association with ACC Crappie Stix earlier this year.
Bryce had previously been using the ACC rods, and owner Andy Lehman contacted Bryce, who almost exclusively uses the 13' model with the cork handle for LiveScoping.
"They reached out to me on TikTok and noticed that I was using their products," Bryce said. "Mr. Andy gave me his email, and he got me a package of things together to get started. It just went from there."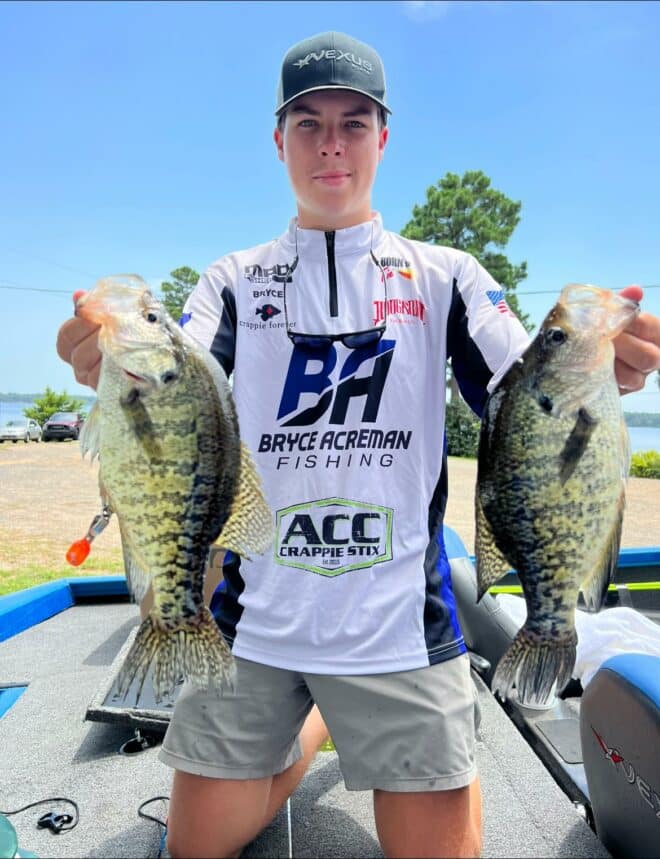 Other sponsors for Bryce include Tactacam (best known for their game cameras but also now marketing fishing models as well), Born to Tie Jigs (Scott Bielkiewicz), MAD Fishing, and Rougaroo Tackle Co.
So what's the future for Bryce? First of all, he starts college later this month at University of Louisiana-Monroe. He intends to pursue a business degree there, but he did schedule his initial semester of classes with fishing in mind. He kept his Fridays open.
"I expect to get a degree in business management, but I hope my future is in fishing, tournament fishing," he said.
He also said he has tinkered with the idea of guiding and has also done a limited amount of digital creation. Neither is his focus at the moment.
"I'm hoping to be up there at the top," Bryce said. "I'm eaten up with it. I love it. I have certain goals set to beat certain people and to make certain cuts. Then I up those goals and try to reach them. I'm not going to give up until I do it."
To follow Bryce's fishing career and for more information about crappie fishing in northwest Louisiana, follow Bryce Acreman Fishing on Facebook and other social media platforms.