Young Wyatt Phillips serves as tournament complement to his father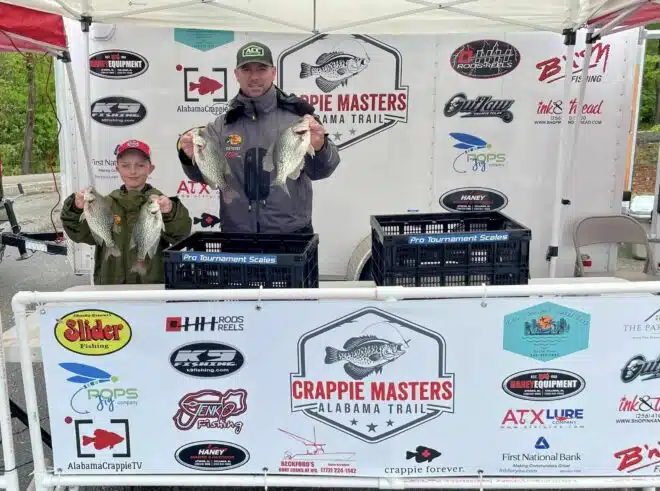 By Greg McCain
Alabama tournament competitor and crappie guide Jonathan Phillips has never had to look far when considering fishing partners.
For years, Jonathan and his wife, Alicia, fished competitively and successfully, earning a reputation as a top team at local, state, regional, and national levels. The husband-wife duo formed a complementary partnership, winning championships and regularly finishing events high on the leaderboard.
When Alicia withdrew from tournament fishing a few years ago, Jonathan had to find a new partner. He linked with different anglers, some from Alabama and others from out of state, enjoying various degrees of success. Through the transition, Jonathan actually had a willing partner waiting in the wings, one who had shared the boat with him plenty of times.
Jonathan and Alicia's son Wyatt started spending time in the boat with his parents when he was a baby, and even tagging along in later years when a tournament allowed a child in the boat in addition to the two adults.
Now 10 years old, Wyatt has graduated to a bigger role on the tournament scene, pairing with his father and fishing tournaments on the Alabama Crappie Masters trail this spring. The pairing has proved successful so far with the re-organized Team Phillips enduring horrible weather and competing well against some of the best crappie fishermen in Alabama.
"He's been in the boat with us since we could have him in the boat, even as a baby," Jonathan said. "He's never had to be forced into a boat. He really, really, really enjoys it, and I'm not just saying that as dad talk."
"Given a choice, he'll go fishing, whether it's hunting or playing ball. He will go fishing. It's his first choice 100 percent."
Wyatt has been fishing independently for roughly half of his 10 years. He's good with a casting rod or a jigging pole in hand, skills that have served him well in tournament competition.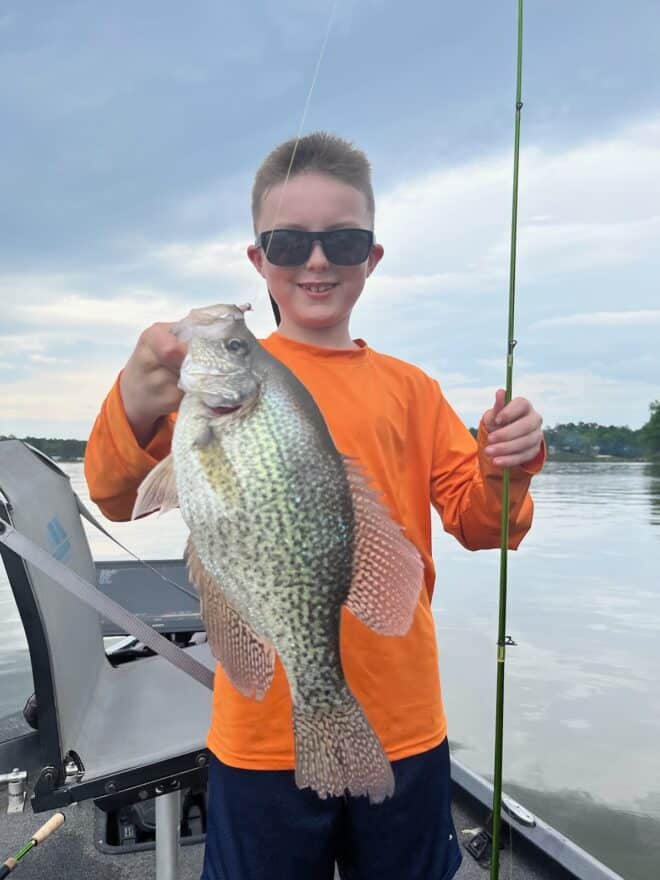 "I really like competing against other anglers," Wyatt said, adding that he "enjoys it," even in the difficult weather conditions experienced so far this year.
Jonathan and Wyatt have fished two Alabama Crappie Masters events, placing fifth on both the Alabama River and on Lake Jordan. Both are venues that the Phillips family fishes regularly near their home in Wetumpka, AL. They have endured the weather conditions, with the April tournament on Jordan a particularly cold, wet, and windy day.
When considering the age to introduce a child to tournament fishing, Jonathan has the benefit of experience both as a tournament competitor himself and as a father who knows his son well. While some children are not prepared for the length and rigor of a tournament day, Jonathan said Wyatt willingly accepts the challenge. Even so, Jonathan said he has to temper his competitive side with Wyatt in the boat.
"Thankfully, I've accomplished a lot in the past," Jonathan said. "With that being said, I've been able to let some of that go because Wyatt is learning how to tournament fish. He's really good for his age. I don't think there's going to be another 10-year-old who is any better skill wise than he is.
"At the same time, he's not a grown-man tournament angler. He's still a kid who wants to have fun fishing. I have to push (my competitive nature) aside and make sure I let him do his part. I might see a big fish and want to be the first to drop a bait on it, but I have to allow him that opportunity."
Wyatt has more than held his own. In the most recent Crappie Masters tournament on Lake Jordan, Wyatt "cast, caught, and reeled in three weighing fish" that contributed to the fifth-place finish.
"He's really good at casting," Jonathan said. "He's accurate. He puts his jig where it needs to be and maintains good rod tip placement. He keeps the rod where it needs to be. Obviously I am constantly coaching him.
"Overall, he's pretty salty."
Wyatt does most of his casting with the ACC Crappie Stix 6'6" one-piece rod and jigs with an 11- or 12-foot ACC model.
"He usually just fishes with whatever is in the boat, but he handles the 12-footer well," Jonathan said.
While Wyatt acknowledges that he has certain aspects of fishing to improve upon, he's already planning for the future. Wyatt said his dad is not tournament fishing nearly as much as he once did, but like his father in the past, the son has his own tournament ideas in mind.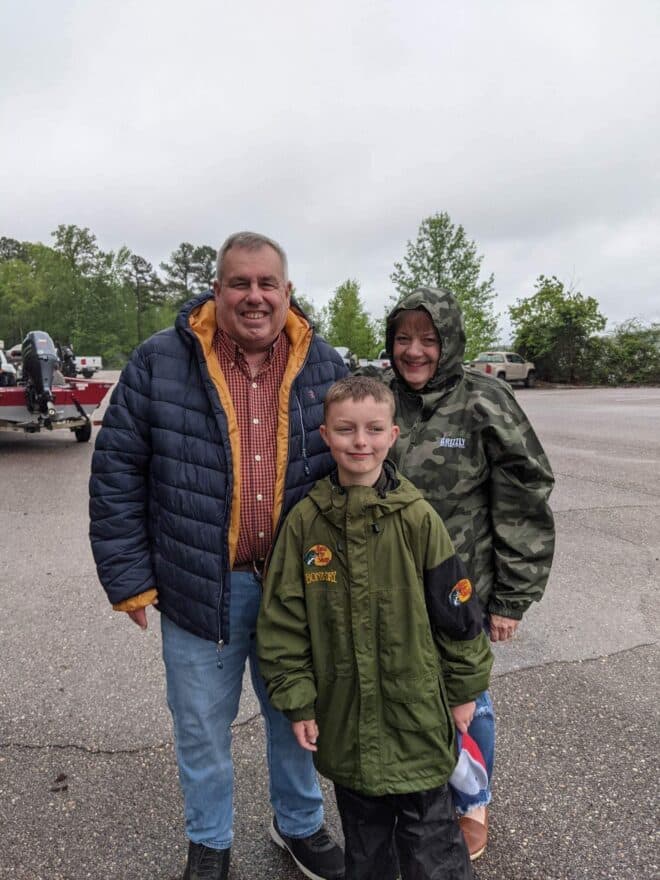 "He's backed down from the amount of tournaments he once fished," Wyatt said. "When I get older, if he doesn't want to fish as much, I will probably go out on my own."
Jonathan complimented the Alabama Crappie Masters, recently re-branded as the Alabama Crappie Trail, as a good place to initiate a child into tournament fishing. The circuit has a good mix of lakes relatively close to home but one filled with skilled competitors.
"The Alabama trail has done a fantastic job," Jonathan said. "We will probably keep fishing it regardless of what they call it down the road. That's my plan. We fished against national champions and state champions (at Jordan).
"These are nothing to thumb your nose at. I told Wyatt, 'You ought to be proud' because after a really tough day of fishing, we were within three quarters of a pound of national championship quality fishermen. That's just one fish."
Ultimately, Jonathan said pairing with Wyatt has served as a renewal of tournament fishing with family.
"It's special," he said. "It's a different feeling. A big piece of what I was doing was fishing with Alicia, and now fishing with Wyatt, it kind of re-kindles that part of tournament fishing.
"It's great to have family in the boat. We want to do well and we want to win, but he also wants to have fun. I think we're accomplishing both."
Wyatt Phillips is leading the race for the Youth Angler of the Year award in the Alabama Crappie Trail with two events to go. He is very proud of his accomplishments and is excited to finish the year out strong, hopefully taking home the Angler of the Year award.
Follow the fishing adventures of the Phillips family or find guided trip information at Team Phillips Guide Service or on Jonathan's personal page on Facebook. Jonathan and Alicia welcomed a new addition to the household in recent days. Stetson Cole Phillips, perhaps a new fish partner, was born last Friday, April 21.