Hall finds success in ACT big-fish event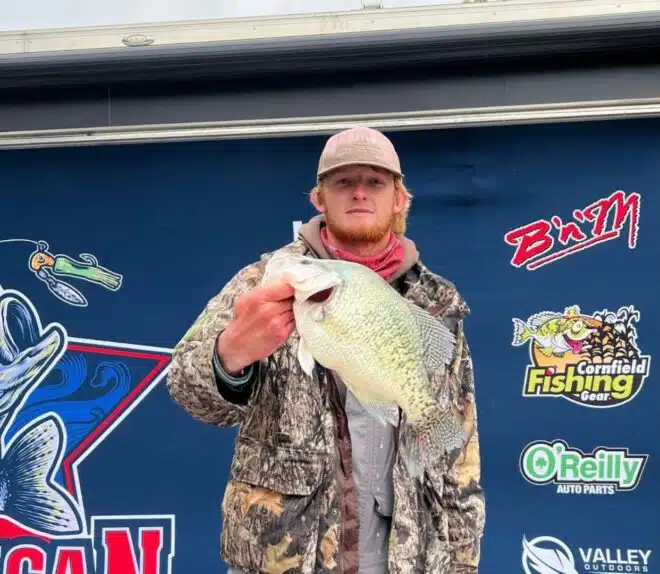 By Greg McCain
Mississippi crappie guide Kelon Hall is best known as a wading specialist, primarily focusing his efforts on Sardis Lake. Turns out that Kelon is pretty good from a boat as well.
Entering his first tournament over the weekend (April 22-23), Kelon took the top prize in the American Crappie Trail event on Sardis, located in north Mississippi near Oxford. The tournament was a big-fish event with participants eligible to weigh their heaviest catch caught during each of the six sessions over the two days of competition.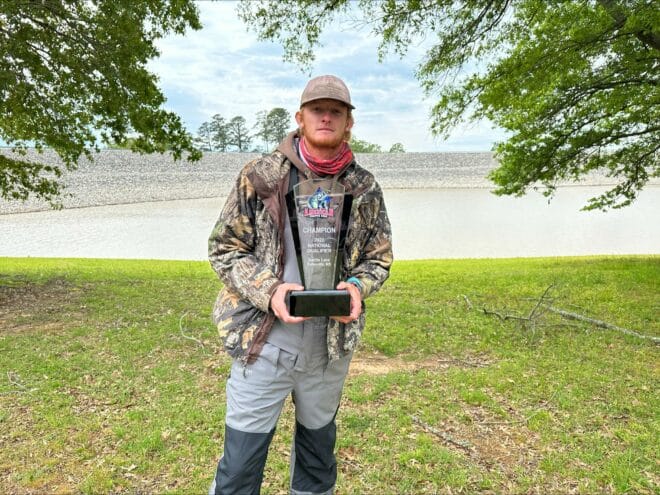 Kelon, from New Albany, MS, overcame a forgettable Day 1 on Saturday and put the pressure on the loaded field by catching the eventual winner in the first session on Sunday. Anglers fished two three-hour periods followed by one of two hours each day. With about 20 minutes remaining in the opening session Sunday, Kelon finally coaxed a big fish to bite. The crappie, a pre-spawn female, weighed 2.69 on the ACT scales and was easily the big fish of the tournament.
"I weighed in one fish Saturday," Kelon said. "It weighed 1.50 on my scales but weighed 1.30 on theirs. That placed 18th in one session. That was it for me Saturday. It was tough. We saw a lot of fish and caught a bunch of fish. They just weren't the right size. We couldn't find a big fish for nothing."
Fishing with a friend on Saturday, Kelon had the boat to himself Sunday after his partner got sick. Kelon also changed his location, moving from the north end to a spot near Sardis Lake Marina in the southern portion of the lake.
"A lot of luck was involved," Kelon said. "I was trying out different places, some that hadn't been hammered so much, maybe some overlooked spots. I was still seeing a bunch of fish and stayed in that one area for about two hours this morning and finally saw her. I chased her around for a little bit. I stuck it down there, and she finally decided she wanted to eat it."
Kelon said he saw the big fish on LiveScope near the edge of a creek run-in at a depth of about 12 feet. He dropped on the fish four times before she spooked and began to swim away.
"She didn't want no part of it," he said. "She spooked a little bit and started swimming."
Kelon, however, managed to follow her with his electronics, and after about a 10-minute pursuit – "we were basically going around in circles" – managed to drop on the fish again after it settled down.
"She didn't hesitate," he said. "She hammered it when I dropped that time."
Kelon made the catch with a Muddy Waters bait fished on a 1/8th jig head and an 11-foot ACC Crappie Stix rod. The fish was "slap full of eggs," Kelon said, one of only a couple of crappie weighed in that were still pre-spawn. Most of the crappie in this region of Mississippi had already spawned in late March and early April.
"I was lucky to find one of the females that had not spawned," Kelon said.
With the pressure off, Kelon continued his search for a bigger crappie in the final sessions, saw "a few fish that fit the bill," but "just couldn't get everything to align right." His closest competition weighed a 2.24 crappie on Saturday.
"It definitely ain't easy," he said. "It's the most fun that I have had in a while, just competing with the caliber of fishermen I was competing against."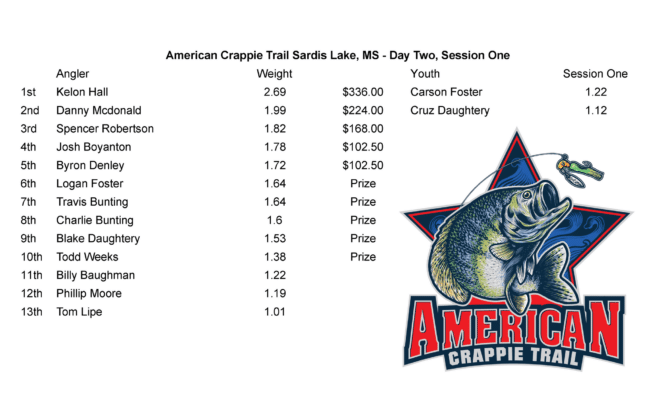 When quizzed about the possibility of fishing future tournaments, Kelon said he looks forward to the opportunities. One in particular lines up well for Kelon. The ACT National Championship will be back on Sardis this fall.
"I'll definitely be fishing some more," he said.
For more information about fishing Sardis, Grenada or other Mississippi lakes, contact Hall's Guide Service at 662.316.6124, or follow Halls Guide Service on Facebook. With the wading season coming to an end on Sardis in the next few weeks, Kelon will focus his guiding efforts from the boat for the remainder of the year.