Looking for action-filled fun: Try white bass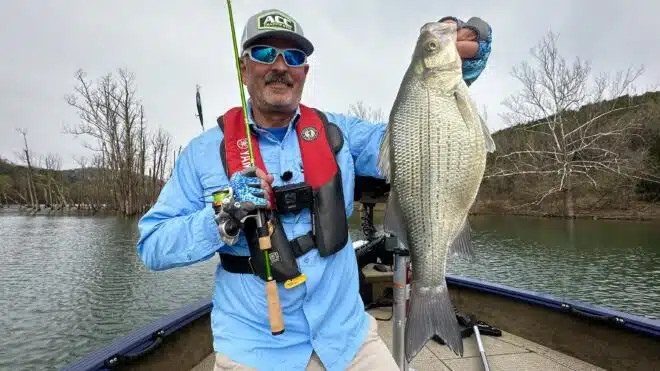 By Greg McCain
One of the time-honored fishing rituals of spring is playing out across the country. Heeding the yearly clock, the white bass run is upon us.
In the South, white bass begin their pilgrimage on spawning runs as early as February in some locations, reach a peak in March, and slowly wind down in April. Farther north, the runs are at their most frenzied this month. Even farther to the north, the activity reaches its peak in late April or early May.
Regardless of the timing and regardless of whether called white bass, stripes, sand bass, or perhaps a half-dozen other monikers, the member of the true bass family provides some of the most fun, explosive, and consistent action of the fishing year. White bass on spawning runs are usually easily located and even more susceptible to destroying a lure once they are found. Perhaps power is the single-best descriptor for these fish.
The white bass contrasts with the bold lateral lines of larger saltwater stripe. The lines on the whites are not as distinct. A fish with broken lateral lines is likely a hybrid, a cross between white bass and striped bass or possibly a yellow bass, a diminutive relative.
ACC pro staff member Scott Turnage, of G3 Sportsman fame, simply calls them "a blast" to catch. In recent days, he has taken advantage of the runs on tributaries of the White River system near his home in Springfield, MO, and re-kindled memories of a seemingly forgotten, simpler fashion of fishing.
"There are some hammers, some dandies," Scott said. "I don't care to eat white bass, but I love to catch them. They are like the Velociraptor (a small, powerful dinosaur) of fish. They are mean, they fight, they are fun, and once you get into them, you can usually catch a lot.
"Another thing that I like about catching white bass is it's an escape from the LiveScope crowd. You don't have to just sit and break your neck just looking down trying to find fish."
Just where do you find them? First of all, they may be miles upstream in increasingly slender tributaries. White bass rest and feed on shallow flats adjacent to main creek channels. As they near the end of their runs upstream, the whites can be found on just about any type of structure that serves as a current break.
"You can locate these fish if you get off a channel on one of the tributaries of the lakes and rivers and just beat the banks like we used to do when we fished normally," Scott said. "It's just fun. Cast, wind, set the hook, and feel the fight."
Scott added that whites prefer sandy or pea gravel bottoms off the shallower side of the main channel.
Fishermen do not need special gear to fight and to target white bass. Scott, in fact, said, "you probably already have it in your boat." He went through a list of potential lures, ranging from small jigs to umbrella rigs, his go-to being a jerkbait.
"It's a good recon bait," Scott said. "You can make a lot of casts. It has a lot of action to it. And they will come up and hit it even if they are deep."
While the jerkbait works for Scott, simpler lures catch plenty of whites also. A jig head and curly-tail grub are among the best combinations. Other favorites for white bass include inline spinners like the Rooster Tail and lipless crankbaits. Squarebill crankbaits provide a slightly different action that fools white bass.
While fishermen usually already possess lures that will trick whites, they also probably already own tackle conducive to the task. Scott uses the ACC Crappie Stix models with which he catches crappie, specifically mentioned the 6'6" one-piece as his favored weapon for white bass.
"It has enough strength to handle them, and I like that whippy tip because it gives my jerkbait a lot of action," he said.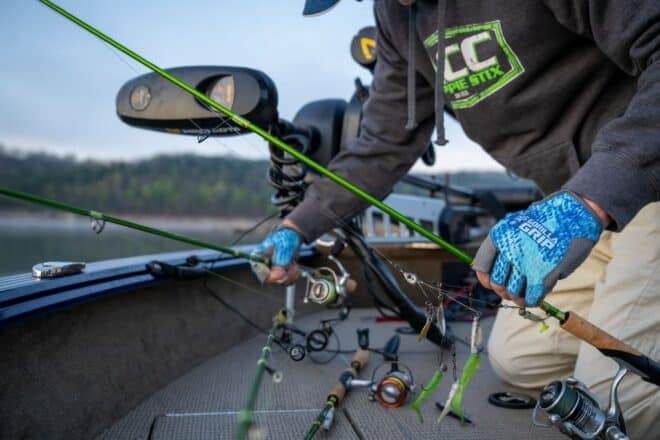 While the late-winter, spring phenomenon probably yields the most white bass and certainly the largest when the females are bulging with eggs, they can also be found at other times of the year. The fish re-trace their steps in the post-spawn, and topwater action for schooling fish is usually available although only for a short time. Once rested after the spawn, white bass are tireless marauders who will annihilate a topwater lure or engulf a lipless crankbait.
As spring gives ways to summer, white bass retire to deeper water around drops, humps, and channel edges. In these locations, some of the same lures are effective, but also work a jigging spoon into the arsenal. A smaller Hopkins-style spoon works well. War Eagle also makes a good jigging spoon for white bass.
These same fish will school at times, often early or late in the day, until the fall. Topwaters, jigs, and popping corks trailed by a small spoon often catch the schoolers.
While Scott likes the fight of white bass at just about any time of the year, he relishes those fleeting weeks in the spring when they run upstream.
"It's such a wonderful thing," he said. "It's so much fun. You can escape that "Live" stuff. You can actually watch that bald eagle as you make a cast or watch that old gobbler strut up there on the side of a hill. It's so much enjoyment just going out and fishing."