Quality Mounts For Your Electronics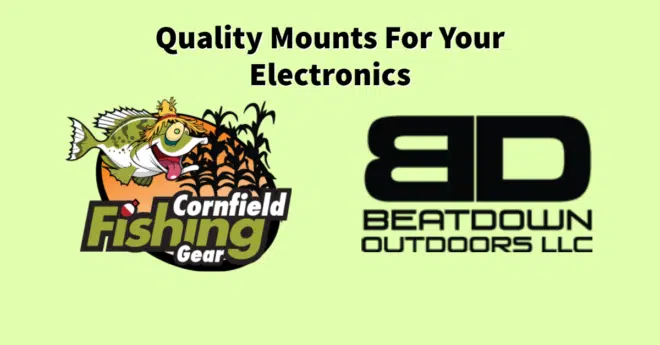 By Greg McCain
Dozens of companies across the country offer mounts for electronics.
The products range from superior to sketchy with just about all touting the worthiness of their products. Indeed, many companies produce quality products with the choice often the result of personal preference when the time comes to buy. Once purchased, the mounts from established companies generally perform as advertised. Unless the needs of an electronics user change, quality mounts become an accessory to electronics usage that last for years with little to no maintenance or adjustments required.
So what mounts do members of the ACC pro staff prefer to secure their indispensable electronics units? Keep in mind that these fishermen challenge their tackle, accessories, and boats on a regular basis, some of them with almost daily usage. In that sense, they know what works best for them.
The responses, while certainly a limited sample pool, were somewhat surprising because most centered on two companies. With all of the products available to crappie fishermen, two companies, Cornfield Fishing Gear and BeatDown Outdoors, commanded almost equal attention from members of the ACC pro staff.
Cornfield Fishing Gear, formerly known as Cornfield Crappie Gear, is a Gilbertsville, KY, company that markets a wide range of fishing and electronic components. Cornfield, however, is best known for its high-end mounts, which are not cheap but precision machined with quality materials to last. See the company's website (https://cornfieldfishinggear.com) for the full line of mounts, including prices.
BeatDown Outdoors, from Sedalia, MO, does not offer as wide of a lineup of electronics accessories as Cornfield, but fishermen tout the quality and durability of their mounts. The company's (https://beatdownoutdoors.com) highlights the mounts and also includes prices.
Here's what the ACC Crappie Stix pro staff had to say about the mounts. A few added other details about accessories related to electronics usage as well.
Nick Whitten, Florida (friend Nick on Facebook for info about Florida crappie fishing and tournament)
"We use a Cornfield (Fishing) Gear double folding mount on the bow. That mount allows us to run a Garmin for Livescope and 10" Hummingbird for mapping and folds down completely out of view when running down the lake. We run our Garmin head unit and black box off a 50ah Skinny Water Marine battery that is also mounted in a box up front to create a short run for wires and no interference."
Tim Howell, Mississippi (Longbranch Guide Service, 662.251.5625)
"I've used several over the past couple years, currently using a dual stack from BeatDown Outdoors. It's by far the best I've ever used. It's rock solid. I don't use the raised version. I have mine mounted on a bridge over my recessed foot tray, so to me, it's the perfect height."
Terry Pool, Kentucky, (Crappie Stomper Guide Service, 270.331.8438
"Double stack mount by Cornfield Fishing Gear."
Justin Smart, Louisiana (friend Justin on Facebook for trip and tournament info; Justin's tournament partner Wesley Miller [follow Big Sasquatch Outdoors on Facebook for guided trip info] echoed these same ideas.)
"A lot of good ones on the market, but to me, (there are) none better than the BeatDown Outdoor products Ultimate Dual mount! I have some videos of mine on Toledo Bend in 3' waves and the graphs are rock solid. They are adjustable up and down, but more importantly to me, I can turn them sideways while I'm driving down the lake so I can see better off the bow of the boat.
"Also, I run a Bass Boat Technologies mount at my console, but I am looking at upgrading to the Beatdown Outdoor Dual Console Mount when I add another 12" Garmin at the console."
Jeff Jowers, Alabama (Southern Scales Guide Service, 205.294.9202)
"There are a few great mounts on the market today that cover any and all situations. With that being said, right out of the gate I chose to go with a 12″ double mount for the bow manufactured by Cornfield Fishing Gear. I've never had anything but a positive outcome with the product, and Lord knows I've put it to the test! Very sturdy solid mount!"
Fred Mooney, Illinois (Full Moon Guide Service, 618.731.1601)
"Telescopic double mount from Cornfield (Fishing) Gear."
Keith Acker, Louisiana (friend Keith on Facebook for trip information and reports)
"I will never trust anything but Beatdown Outdoor Products: "The Ultimate" to mount my graphs on. They are the most sturdy and easy to use. When I'm jumping waves, I can rely on the mount to keep my graph from bouncing, plus it allows me to turn the graph so it doesn't block my view while driving."
Goose Gutzman, Minnesota (check out Goose's Guide Service on Facebook for reports and trip info)
"For my Livescope I use Fishing Specialities. It works great in my boat and on the ice." Goose uses a tripod for ice fishing. "It works slick. I can put my pole down the hole, and I don't have to kick the slush out of my way."
Brandon Bullard, Illinois (friend Brandon on Facebook for southern Illinois crappie info)
"Same as Fred Mooney, (I use a) double telescoping mount from Cornfield Fishing. Run one Livescope on the trolling motor and one off a pole mount I built myself."
Chris Sarge Gill, Texas (follow Asleep at the Reel on YouTube)
"BeatDown Outdoor Products is by far the best mount I have used. I have spent money on some that could not hold one graph in bad weather. I have two graphs on mine now and have been through waves that made me pucker, but the mount stayed true and held up well. Not one issue.
"Additionally I can touch it with my knee to turn it right or left if the sun is giving a reflection or I can lock it down. Add to that the ability to get it almost chest high if I need to and then turn one knob and take the entire mount and graphs in the hotel when traveling. You just can't beat a BeatDown!"