Dock shooting: New trick for an experienced fisherman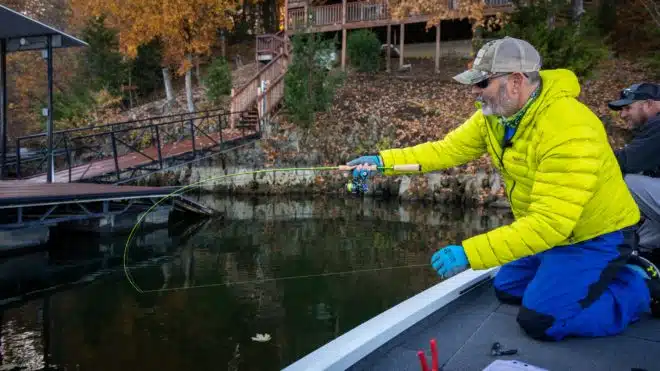 By Greg McCain
Among all the opportunities that Scott Turnage has experienced in fishing, one technique bypassed him through the years.
The long-time host of the G3 Sportsman TV show who continues to produce marketing videos for the boatmaker, Scott traveled the country, pursuing a variety of species and developing highly entertaining and educational content for his audience. Until a recent trip, however, Scott had never shot docks for crappie.
While dock shooting is definitely a niche presentation, it maintains a certain degree of popularity among members of the crappie culture. The repetitive motion of the practice adds variety to the myriad of other techniques more commonly used in pursuit of slabs. Along with precision casting, dock shooting is probably the most demanding presentation in crappie fishing.
Scott remains a novice despite his years of fishing experience. Only a recent spontaneous trip to Missouri's Lake of the Ozarks allowed him to shed the non-dock shooter label. His first attempts at dock shooting provided fodder for a new YouTube video and also a series of humorous moments in the process.
"I've never even done a show on the Lake of the Ozarks, and it's only an hour and 25 minutes from me," he said via phone from his home in Springfield, MO. "That was the 400th episode that I've shot and two things I had never done: been on that lake to do an episode and shoot docks."
Certainly Scott has been aware of shooting docks. So why has he never attempted it?
"I don't really have an answer," he said. "It's just something that never came up. I think there were a couple of times that maybe somebody mentioned something about it, but nothing ever transpired. I just never did it."
The thought crept into his mind when ACC Crappie Stix owner Andy Lehman sent Scott one of his newest products, the one-piece, 6' casting/dock shooting rod. The one-piece rods have been met with rave reviews by pro staff members and customers alike.
"I thought, 'Well, let's shoot some docks'." Scott said. "I was talking to a buddy of mine, Shane Long – he's a big bass fisherman but secretly loves crappie fishing. He said, 'We can run over to the lake and do some dock shooting.'
"I said, 'It's funny you should say that. I've just got some new ACC one-piece, 6' rods.' He said,
'Let's do it.' I said that there's nothing stopping us except for 6' of air and good sense, so we took off."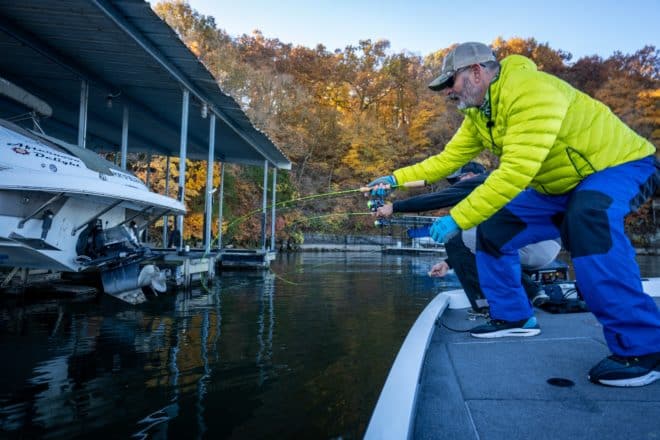 Once on the Lake of the Ozarks, well-known in crappie circles for its dock-shooting potential, Scott said his first attempt at dock shooting was a learn-as-you-go experience.
"I really didn't get a tutorial," Scott said. "(Shane) just started fishing, so I thought, 'Okay, do I need to hold it with my left hand and shoot with the right or hold it with the right hand and shoot with my left'?"
"I watched him a little bit. In some of the places that he had us, you had to go over a chain, under a hose, and through a hole. And all the crappie were at least 35 feet away from us."
At the beginning, Scott said, the failures outnumbered the successes. While Shane had extensive experience skipping jigs for bass and shooting docks for crappie, Scott's inexperience as a dock shooter manifested itself in various ways, including some of the humorous variety.
"It's funny (when) you get a space that's 18 inches, sometimes 2 feet wide and maybe eight inches high," Scott said. "But then you have about a two-inch piece of angle iron that you can center punch every time. I mean you can nail that dude every time.
"I finally realized that it's better to get up there and just do it. Don't think about it, don't point it, don't aim it. Just do it. It works better."
Scott noted somewhat sarcastically that "Shane caught plenty of fish," but his own attempts at retrieving a jig and the occasional fish were not quite as successful.
"Getting it back there is one thing. Getting it back is a totally different story," Scott said.
"I know I tied on a lot. I think the next time I try it, I will be more adapted and maybe a little better. I'm assuming there will be a next time. It's kinda fun."
The process of dock shooting is often compared to shooting a bow-and-arrow. That analogy is a tenuous one, however. Scott likens the successful process to just about any successful sporting skills, mainly that experience is the best teacher.
"Just having the knowledge and at least a little experience will make it better," he said. "I'd never practiced it before I got on the water. I will say my teacher (Shane) sucked. It was one of those if-you-need-me, call-me kind of things.
"I think this next attempt, I will know what to look for. I know that it's more instinctive rather than thinking and aiming. You can overthink and clang that bar nine out of 10 times."
Scott offered a few more tidbits of advice gleaned from his maiden dock shooting voyage while continuing to hedge his comments with moments of levity.
"There's no reason to use high-dollar, painted jig heads," he said. "Go with an unpainted head. You're going to knock all the paint off yours anyway.
"Bring lots of jigs, lots of jig heads, and lots of patience. It's a science. You're going to need to go at least two or three times to get your bearings."
Scott did seriously emphasize one not-so-obvious need for the dock shooter.
"You might want to wear a life ring or jacket or whatever (type of flotation device)," he said. "You can be going along there riding boat waves and maybe not paying attention and go headfirst into the water."
Scott emphasized that a follow-up trip is definitely in his future. And he's confident in his abilities to catch crappie while shooting docks because perfection is not always necessary to be successful. One of his final tips went something like this: "One of the interesting things about it is making the best shot, the absolute perfect placement, and not getting bit. No fish. On the other hand, I would sometimes skip it in there, hit the bottom of the dock or something like that, and that's when you catch them.
"It's an interesting process, and I'm glad I finally did it."