ACC Team "Wins the stage" at Crappie Expo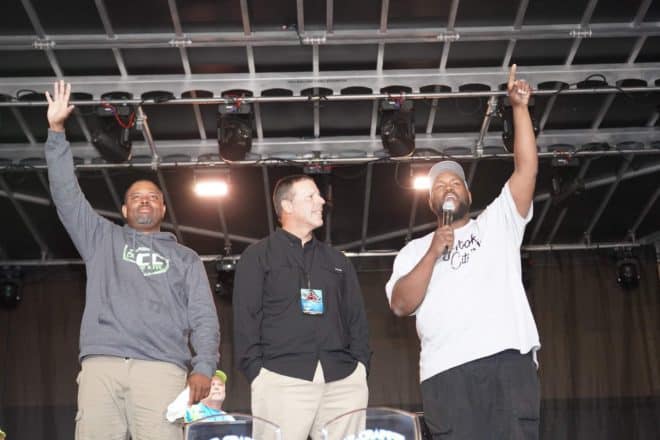 By Greg McCain
The ACC Crappie Stix team of Kyron Washington and Kennieth Pierce came to Table Rock Lake hoping to win the Mr. Crappie Invitational.
With a year's experience on the lake at the 2020 Crappie Expo near Branson, MO, expectations ran high for a quality finish. Kyron and Ken also brought with them from Texas a loftier goal: they wanted to spread the word of God to those that they encountered.
Kyron and Ken may not have won the tournament. They did win the stage, however, at Friday's weigh-in as their inspirational words prompted a visible and loud reaction from the crowd.
"I desired to win the tournament," Kyron said by phone from his home in Forney, TX, in the days after the tournament. "What He desired was something bigger than winning the tournament. That was to use that moment as a platform for someone to be unashamed of Him. Some people believe in quiet. They love Him; they believe in Him, but it's all in quiet.
"I needed to put it out there. Don't be ashamed. He's not ashamed of us. It needs to be reciprocal. The heartbeat, the feeling should be (mutual thought). That was the message and it has been the message."
Added Ken, of Hook City TV fame, "Trust Jesus. He answers prayers.
"I got to take the mic (on the weigh-in stage). Through fishing I was able to do that. Through fishing, I want to represent Christ well, I want to represent myself and my family well. I felt like I was able to do that once again. My heart is glad."
The moments on stage of thanking God, sponsors, family, and friends were a culmination of a consistent week for the pair of ACC Crappie Stix pro staffers. Even so, Kyron said the team's success through the week "depended on a higher source."
Ken, also known as Fishing Ken on his YouTube show, had difficulty getting days off from his railroad job and only got to pre-fish for about a day and a half. Kyron experienced difficulties with their boat, loaned to them by one of Ken's subscribers and clients, on the first day of pre-fishing. Through it all, they persevered and managed to find willing fish through the three days of competition.
They put together a healthy bag over 10 lbs. on the first day of competition. They were able to make a long run up the James River arm in the loaner BassCat, an opportunity that was not present for the team in the 2020 event when they were confined to areas near the launch.
Kyron had found the "crack-of-dawn" spot in pre-fishing, and it remained loaded with black crappie in the opening hours of the tournament. Later, they culled out three small fish in their afternoon spot closer to take-off and easily advanced in the 25th spot. The top 50 anglers got to fish the second day.
The same long run on Day 2 didn't provide the same results. Instead, they relied on a key last-minute cull to put themselves in the 18th position. The top 25 earned the right to fish the championship round.
With seconds of Day 2 fishing left, Kyron identified a quality crappie about 60 feet from the boat, edged just a bit closer, and managed a perfect long-distance cast.
"The jig pendulums down to him, he noses up at it, and he whammed it," Kyron said. "That fish weighed 1.30 and culled a 1.03. It helped us move up."
Ken said the moment was one of the things that made the event special. He and Kyron began fishing together almost 10 years ago and recognize each other's strengths.
"One of my goals for the tournament was to leave Kyron alone at times, let him get in his element," Ken said. "He's a really good fisherman. When he's not guiding clients, he fishes by himself a lot. My thought process was to let him sink into his element, not have another pole in his way, just let him do what he needs to do."
The teamwork paid off in the form of a Day 3 opportunity. They discussed whether to follow the same strategy in the final round or go for broke closer to the ramp.
"I said, 'Let's just swing for the fences'." Kyron said. "I know I can go find fish. I start praying, just within. I perceived that there was a little more to this tournament than picking up a paycheck. I asked, 'Lord, what is it you would have us to do?' Ken was in harmony with me there. Up to the morning of the third day, that was the plan."
Some divine intervention suggested another route, however.
"That morning, about 5 a.m., we were on the dock waiting to blast off," Kyron said, "still talking about a game plan, and a guy – never seen the guy, don't know him – came up to us and says, 'God is with y'all. Don't do anything different.' It was such an echo. I had been thinking, 'Do I just go out there and go rogue?' He said, 'Don't do anything different.' I perceived it to be God helping us out.
"We got back to our (45-mile-upriver) spot and went back to doing what we had been doing. We pumped out five weigh fish in about an hour, and I'm marveling on the inside. Then, the afternoon spot had reloaded, and we were able to get two more."
Ken said he was okay with whatever last-day strategy they chose, but the anonymous boat-dock visitor certainly put things in perspective.
"He was just there to watch the blast-off," Ken said, "just being really friendly. 'Where ya'll going to fish, he asked?' He looks at us, 'Ya'll got God on your side. Just do what you've been doing'."
The Day 3 limit bumped their overall total to 28.07, well behind tournament winner and 2022 phenom Hayden Jeffries and his father, but good enough for 16th place.
Even though the fishing competition was complete, the job for Kyron and Ken was not yet over. The Branson crowd had marveled at their message during the 2020 event but responded in much the same way this time around.
Kyron said it's a message he's happy to share.
"I perceive that the Lord is giving us a platform. To present him, to speak about him, and to show people his love. We try to exemplify that.
"If we're talking about growing this sport, it has to be founded on integrity and high values and moral standards, just treating each other right. What I'm picking up in the industry, there's been some riffs, some bad blood. If we're wanting to right this ship and solidify this sport as a sport of honor and all these wonderful qualities, it starts with us and how we go about our dealings.
"That's kind of my message. I believe the Lord has to be the main ingredient. That's my opinion; not everyone agrees with that, but that's my own personal conviction. I'm persuaded to say it. I'm undeterred to say it, and I accept any consequences because I've been called to say it. I'm a man of God first, a crappie fisherman second, and I put my priorities where they belong. When he gives me an audience and he gives me the words, I will say them with boldness and confidence."
In addition to their spiritual message, Kyron and Ken thanked all those who made the week special, including ACC Crappie Stix owner Andy Lehman.
"That dude is a stud," Kyron said. "The way he goes about his business, the way he conducts himself in the industry. He's a non-cutthroat owner. He's got the philosophy that there's enough for everyone, and I really respect that approach."
Both Kyron and Ken thanked Jimmy Jordan for the loan of the boat. Jimmy had first offered the use of the boat at the 2021 Mr. Crappie Invitational on the Red River, and they took him up on the follow-up offer this year.
"Without that offer, we don't make it to Day 3," Kyron said.
"I have a great guide boat, a Lund," he continued. "It's just not a tournament boat. We couldn't have run all over the lake without the use of Jimmy's boat."
Both anglers also thanked the Hook City TV family, which helped both "financially and spiritually," Kyron said.
They also caught several of their fish on jigs from one of Ken's sponsors, Eurotackle.
Ken added a fitting final epitaph to their story. 
"Jesus is my sponsor," he said. "That's why I put so much emphasis on him. It is through his strength and not my own that I'm able to do what I do.
"It is such a wonderful thing to be used by God. I'm glad I was able to do it through something I love to do."
Other ACC prostaffers who competed were Craig Nichols (and partner Cameron White), Justin Smart and Wesley Miller, Clint Pipes (and partner Joe Partenza), Don McClish (and partner Tim McClish), Elbert Spears (and partner Byron Kinkade), Nick Whitten (and partner Mike Kirkland).
For information about a guided trip with Kyron, call 214.926.1255. His 4HG (for His glory) Fishing Charters offers year-round trips for crappie on Texas lakes like Fork, Tawakoni, Cedar Creek, and Levon. He also guides for bluegills and redears in the spring. Kyron is also a full-time minister as well.
Ken, who lives just west of Fort Worth, also guides on occasion. Follow him on Hook City Tv social media platforms, including his Hook City TV YouTube channel, which has almost 97,000 subscribers. Hook City was inspired by Ken's father, still a regular on the shows, and features family-oriented programs highlighting fishing and occasionally hunting.
One final tidbit about the Mr. Crappie Invitational: the 2023 event will be held in Birmingham, AL, at Logan Martin Lake in September.