Fall foliage and fishing: a natural combination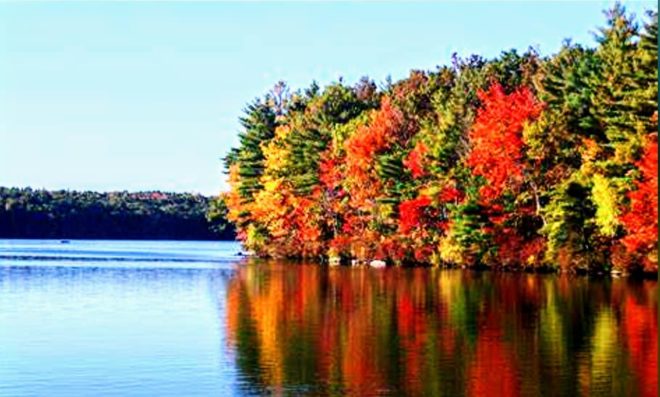 By Greg McCain
ACC Crappie Stix owner Andy Lehman isn't a native to east Tennessee, but a variety of factors led him to move the business to the region earlier this year. Significant among those reasons are the epic scenery and the crappie fishing that Andy now enjoys on a regular basis as he explores the area near his new home in Maryville, TN, located roughly halfway between Chattanooga and Knoxville.
As fall arrives, the mountains of the region offer a smorgasbord of possibilities for visitors. Some come purely for the fishing; others seek out the abundant fall foliage. Regardless of the motivation, east Tennessee is one of the ultimate destinations for those seeking quality fishing, fall foliage, and any number of other amenities for an individual or family trip.
"The scenery is unbelievable, something to see around every corner," said Andy, who relocated the ACC brand to Maryville in the early summer. "There's something new and different to explore every day if you wanted to.
"I'm still getting used to the fishing. It's good, just different from I am used to in Illinois."
Andy labels the scenery "incredible," and the foliage will peak over much of the region starting in about mid- to late-October through mid-November. Trails, both for walking and for driving, abound. Cades Cove, an 11-mile, one-way loop outside Townsend, TN, and one of the treasures of the Great Smoky Mountains National Park, is an obvious destination with fields teeming with wildlife and old-growth forests beaming with vibrant colors.
Nearby is the Tail of the Dragon (or simply the Dragon), one of the iconic byways in the Smokies. It features 318 curves along an 11-mile stretch of Highway 129. Both Andy and local fishing guide Matt Xenos, a member of the ACC Crappie Stix pro staff, highly recommend the driving and foliage-viewing possibilities along the Dragon.
"Everybody has to experience the Dragon," Matt said. "The drive, the rolling water that parallels much of the route, the foliage in the fall, it's all part of what makes this area great."
For a more urban experience, Chattanooga is a long weekend waiting to happen. For more touristy trappings, Gatlinburg and sister cities Sevierville and Pigeon Forge offer a little bit of everything from lodging to food to entertainment for the entire family. For those who love fish, consider visiting the aquariums in both Chattanooga and Gatlinburg.
Not to ignore the fishing, an abundance of possibilities exists. In the short time that Andy has resided in Tennessee, he said he's visited Watts Bar, Ft. Loudon, and Tellico thus far. Matt guides (check out Wired for Crappie Guide Service at www.wiredforcrappie.com and Wired for Crappie on YouTube) regularly on those lakes and others, and he said most of the Tennessee Valley Authority impoundments feature excellent fishing for crappie and other species as well.
"We have so many possibilities," Matt said. "It's hard to go wrong in the fall, which is a great time of year to visit for many reasons."
The fall season is upon us. If a trip to east Tennessee is not an option, what about somewhere else? We surveyed other members of the ACC Crappie Stix pro staff about the possibilities of combining good crappie fishing and the wonders of nature. Here are some of their responses:
Jeff Jowers (Southern Scales Guide Service. 205.294.9202)
Jeff fishes and guides on most of the lower Coosa Rivers lakes in central Alabama. Fall is a time to create memories on Lay Lake, Mitchell, or one of the other Coosa impoundments.
"It would be a hard call to single one lake out," he said. "The Coosa River lakes are all beautiful in the fall, from Weiss to Jordan. With that being said, the Tennessee River (in extreme north Alabama) is hard to beat as well."
Jeff actually responded with a photo that he said reminds him of all things fall, from the fishing to the foliage to the food. The narrow impoundments and surrounding rural countryside are filled with the visual imagery of fall. Expect a foliage peak at some point in November.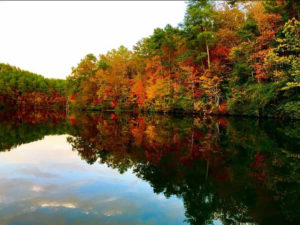 Fred Mooney (Full Moon Guide Service, 618.731.1601)
Fred can normally be found guiding on Rend Lake, but he pinpoints another southern Illinois destination for both its fall foliage viewing and for its fishing.
"Kinkaid Lake is most definitely the hallmark of beauty in the fall with leaves changing and sets right inside the Shawnee National Forest that has many spectacular views that reaches clear across the southern part of Illinois," Fred said. "Also, it's home of giant hybrid crappie and where my largest slab came from."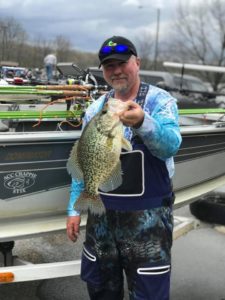 Visitors can explore the area from the water, by foot on the Kinkaid Lake Trail System, or by car. Check out https://www.fs.usda.gov/recarea/shawnee/recarea/?recid=28020 for more details.
Goose Gutzman (Goose's Guide Service, 763.234.4408)
Goose has hundreds of lakes at his disposal in Minnesota. He pinpoints one lake and the areas nearby for fishing and family fun.
"Leech Lake in north-central Minnesota," he said. "It's a big lake and the nearby the town of Walker has the Fishing Hall of Fame, Reeds Sporting Goods store, and lots of resorts on the lake.
"The fishing on there is awesome. They have walleye, musky, northerns, sunfish, crappies, smallmouth, largemouth, whitefish and tulip, perch."
Goose also notes the accommodations and eateries are abundant along other amenities like a casino and bike trails. For more info, check out www.leech-lake.com.
Justin Smart
Tournament competitor Justin Smart lives in a region replete with fishing possibilities in northwest Louisiana and east Texas. His choice for a fall trip: Toledo Bend on the border of the two states.
"I really love Toledo Bend in the fall," he said. "Beautiful sunsets, typically good weather for fishing."
Unlike some of the previously mentioned locales, Justin suggested that Toledo Bend, which measures 185,000 acres, is more of a destination lake.
"There's not much to do around there but fish," he said, although camping accommodations are abundant. See https://tpwd.texas.gov/fishboat/fish/recreational/lakes/toledo_bend/ for details about the lake.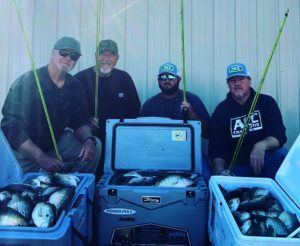 Kyle Lasater
Kyle, a videographer who produces digital content for ACC Crappie Stix, lives in north Arkansas where he suggests two lakes, Bull Shoals and Greers Ferry, for the crappie fishing and nearby destinations for fall foliage and entertainment.
"The Ozark Mountains (https://www.ozarkmountainregion.com/) are all around, which are beautiful in the fall," Kyle said. "And then you are only about 30 minutes from Branson (MO), which has a ton of stuff to do also. The Buffalo River is in the vicinity as well."
Here's a final personal observation. For fall foliage, few routes feature better views than the Natchez Trace Parkway, which starts nears Nashville, TN, clips northwest Alabama, and ends at Natchez, MS. Along the 440-mile route, drivers cross the Cumberland River in Tennessee, the Tennessee River/Pickwick Lake in Alabama, and venture close to the famed Big 4 crappie lakes in Mississippi. Bay Springs Lake, on the Tennessee-Tombigbee Waterway, is just a few miles from the Trace as are the Bear Creek lakes (www.bearcreeklakes.com) of Franklin County, AL.
The National Park Service website (https://www.nps.gov/natr/index.htm) provides an overview of the route and points of interest along the Trace.