Pro staff profile: Charlie Burrow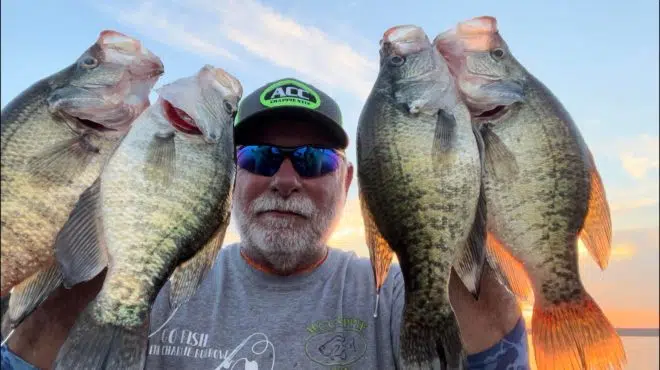 By Greg McCain
Charlie Burrow exudes passion.
Whether it's a life-long pursuit like fishing, family, or faith or a more recent endeavor like his YouTube channel, Charlie attacks life with a passion. He does so with a unique approach, perhaps best characterized by his gift for words. When questioned about one of his passions, Charlie never responds with the routine answer or the hackneyed cliche.
Charlie, a member of the ACC Crappie Stix pro staff and a YouTube content developer under the label GO FISH with Charlie Burrow, acknowledges the passion that he pours into just about everything he does. Even the all-caps label indicates the enthusiastic approach.
"Man, you hit it on the head," Charlie said during a recent telephone conversation. "I don't do anything halfway. I go all out."
Later, he added, "I pour my heart into whatever I do."
Charlie was actually referencing his introduction to crappie fishing with that last statement. A life-long fisherman, the Louisiana resident – he lives near Shreveport – pursued bass and catfish for years but only recently did he become immersed in crappie fishing. A few years later, Charlie has already made his mark on the crappie culture, first with his videos but also with a phrase that is now part of the vernacular of LiveScope-era crappie fishing.
Have you heard of "free range chickens"? Charlie can't absolutely say for sure that he's the first to coin the phrase, but he's taking credit for it regardless.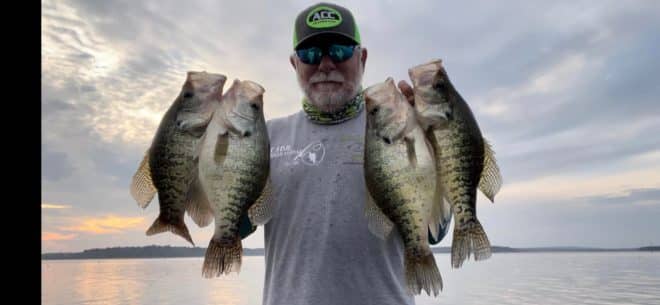 Charlie started crappie fishing in 2015 and launched his YouTube channel in 2019. In his first attempts at crappie fishing, he admittedly struggled. Only through extensive reading about the subject and conversations with experts – plus some covert surveillance on a local lake – did Charlie escape the early struggles and begin to catch crappie.
On one occasion upon arriving at his favorite local lake – in typical fashion he calls it Lake Nocantell – Charlie found the crappie had vanished from the wood structure where he normally caught them.
"I decided that I could not catch fish there or not catch fish somewhere else," Charlie recalled.
He ventured into open water and suddenly his screens lit up with fish, opening up a world of possibilities for Charlie.
"I got out in this open water and started seeing these big dots on my screen,'" he said. "Some were sitting still, but others were running around like a chicken with their heads cut off. I said 'What am I going to call these things'?"
One possibility was "Cruisers," one of the car characters from a popular children's program that he watches with his grandchildren. Another was simply "roamers."
Charlie, however, settled on "free range chickens," and now the expression is used regularly among crappie fishermen.
"Whether I get credit for it or not, it just blesses me to no end when I hear someone who I esteem highly – some of the big names – when I hear them use the phrase free range chickens, I love it,' he said.
Not only labeling the crappie that he catches, Charlie also extends the idea to some of the fisheries that he chooses not to reveal. The aforementioned Lake Nocantell – say it slowly as three words – is one such appellation that he uses regularly. The east Texas lake is small and does not need the pressure generated by a YouTube mention.
Charlie, tongue in cheek, of course, says the name comes from his Native American great-grandmother. Charlie also reaches into his diverse ethnic background to name another local fishery, Lake Cannottello, which he claims is named for an Italian uncle.
Pouring such fun into his YouTube videos, Charlie launched GO FISH at the encouragement of another YouTube sensation and fellow ACC pro staffer Kennieth Pierce, also known as Fishing Ken of Hook City TV fame.
The two had conversed by phone and through social media before meeting face-to-face at an ACC gathering on Lake O' the Pines in Texas early in 2019. Ken already had a major following on YouTube but recognized the unique personality and the virtual possibilities for Charlie.
"He really encouraged me," Charlie said. "He said, 'You just have a knack for that, so why don't you do it.' Later, he encouraged me again. So I said, 'I'll do it'."
Charlie, well into his 60s at that point, jumped into the digital world with enthusiasm. Perhaps his career with AT&T/BellSouth prepared him for the move because Charlie was not intimidated by the technology. He soon began to produce regular videos that featured not only fishing but also spiritual thoughts as well.
"After one or two videos, I began to throw in a little encouragement from the Word, and God said that's where I want you to go, boy," Charlie said. "My main focus is to show these people some big old fish, which they normally get to see, but also share something that is uplifting and encouraging from a real-life person who has experienced hard times, good times, funny times. I try to tell a childhood story, and I want to get people introduced to the Lord."
Charlie's crappie filet giveaways have become a popular part of GO FISH. Away from YouTube, he shares the spoils of his fishing expertise with his local church, hosting a fish fry for widowers several times a year.
"It's a ministry that I love," Charlie said. "I like to see people happy, and those widowers love crappie filets."
Nothing is more special for Charlie than family. His wife, Pam – Mrs. GO FISH is the first reference – accompanies him on many trips and on the rare occasion allows him to film her boat-flipping a crappie with an ACC rod.
"She is my light," Charlie said. "I love it when she's in the boat and when she catches a fish. I love my wife, and she loves fishing."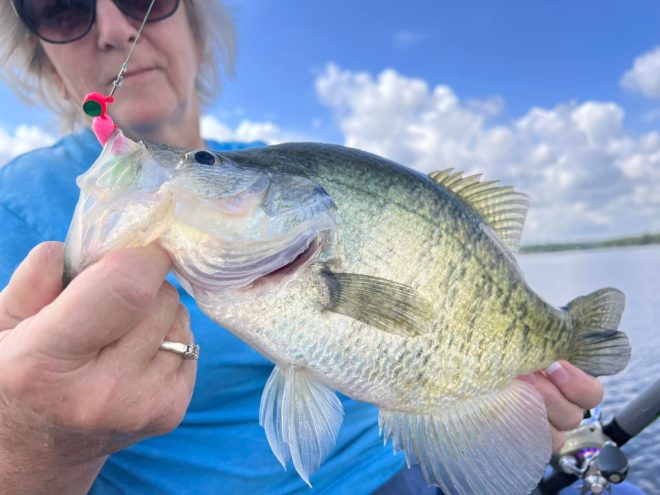 Charlie and Pam have two daughters and three grandchildren, whom he incorporates occasionally into his crappie giveaway videos. The grandchildren draw the winning names.
Otherwise, Charlie hopes to spend more time on the water with his wife, who is recently retired. Pam is actually the person who encouraged him to get into crappie fishing, and now they have more time to explore the numerous crappie venues in north Louisiana and east Texas.
Charlie may also be adding new content to his YouTube efforts. Is GO GARDEN in the future for Charlie, who has shared through social media his extensive efforts at growing vegetables this year?
"I'm thinking about incorporating it into my YouTube stuff," he said. "GO FISH and GO GARDEN with Charlie Burrow."
For the moment, Charlie is content to produce the next GO FISH videos. He has taken some time off this summer due to health reasons and also due to the extreme heat but recently took a successful trip with Pam to Lake Nocantell. Look for the video soon and see some vintage GO FISH with Charlie Burrow.
He will show a few fish catches and also promote the products that help make his videos successful. In addition to ACC Crappie Stix, other sponsors for Charlie include Bonehead Tackle, 
All Aboard Marine mounts, and Optic Nerve sunglasses. Charlie takes the same approach to his sponsors as he does to his passions in life.
"When I promote something, it's because I like the product," he said. "When I do something – I don't do a lot of things – but I do one or two things wide open."