ACC teams earn bids to Mr. Crappie Classic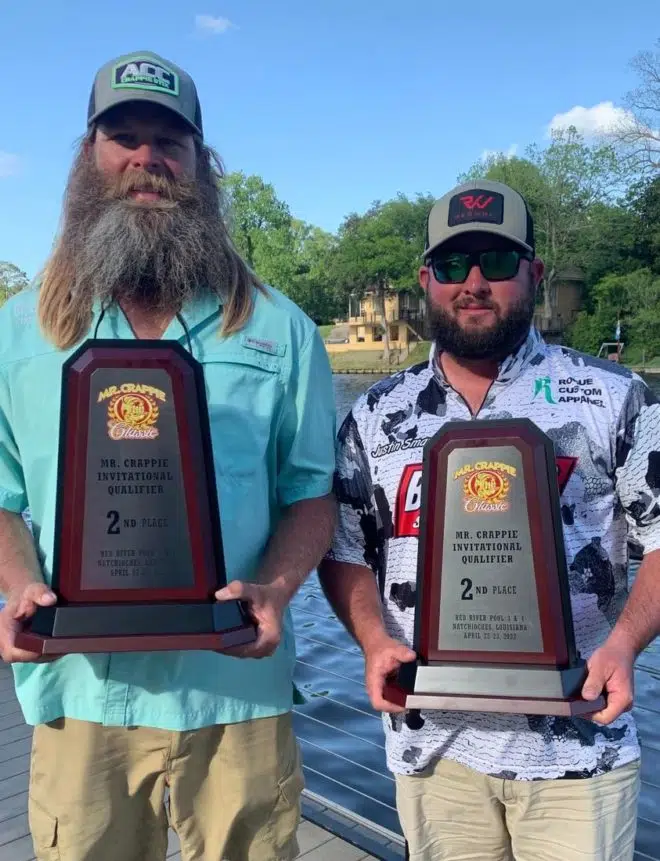 By Greg McCain
The top finishing ACC Crappie Stix teams that fished the Mr. Crappie Classic Invitational Qualifier on the Red River over the weekend (April 22-23) were a study in contrast.
Local competitors Wesley Miller and Justin Smart have extensive experience on the fishery and used that knowledge to earn a second-place finish in the event, which serves as a qualifier for the $300,000 Mr. Crappie Classic scheduled for Table Rock Lake/Branson, MO, in the fall. Nick DeWolf, who managed a top 10 finish in the qualfiier fishing solo, is another ACC pro staffer from the region but had never fished the Red River previously.
The tournament was held on pools 3 and 4 of the Red River near Natchitoches, LA.
"We really think the Red River is advantageous to us because we grew up on it," said Justin, who is from Minden, LA. Wesley (follow Big Sasquatch Outdoors on Facebook for guided trip info) lives in Doyline, LA.
Nick, on the other hand, said he has about five quality lakes near his home in Bossier City, LA., and had simply never ventured to the Red River before practice started just prior to the tournament.
In the end, four teams with ACC connections finished in the top 30, which was necessary to qualify for the Mr. Crappie Classic on Table Rock. In addition to Justin/Wesley and Nick, Don McClish (PointBreak Crappie Guide Service on Facebook) and partner Tim McClish (12th) and Craig "The Crappie Cowboy" Nichols (The Crappie Cowboy Craig Nichols on Facebook and YouTube) and partner Cameron White (16th) also qualified. Wesley and Justin actually double-qualified for the fall Classic, previously earning a spot based on their second-place finish in the 2021 Mr. Crappie Classic, also held on the Red River.
Prior to the tournament, Wesley and Justin had eliminated pool 3 from consideration, focusing their efforts on pool 4. Justin said the Red holds plenty of crappie along its entire length, but the tournament-quality fish were found in pool 4. The tournament launched out of pool 3, meaning locking through erased almost two hours of fishing time each day.
Even though Justin said many of their practice spots had "dried up" by tournament time, the duo managed to put together a seven-fish limit, weighing 10.82 from the Sullivan's area on Day 1. That total landed them in third. They returned to the same location on the second day and caught 11.18, accumulating 22.00 over two days and bumping up to second place overall. They finished about ½ lb. behind the tournament winners.
"We finally started catching some fish (on Day 1)," Justin said. "We found the fish in maybe a 35- or 40-acre pond off the main river. We kept grinding it out. It was tough. We pretty much kept making circles in one little spot, hoping that another fish appeared."
Justin said the team's knowledge of the river allowed them to get to some difficult-to-reach fish.
"We're willing to put our boat in places that other people aren't," he said. "That's kind of what it takes to win out there. Those guys that won (Clay Gann and Todd Froebe), were probably 600 or 700 yards away from us, definitely within sight. They were in an area that I thought didn't have much water at all, and come to find out, they found a little hole."
Justin and Wesley used a combination of 11- and 12-foot ACC Crappie Stix rods and caught their fish on Snacky Lures Fs-200 Series plastics.
"They wanted something small and wanted it vertical," Justin said. "We had to get close and put it right on them and sometimes hold it for 30 or 40 seconds before they would bite."
Nick (follow Wolf Pak Fishing on Facebook and YouTube) also caught fish in the same location but ceded the area to Wesley and Justin on Day 2 because of their higher rank in the standings.
"I was fishing one side and they were fishing the other," Nick said "Most of the fish were in the back. I thought they might have a chance to win it, so I let them have it."
Nick said he battled a variety of factors to build his limits, including wind that ranged from bad on Friday to much worse on Saturday and also the general nature of the Red River.
"It's full of trash fish, gar, carp, catfish, gou (drum)," he said. "You'd see something on LiveScope, and you would think, 'Nice fish." Then it would turn sideways, and it would be 5 ½ feet long."
Nick produced 18.14 over two days, which put him in 9th place overall. He caught his fish using the ACC 12-foot mid-seat rod and his own hand-tied jigs.
Nick said his trip to Table Rock this fall for the Classic will be similar to his trip to the Red River in one way – he's never fished there – but largely a contrast to his home waters.
"It will be different," he said. "I've never been there. All of our water here is muddy and stained, and from what I hear, Table Rock is clear and deep.
"I'm excited for it and definitely looking forward to it."
Justin said that he and Wesley are also anticipating the tournament after their near miss in the Classic last fall.
"I hear that place is really something else," he said. "I hear you're fishing for 9 or 9 ½ lbs a day. We've got great people supporting us, and we're excited to go and represent them. It ought to be a good time of year. I'm excited to go to Branson."
The 2022 Crappie Expo, which includes competition in the Mr. Crappie Classic, is scheduled for Oct. 20-22 on Table Rock. The Expo will be housed in the Branson Convention Center. Other ACC pro staffers previously qualified for the tournament based on a top 25 finish in the 2021 Classic include Nick Whitten (along with partner Mike Kirkland), Clint Pipes (along with partner Roger Putman), and Tim Hebert and Andre Smith.