Kentucky Lake group honors veterans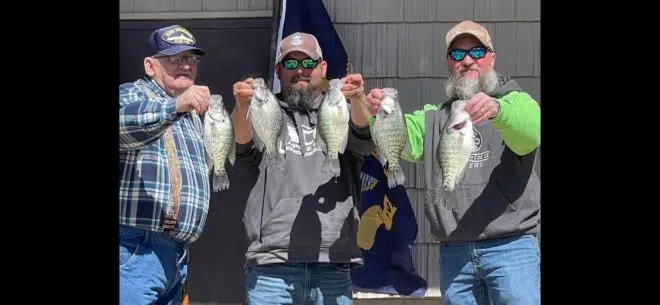 By Greg McCain
Fishing serves as a balm for many anglers, a few moments of relaxation in a chaotic world..
That was the intent of a group of crappie enthusiasts near Kentucky Lake when they first organized a tournament for veterans in 2021. They wanted a chance to honor those who served our country, providing them an opportunity to fish that they might not have experienced otherwise.
Spearheaded by Shane Barker, a veteran himself, the tournament proved successful and provided a springboard to an even better event in 2022. If the first edition of the Kentucky Lake veterans tournament went well, this year's version, held April 9 with weigh-in at Paris Landing State Park, proved to be a resounding success even with a bit of bad weather in the mix.
"We had a great turnout and a lot of support from the local area," said Daniel Ellis, a member of the ACC Crappie Stix pro staff from Gleason, TN, who also helped organize the tournament.
"Shane Barker got this thing started last year. We wanted to carry veterans out and give them an opportunity to fish. We probably had 50 veterans show up. We got a bunch of publicity (from the event last year), and it blew up from there."
The numbers compounded this year. Organizers fit about 150 veterans into 79 boats, up to three per boat in some situations.
"We didn't really want to make it about a tournament," Daniel said. "We wanted it to be about getting veterans out on the water, just trying to give back."
The event actually started on Friday night with a fish fry at a local church wiith about 200 people in attendance. Daniel and company fried about 600 pieces of fish, almost all of it crappie.
"That's another thing that we wanted to do, give them a chance to eat crappie," Daniel said. "They might go to a buffett and eat some catfish, but most of them don't get a chance to eat crappie."
Not even a driving snow storm dampened the spirits at the meal, Daniel said.
"It was snowing so hard at one point while we were cooking that you couldn't see," he added.
The conditions the following morning were not any better with wind chills in the high 20s, more rain and snow, and gusting winds. The weather caused a slight delay for some of the participants.
Fishing with his dad, Don, who is a veteran, and a Marine veteran friend named Billy Warden, Daniel said the day on the water was successful despite the weather. The trio finished second in the tournament behind the boat captained by local pro Tony Hughes.
"We put those ACC rods through extremes," Daniel said. "It was too windy to LiveScope, so we long lined Road Runner heads at about 1.2 mph.
"We were fishing 14 rods, eight in the front and six in the back. I was running two 16-foot ACCs out the front with ounce-and-a-half weights and a Road Runner head, and we were fishing seven or eight feet of water at times. Those rods buckled all the way under the boat when you snagged a stump, but we never broke one."
Daniel said various local groups helped sponsor the event. Tyson Foods donated $1,000 for the big fish prize. Daniel also mentioned Paris-Henry County Tourism, PL Outdoorsman of Buchanan, TN, Grizzly Jigs, and ACC Crappie Stix, which donated rods and other merchandise to give away.
Daniel also had special thanks for other sponsors, Ross Wimberley of Cedar Ridge Guide Service (731.336.8907), who specializes in crappie, bluegill, and redear trips on Kentucky Lake, and Ryan Fisher (615.306.7002), owner of Willowtail Farms. He offers lodging and guided duck hunting trips in west Tennessee..
"They helped us out just about any way that they could," Daniel said, "with the cooking, with the set-up and the weigh-in."
Plans for the next edition of the veterans tournament are already in progress. With more local support, Daniel said the tournament should only improve in 2023 with the aim of providing more veterans the opportunity to fish.
"It's crazy how fast this thing has blown up," he said. "We might even have a name for it by next year."