ACC Alliance: A Team to Watch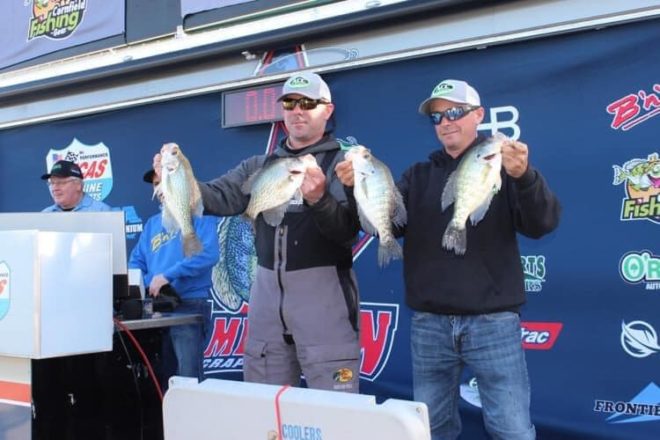 By Greg McCain
What happens when the ACC Crappie Stix brand brings together two top-flight guides, tournament competitors, and ACC pro staff team members for the first time in a competitive situation?
Les Milligan and Jonathan Phillips didn't know exactly what to expect when they paired up to compete in an American Crappie Trail qualifier on the Alabama River last weekend (Feb. 18-19). The two fishermen live roughly 500 miles apart – Les in east Texas and Jonathan in south-central Alabama.
Like many other members of the ACC pro staff, Les and Jonathan had watched the guiding careers and tournament successes from afar, only crossing paths on a couple of occasions. When Les learned through ACC owner Andy Lehman that Jonathan might be available for the ACT derby, he quickly put in a call to Alabama. Jonathan's response was a very indefinite maybe. Jonathan's concerns centered around his work schedule – he's a Montgomery fire captain – not the thoughts of getting in the boat with Les.
The results proved that any pre-tournament concerns were unwarranted. A brief flurry at the end of a tough Day 1 vaulted them near the top 10, and the momentum carried over to Day 2. When the final totals were posted, Les and Jonathan had jumped all the way to fifth place as a result of a strong second-day showing. The ACC alliance proved to be a resounding success the first time out. 
"I guess the common denominator is ACC Crappie Stix, of course," said Jonathan (Team Phillips Guide Service on Facebook). "I met Les in person for the first time at Wally Marshall on Table Rock Lake a couple of years ago. Then I saw him at the Red River (last fall at the Wally Marshall Red River Shootout)."
Added Les, "The tie was ACC Crappie Stix. We had competed in a couple of tournaments against each other and managed to sit down and get to know each other a little bit. When I heard he might be available, I called him up out of the blue and said let's fish. He (couldn't commit) at first but called me back and said, 'I'm in'."
Les (Lake O' the Pines Fishing Guide Service Les Milligan on Facebook) hauled his Skeeter from Texas and pre-fished most of the week before the tournament. Jonathan's work schedule prevented him from fishing all week although he got some practice time on a couple of days leading up to the tournament.
"My schedule did not permit for that tournament at all," Jonathan said. "but I said if you're coming down here, let's get together and put me in as your partner. I swung some things (at work) to get in the boat with him for the tournament, and I did manage to get about a day and half of pre-fishing with him."
In the days leading up the tournament, Jonathan and Les discovered that their distinctive styles meshed well and not just from a technique perspective.
"I found out that Les and I are a lot alike, really OCD about tackle and about keeping things straight," Jonathan said. "Then in the tournament, it was building off one day and having a plan for the next. We worked well together."
Egos sometimes clash when two highly successful fishermen attempt to share a boat. However, both Jonathan and Les said their personalities and boat demeanor were positive factors as they practiced and tournament fished.
"It was Les's boat – my boat is actually in the shop," Jonathan said. "You don't jump in another guy's boat and tell him what to do. I told Les, 'Let me help you with this tournament and whatever I can do to assist you, I'll do it. If you want me to point you where to go, I'll do it.' Les was perfectly fine with me saying here are areas we need to look. Les operated his boat and hopefully I was a good partner for him."
Les echoed the ideas about how the two complemented each other.
"Jonathan and I were able to recognize each other's strengths, his being casting and being able to locate fish on the river with some different techniques," Les said. "My strength is vertical jigging, and we came to realize that the fish did not want a moving bait. It kind of led more to my strengths, and he let me do my thing."
Day 1 of the tournament proved tougher than expected. With less than an hour remaining before check-in, the pair had only about six lbs. in the livewell. During pre-fishing, they had located schools of good fish – the Alabama River is full of two-pounders. Typical of tournament fishing, the big fish on the river disappeared, and even normally reliable spots in the creeks held only a few crappie.
"We had to grind through it," Jonathan said. "We didn't have a very good weight at all until about an hour before weigh-in. We hit a lot of river, and 30-45 minutes before we had to pack it up, we eased up on this area. Les sees about three fish total, but he catches all three of them."
The flurry produced two fish near two lbs. and another about 1.75. The final hour salvaged the day, pushed the team to 11th with 10.71 lbs. after Day 1, and built momentum for the final day.
Day 2 found the team trying to duplicate the location they had found the previous afternoon. They ran up the river to a similar spot and found fish, not many but tournament-quality ones, and the weight accumulated throughout the day.
"We knew they were not on the river, not in creeks," Les said. "They were on trees in a lake. We went to the (first) place sight unseen and within five minutes, I had a good one in the boat."
The gamble paid off. The fish wanted a vertical presentation with a near-motionless lure, something Les encounters regularly on Lake O' the Pines and Lake Fork in Texas.
"It played right into Les's hands," Jonathan said. "I caught some fish on Day 1 and some pre-fishing by casting, but as time went on, they wouldn't chase, they wouldn't react. They wanted a bait dead still on them. I think that's right up Les's ally. I can catch fish that way, but sometimes you just have to know that that's his thing. He got dialed in on Day 2, and I did something that I don't normally do. I ran everything, so we could keep his bait in the water."
Their final total on Day 2 was a fraction shy of 12 lbs., enough to bump them up the leaderboard into fifth place with a 22.67 total.
"It was a good situation with Les," said Jonathan (check out one of his major sponsors, ACC dealer Stoddard's Bait & Tackle in Wetumpka, AL, on Facebook or call 334.478.3899).
"People who know me well know how busy I have gotten with the fire department. I thought Les would be a good fit. Les has the same type of drive that I have and the same organizational style. I have a few more years of tournament experience that I can share with him. I think there will be times where I have several different things to bring to the table, and I think we learned that we can fish unselfishly together."
So does that mean they will be a regular tandem on tournament circuits? Not exactly, although plans are already being made to pair up in an ACT event on the Ouachita River and a Crappie Masters tournament on Lake Fork in the spring.
"We fished well together and got along real well," Les said, "so we may be a team to watch."
Other tournament results involving ACC pro staffers from weekend of Feb. 19:
Shane Johnson, Magnolia Crappie Club, Eagle Lake (MS), 10th place, 13.99

Craig Nichols, Crappie USA, Lake D'Arbonne, 3rd place, 13.26

Nick DeWolf, Crappie USA, Lake D'Arbonne, 4th place, 12.90

Goose Gutzman, 12th Annual Frosty Nuts Tip-up (ice-fishing) Tournament, 5th place