Tournament Roundup 2/05/22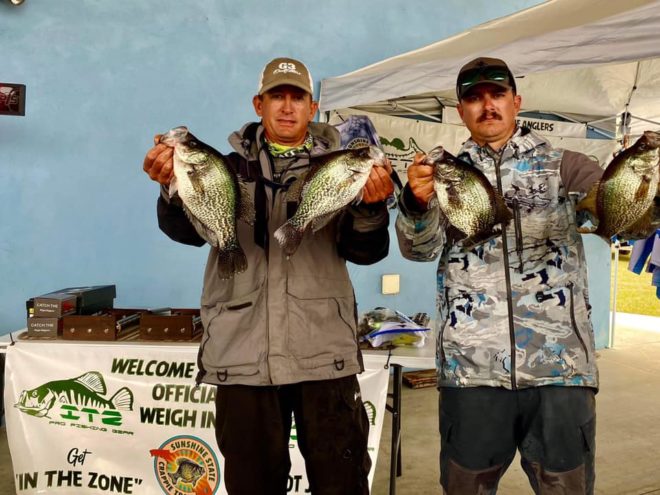 By Greg McCain
ACC pro staff members Wesley Miller and Justin Smart are generally on the fish as they enter tournament competition.
Through prior experience and efficient pre-fishing, they formulate a game plan in advance of tournament hours. As the Louisiana team entered tournament competition Saturday (Feb. 5), the game plan was still a bit up in the air.
"There actually was something a little different about this one," Justin said.
Wesley and Justin competed in the first of a series of tournaments sponsored by The Boat Shop, of Shreveport, and the results were fairly typical even if their approach was somewhat different. They combined for 13.88 lbs. of Toledo Bend crappie and topped their nearest competitors by just over a half pound.
"In a lot of our time practicing, we found that our areas were just not good," Justin said, "so by the process of elimination, we went to other areas and caught fish. Our practice was just terrible."
Weather was part of the issue during pre-fishing the day prior to the tournament. Remnants of a winter storm blew through the area as they practiced.
"It was snowing and about 28 degrees with 12-mph wind," Justin said.
Tournament conditions were somewhat better although Justin termed the temperatures "brutally cold."
The cold didn't stop the team from making a short run up the old Sabine River channel on the northeast part of the sprawling reservoir. They hadn't pre-fished the area, but Justin said he had fun fished there in the past.
They LiveScope'd wood structure in depths of 35-40 feet and managed to find just enough of the right spots to put together a winning bag. The fish were suspended on the timber and laydowns in 18-25 feet of water.
"It was actually kind of sparse," Justin said. "We only came across five or six places that were holding fish."
They put together a mixed bag of white and black crappie – four whites and three blacks – to accumulate their winning weight. Their big fish was a 2.22 black crappie, larger than normal on Toledo Bend.
They caught their fish on Wesley's hand-ties and on Snacky Lures FS 200 series plastics.
"The lake is loaded with good, quality fish, but they do't get as big as other places," Justin said. "The Sabine River runs through Lake Fork, which has enormous crappie.
"We probably caught 60-70 fish during the tournament, and almost all were 1.25 plus. But it was fun to catch the bigger fish on Toledo Bend, especially the black crappie."
The 2022 season for Wesley and Justin is off to a good start. They finished second two weeks prior in another tournament trail. They will continue to fish The Boat Shop series in hopes of qualifying for the Wally Marshall Mr. Crappie Invitational and Crappie Expo in Branson, MO in October. The top five finishers in the points race qualify.
"We're off to a really, really good start in 2022," Justin said. "We have a lot of confidence in what we are doing, and ACC has been a big part of that."
In other weekend tournament news among ACC pro staffers:
two Florida anglers had a good showing in the Sunshine State Crappie Trail tournament on Lake Okeechobee. Calvin King and Brad Gibson finished second with a 9.66 limit.

Minnesota angler and guide Goose Gutzman fished a local ice-fishing event , and Goose and his partner took 2nd, 4th, and 10th under the big-fish format.
(ACC pro staffers, please report your tournament results/details to Andy Lehman ([email protected]) or to Greg McCain ([email protected]). The information will be used to develop a tournament roundup story like the one above.)