Tournament Trail Roundup 1/24/22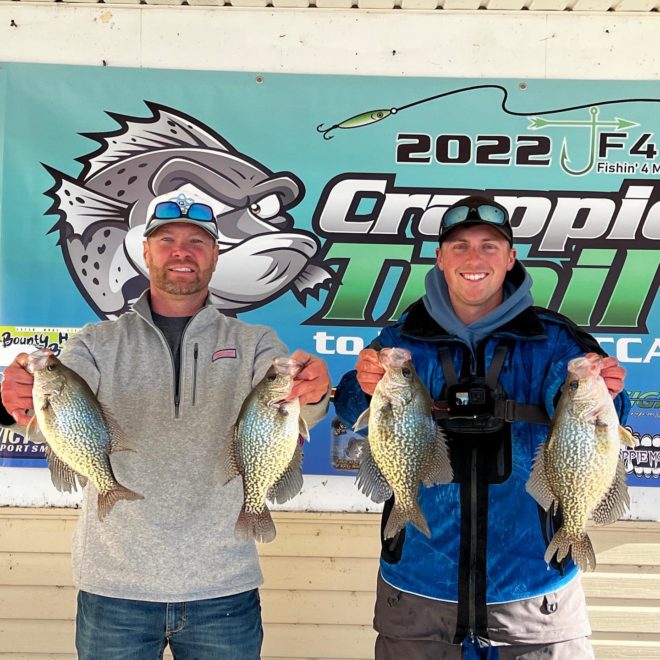 A new year brings new opportunities for fishermen associated with ACC Crappie Stix.
The 2022 tournament season continues to kick off with various tournaments staged Saturday (Jan. 22).  Highlights among ACC pro staffers were second-place tournament finishes by Andrew Nordbye, of Alabama, and Wesley Miller and Justin Smart, of Louisiana.
Tournament conditions were brutal across the South with air temps in the teens in both the Alabama and Louisiana events.
On Lake Guntersville, Andrew (follow Fishing with Nordbye on Facebook and on YouTube) paired with a local fisherman and put together a good limit of black crappie in the Fishin' 4 Mission event despite the weather and water conditions. Andrew said he had found as many as five schools holding two-lb. fish practicing but couldn't duplicate that size in the tournament. He and his partner finished with 10.56, including a 1.81 big fish.
The winners had a solid bag over 12 lbs.
"The fishing was excellent," Andrew said. "I had been out two or three times pre-fishing and had at least five spots where I thought two-pounders were living. We get there on tournament morning, and they're all mixed together, the little ones and the big ones. We caught about 30 in the first couple of hours and probably had eight lbs."
Andrew said the location, main-lake stumps with current ripping up to 60,000 cfs, required some precision casting. The crappie were tucked behind the stumps in big schools.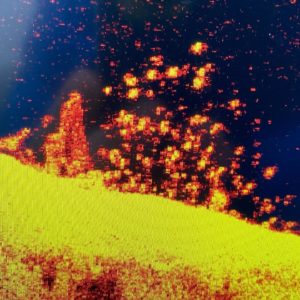 "With LiveScope, we would cast 10 to 15 feet up current from the stump and watch our bait fall down at an angle until it gets behind a stump," Andrew said. "Then you drop it on their heads."
The tactic worked for much of the morning. With the small limit in hand, the team went looking for some bigger fish but eventually returned to their starting spot. The hot early bite cut off later in the morning as the cold front moved out.
"We culled up some with some better fish but didn't catch a fish over 12 inches after about 10:15," Andrew said.
They caught their fishing casting and flipping to the stumps with ACC Crappie Stix, a 7 ½-footer and a 12-footer. Andrew said he used the new ACC jig heads and plastics throughout the day and "probably caught 70 percent of our fish on them."
In the North Louisiana Crappie Club tournament on Lake Claiborne, Wesley and Justin started off 2022 much as they did last year. Wesley said the pair won "five or six tournaments" in 2021 and were Anglers of the Year in the North Louisiana club, fishing the trail for the first time.
"Claiborne is a deep-water lake with a little standing timber," Wesley said. "The biggest challenge was the cold. We're not used to that stuff down here. We couldn't keep the eyes from icing up. We battled that until about 11 oclock in the morning when it finally got above freezing."
Wesley (follow Big Sasquatch Outdoors on Facebook) and Justin had boxed a small limit by that point but knew they needed better quality to compete.
"The lake has a million one-lb. fish, and we had caught one on just about every cast but only had about seven lbs.," Wesleys said. "We knew we had to try something different."
They joined the crowd in the only set of standing timber that held fish.
"It already probably had about 10 or 12 boats there," Wesley said. "We kind of weaved our way through them. There were fish all over the timber. We just had to pick out those individual fish that looked a little bigger on the LiveScope and target those."
They managed to cull every fish out of the early limit in the timber, finishing with 11.80.
"Whenever we saw a better one on the screen, we knew what it was after seeing so many smaller ones throughout the course of the day," Justin said. "When they are deep like that, it's sort of hard to tell at times, but we got better and better about picking out a bigger one as the day went along."
Wesley and Justin finished just .24 out of the lead with the winners at 12.04.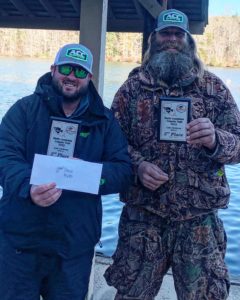 "I'm happy with the finish and the start to the season," Justin said. "On a lake that we're not as familiar with, that's a good finish for us. We figured it out."
In other tournament news among ACC staff, Joey Cook, of Oklahoma, fished the year's first Crappie Masters National Tournament Trail event on the St. Johns River in Florida. While Joey (follow MOJO Guide Service on Facebook) posted that his tournament didn't go as planned, he did manage to catch the big fish of the tournament, a giant 2.89 black crappie.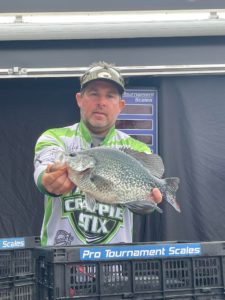 The Crappie Masters tournament was won by a couple of locals fishing in a 13-foot jon boat with no electronics and no reels. They easily topped the field with almost 29 lbs. over two days, including 15-plus Saturday in the final round.
(ACC pro staffers, please report your tournament results/details to Andy Lehman ([email protected]) or to Greg McCain ([email protected]). The information will possibly be used to develop a tournament roundup story like the one above.)