Mr. Crappie Invitational Recap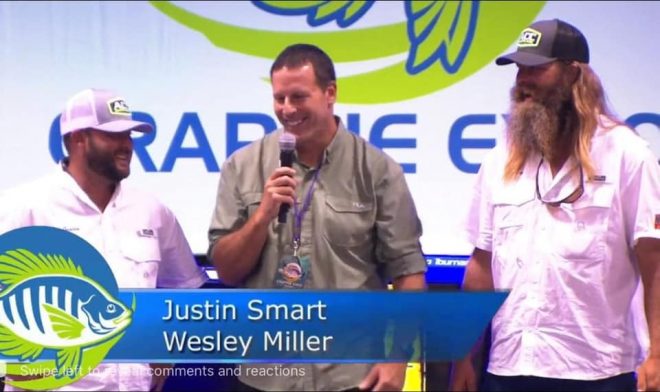 By Greg McCain
Experience on the Red River was not a prerequisite for a high finish in the 2021 Mr. Crappie Invitational.
Among the various anglers and teams associated with ACC Crappie Stix, local guide Wesley Miller certainly put his knowledge to use during the three-day tournament, held Sept. 30-Oct. 2. Other ACC pro staffers had never seen the treacherous waters of the Red River, however, and formulated solid game plans and found themselves entrenched near the top of the leaderboard as the tournament played out.
The brainchild of Mr. Crappie himself, Wally Marshall, the tournament and Crappie Expo 2021 brought together the best teams in the crappie fishing world along with companies marketing products. The Expo was held at the Shreveport Convention Center with tournament launches in nearby Bossier City.
"It was one of the best weeks of tournament fishing that I've had," said ACC pro staff team member Clint Pipes, of Missouri.
"The Crappie Expo is one thing that every crappie fisherman should experience once in his lifetime. We want to grow the sport, and Wally Marshall does an awesome job with it."
Pipes, who finished eighth along with partner Roger Putman, was one of several ACC anglers who had never set eyes on the venue before pre-fishing started. The team rode a solid final day to surge up the leaderboard.
Meanwhile, Wesley and regular tournament partner Justin Smart put together a consistent effort, maintaining the second spot throughout the tournament. They finished behind winners Jeff Larch and Jared Fyock, who took home the $100,000 top prize.
Wesley brought extensive experience on the Red River into the event and put that knowledge to use. That didn't mean that the fishing was easy, even for someone with a background on the fishery.
"We found fish where I thought they would be and managed to catch them pretty well there early in the tournament," Wesley said.
Fishing changed as the week progressed. With several days of pre-fishing and tournament pressure from over 100 boats in the field, the bite got progressively tougher.
"By the end of pre-fishing, with over 100 boats in the field, I'm convinced every fish out there had been hooked," Wesley said. "There was a tremendous amount of pressure on the fish.
"We had this one area where we knew that we could duck in and catch seven fish real quick," Wesley said. "On Day 1, nobody was there, and the fish were there also, but it was hard to discern how big they were. You might get a glimpse of a fish 20 feet away but there might be 15 or 20 stumps between you and the fish. That might mean going 20 or 30 feet away from the fish to get around to it.
"The stumps on the Red River — I mean it's hard to explain how many and how big they are — make it a really tough fishery. They make it a real precise fishery. Those fish are stuck on the sides of those trees. You had to get the jig down between their nose and the stump in order to get them to bite."
The difficulty of navigating and getting to the crappie was a common theme of the event. The result was broken props and damaged boats along with several occasions when anglers went overboard after hitting stumps.
Wesley and Justin endured, following up their successful first day with another respectable limit on Day 2. Putting an 11-foot, medium-reel seat ACC rod to work, Wesley (follow Big Sasquatch Outdoors on Facebook for guide trip info) used his own hand-tied jigs to boat fish throughout the tournament.
Clinging to second after Day 2, a couple of key changes on the final day helped Wesley and Justin maintain that spot. First of all, Wesley changed from his Bistineau jig (pink head, purple wrap, chartreuse tail) that produced consistently well through the first two days to a smaller, more natural look.
"I tied it on, a tiny hand-tie in green pumpkin," Wesley said. "If I could get it in front of a crappie that last day, they would eat it.'
The problem was that the fish were dwindling for Wesley and Justin in their primary area, conditions that called for another change.
"We got down to our spot on the last day and had caught only three weigh fish by about nine o'clock," Wesley said. "We weren't seeing fish. Our spot had gotten beaten up. It was dead. We made a move."
They found less-pressured fish on a secondary spot, which produced just enough quality for the team to secure second place. Even so, they still weighed a small crappie in their limit.
"We really didn't know what we had because we hadn't caught enough fish to even start culling," Wesley said. "We had no idea we had enough weight to win second place, but when we dropped them on the scale, we realized that we had a better bag than what we thought."
That final-day, 11-lb-plus limit pushed their total to just over 32 lbs., good enough for second but well behind the tournament winners, who weighed 35.27 over three days.
"Those guys weighed over 11 lbs. every day," Wesley said. "They came to a place they had never fished before and found better quality fish than everyone else in the field. All you could do was shake their hand. My hat's off to them."
At least two other teams associated with ACC Crappie Stix managed top 10 finishes although both experienced adventures reaching those spots in the standings.
Nick Whitten and partner Mike Kirkland traveled about 13 hours from central Florida, seeing the tournament venue for the first time while pre-fishing.
"Leading up to this event, I had only caught one white crappie in my life," Nick said. "We just don't have them in Florida. I knew we were taking a boat that would be good for fishing the Red River, but we really didn't know what to expect once we got there."
To compound the learning curve, the team had only recently installed Garmin LiveScope technology on the boat, a 22-foot Micro Draft Skiff designed for fishing saltwater flats. They focused their efforts on a "two-acre pond about a mile from the boat ramp." Mike added that the big boat would barely get through the opening into the little lake off the main river.
"We only had (LiveScope) on the boat for two weeks," Nick said. "We haven't caught a fish with it back home. We get in that two-acre pond and see a stump with a blob on the side of it.
"I said, 'that looks like those YouTube videos we've been watching. It looks like a fish.' I took that 10-foot ACC Crappie Stix with a Fearless jig, a 1/32nd grass shrimp, and dropped it down over that blob on the stump. It started moving and attacked the jig. It was a 1.30 crappie. I said, 'hey, we've got something here'."
With little in the way of a back-up plan, Nick and Mike milked the area for two days. Mike caught a fish over 1.5 to kick start their limits on days 1 and 2. After boxing their limits each day, they searched for other likely spots through the remainder of tournament hours. They stood in fourth place after Day 1 and in third after the second round.
"We actually quit at 9:30 on Day 2," Nick said. "We felt like we needed to conserve fish, so we just went looking."
The late-day tournament practice sessions proved pivotal on the final day.
"We left that little pond with a big fish still on every stump (Friday)," Nick said. "We went in there and fished that thing like a combine on the final day, and they're just not there.
"I don't know where they went. Because of the rain Friday afternoon and Friday night, the water had dirtied up. Maybe they went shallower than I expected them to go and maybe they just went down in the mud. They just weren't there."
The last-minute fishing proved memorable in a couple of ways. With two .9 crappie in their early limit, the team knew they needed better quality and moved to a flat where they had seen a few quality fish late on one of the previous tournament days.
"We knew where there was a tree top that had held some fish," Nick said, "but when we got to it, there were no fish there. Someone had already gotten to it."
Moving to an adjacent stump field, Nick spotted a bigger fish and dropped on it.
"I wasn't even sure it was a crappie," he said. "When I set the hook, I said, 'that's not a crappie.' When it got to the top, I said, 'oh, God, get the net.' It was the biggest fish we caught all week, about a 1.8, which allowed us to cull one of those smaller fish."
The tournament adventures were not over for Nick and Mike, however. With an improved limit secure but weigh-in time approaching, they were still about a 15-20 minute run from the boat ramp. They first needed to get out of the stump field, a situation that resulted in a few moments of chaos and provided great advertising for ACC Crappie Stix.
"We've got about 20 minutes left," Nick said. "I turned the trolling motor on high. hit a stump, and I go overboard. When I go overboard, I hear my 10-foot ACC Crappie Stix break. I knew it was broke; there was no doubt in my mind based on the sound.
"When my partner and our marshall got me back in the boat, I saw my rod floating beside the boat and it's not broke. How it didn't break based on the sound it made I don't know. It sounded like it folded in half. It's a testimony to how strong (ACC owner Andy Lehman's) rods are."
In addition to ACC, Nick credited sponsors and products like K9 line, Fearless Jigs by Zac Church, Crappie Monster baits, Skinny Water Marine, Garmin LiveScope and Micro Draft Skiffs for the team's tournament success.
"We didn't know exactly what we were in for," Nick said, "but the week proved to be a great learning experience for us."
Like Nick and Mike, Clint Pipes and his partner experienced their own series of adventures — some good and some bad — during the week. Clint damaged his prop on a rock jetty during pre-fishing and wasn't even sure he would be able to fish the tournament.
A good friend back home near Clinton, MO, came to the rescue.
"I called Matthew Rogers, and he drove his boat down to me and he took my boat back home," Clint said. "Without his help, we might not have been able to fish."
The action proved steady for Clint and Roger. Fishing channel ledges in the lakes and oxbows off the main river, the team ranked 15th after Day 1. With a slightly smaller limit on the second day, Clint and Roger dropped back in the pack but still managed to stay within the top 25. The top 50 teams after Day 1 advanced, and the top 25 after Day 2 got to fish the final round.
Like other teams, final-day strategy proved to be a key for Clint. He fished a "little flat that had a pocket that was about three feet deeper than the flat. I found a laydown tree with the rootball still attached. It was so thick you couldn't see how big the fish were. We camped out for 2½, maybe three hours and caught five of our weigh-in fish off that tree. We finished with 11.50 that day.
A bait change was another key that helped Clint and Roger move up the leaderboard into the top 10. They had caught crappie on a ¼-oz. hair jig (chartreuse and blue) the first two days. A switch to plastic helped trick the final-round fish.
"The final day they didn't seem like they wanted the chartreuse, so I tied on a ¼-oz. white plastic bait, smoky blue with white tail. As soon as I tied that on, it seemed like it made a difference in the big-fish bite."
The limit, which boosted their overall total to 30.42, provided a moment that Clint will hold in his fishing memories forever.
"It was a story I wanted to tell on stage (at the final weigh-in), but I got nervous and forgot all about it," Clint said. "It was about the biggest fish that we caught all week long, the second fish we caught that day, It was out roaming in about six feet of water. I set the hook, and my line snapped at my reel.
"It flew up through the rod and came floating down and landed on the side of the boat on my graph. I grabbed the line up and started hand pulling it in. We got that fish to the net, and it weighed 1.82.
"That fish made our Day 3 weight by far. If we hadn't gotten that fish in the boat, we wouldn't have finished where we did."
Clint used the 13-foot ACC crossover jigging pole to land his fish. He also mentioned Midsouth Tackle, Anglers Port Marine of Warsaw MO, ShowMe RV, and Amped lithium batteries as other sponsors/products that helped secure the top 10 finish.
"I had fished the tournament last year at Branson with my brother," Clint said, "and didn't have the finish that we wanted. Roger called and asked if I wanted to fish this one with him. He had brain surgery about 2½ years ago but has recovered well enough to the point that he's able to fish. It was an awesome experience being in the boat with him."
He added that he hopes it won't be his last.
"The crowds at these things are absolutely unbelievable," Clint said. "Being up there on stage is a great experience."
Four other teams or individuals on the ACC pro staff advanced to the second day of the tournament. They were Les Milligan of Texas, Jonathan Phillips/Jared Gilbert of Alabama, Kennieth Pierce/Kyron Washington of Texas, and Don McClish/Tim McClish of Oklahoma. Other ACC teams and individuals who competed were Keith Acker/Josh Starkey of Louisiana. David Salisbury of Kentucky, and Jacky Wiggins of Texas.
The fourth edition of the Mr. Crappie Invitational and Crappie Expo 2022 makes a return trip to Branson, MO, next fall. The destination was announced just after the final day weigh-in. While the fishery, Table Rock Lake, is distinctly different from the Red River, the setting provides an ideal location for the tournament and expo