The Mr.Crappie® $250K Invitational Preview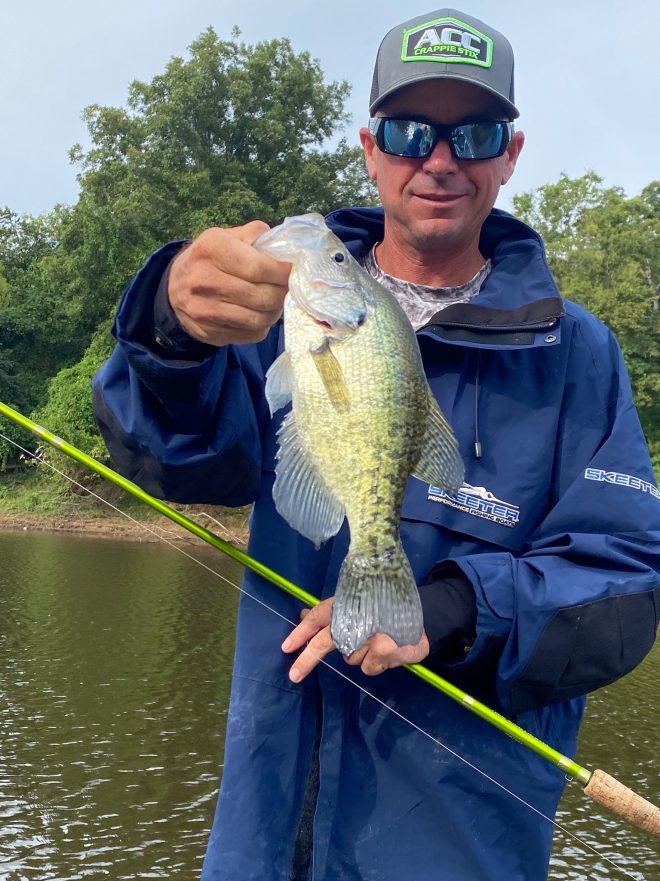 By Greg McCain
Crappie competitors normally focus on fooling the fish and beating the field in tournaments.
As the 104-team field, which includes eight teams representing ACC Crappie Stix, prepares for the third annual Mr. Crappie Classic, a resounding theme has surfaced among those pre-fishing for the tournament. All teams must factor in and overcome a third obstacle to remain in contention for the win, the unique structural features of the fishery itself.
The tournament will be played out on the Red River, which boasts an easily navigable main channel but a rock-filled, stump-infested maze of danger outside the buoys. Reaching the pockets, oxbows, and feeder creeks that hold most of the crappie appears to be an exercise that goes beyond just following the maps on the electronics screen. Competitors suggest knowledge, some "hang-on" boating, and at least a little luck factor into reaching those locations.
"It's about the most treacherous water we've ever been on," said Alabama angler and ACC pro staff member Jonathan Phillips, who will compete along with partner Jared Gilbert for the $100,000 prize that goes to the winners. The total purse is $250,000 for the event, which will be held Thursday through Saturday (Sept. 30-Oct. 2) near Shreveport, LA. The accompanying Crappie Expo 2021, a product showcase of all things related to crappie fishing, runs Friday through Sunday at the Shreveport Convention Center.
"We've already had several boats that have torn off lower units, torn off fiberglass on the boats," Jonathan continued. "It's kind of rough terrain, a slow go, tough fishing.
"There are a lot of backwaters where you can't really trust your mapping system."
Other ACC-associated teams have also dealt with the difficulties in running the backwaters of the Red River. In fact, Texas pro staffer Les Milligan, who led the 2020 event after Day 1, "busted" his prop in practice to the extent that it had to be replaced. He managed to find another prop but said the process of securing a functional back-up was "like trying to find a unicorn right now."
Oklahoma guide and ACC pro staff team member Don McClish said the sheer size of the fishery produces another boating hazard.
"Aside from the alligators and cottonmouths, you have 70 miles of river to fish," Don said. "That's a lot of wear and tear on a boat, and it's already taken a toll on some. Running this river is tough."
Added Jonathan, "The main river is not too bad. It's getting off the river into the backwaters that's the problem. There are some places where you can run in, but you really have to know where you are going and get up on plane to get there."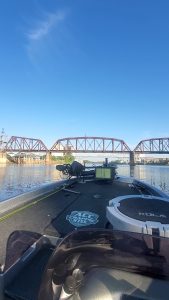 Once there, the crappie have proved cooperative although filtering through unproductive water and wads of smaller fish has been common in practice.
"I've been able to find fish where I thought they should be," said Louisiana pro staffer Keith Acker, adding that he would spend at least part of the remaining practice time in out-of-the way places looking for schools that might have been undetected.
Local guide and ACC pro staff member Wesley Miller echoed those sentiments. Wesley, who will team with regular tournament partner Justin Smart, probably has as much knowledge of the Red River as anyone in the field. But like Keith, Wesley said he was looking for those crappie tucked away in places he doesn't normally fish.
"The Red River is one of my favorite places to fish," he said. "I've fished it all of my life, and I know it like the back of my hand. I'm just looking for areas right now that the rest of the people are not going to find real easily. I already know where I'll go on the first day. Otherwise, I'm just trying to approach this as I would on any other new body of water.
"I'm trying to find fish that I've never really looked for. I know they're here. There are big concentrations of them. There are huge fish here, 14-16 lbs sacks (in a seven-fish limit) waiting to be caught.
"Another great thing about the Red River is that it's basically a virgin fishery. It rarely gets fished by locals. There's never been a major tournament here. These fish are not going to be spooky. They will eat just about anything you put in front of them. It's going to be a really fun week of fishing for the folks who find the fish."
Wesley provided some background to the idea of a "virgin" fishery. Sustained flood conditions in 2015 changed the make-up of the lake, eliminating almost all vegetation. Prior to the floods, major bass tournaments, including the Bassmaster Classic, had been held out of Shreveport.
"It's been forgotten about for the last five or six years," Wesley said. "Now the grass is coming back; the bass are coming back. I don't really think the crappie ever went anywhere. It's just a big huge place with oxbows and a lot of other places just off the main river. You'll find crappie in five feet of water down to however deep you can find it."
Despite his tough luck with the busted prop, Les said he likes the variety.
"It fishes like a typical river system," he said. "I'm actually pretty impressed with this place because it has it all. There's timber. If you want to fish grass … if you want to fish open water, you can do whatever you want to do here."
Wesley predicted the winner will need "at least 40 lbs." of crappie over three days to top the field, which will be reduced to 50 teams after the opening round and to 25 after Day 2.
Don, who will fish the event with his brother, Tim McClish, said one key will likely be drawing a good boat number for takeoff.
"We've pretty much covered the majority of the river, eliminating water," Don said. "We're doing a whole lot of scanning and not much catching. We have gotten into some areas with high numbers and some good fish.
"With the $100,000 payout and some great teams this year, it's going to be a battle. I really think the number that you draw on the first-day takeoff will probably determine a lot. There will probably be a lot of us racing to the same areas. In certain areas, there is a good concentration, but you have to cover a lot of water and then see 50 fish.
"I've pretty much scanned everything, and I'm thinking everybody has probably found the same fish. Getting that high (boat number) will factor into how everything plays out."
Don was invited to fish the 2020 event on Table Rock Lake near Branson, MO, but inadvertently was on the water during an off-limits period prior to the tournament. He self-reported the mistake to tournament founder Wally Marshall and was disqualified.
"It kind of sounds weird, but I've been a nervous wreck," Don said. "I've been asking myself, 'Did I miss some rules? Did I do something?' It's just kind of a weird deal, kind of haunting after going through that last year. But everything has been good otherwise."
While Wesley predicted some mega bags would be caught, Don said he felt his best seven fish in a practice day weighed about 13 lbs. based on his experience of seeing crappie on LiveScope. Last week, Wally predicted the Day 1 leader would have 13 lbs. plus.
"About 1.6 to 2 lbs. would be a top average," Don said.
Keith, who will partner with Josh Starkey, added that small culls could go a long way toward moving a team up the leaderboard.
"It's just a matter of finding .1- and .2-lb. better fish than everyone else," he said.
The tournament will be staged out of the Red River South Marina near Bossier City, LA. Other ACC teams competing include Texas anglers Kennieth Pierce and Kyron Washington and Jacky Wiggins (fishing solo). David Salisbury, from Kentucky, is another solo angler representing ACC.
"Let me say that it's an honor to fish (the tournament)," Keith said. "It's also an honor to be here presenting my great sponsors."
The tournament, which Wally first envisioned about five years ago, brings together most of the best crappie anglers in the country, many of whom are guides. Competing against such a field fires the competitive juices, Jonathan said.
"With so many guides in the field, that brings about a different element," he said. "They are out on the water every day and figure out how to catch fish. Their livelihood depends on it.
"You respect everybody out there," Jonathan added later. "We don't hold ourselves above anybody, but we're not below anybody either. You just want to know that you belong and put on a good showing."
In addition to the tournament, the Crappie Expo is another highlight of the event. Over 100 companies (including ACC Crappie Stix) that market products aimed at crappie fishermen will have booths at the Expo, which will feature new products expected to be on sale by 2022. Among the most anticipated releases is Humminbird's new "live" electronics units. Drawings for $10,000 cash prizes are another highlight.
The Expo runs Friday through Sunday (Oct.1-3).
Thursday, however, the focus will be on fishing. Referring back to the potentially precarious conditions, Keith summed it up for all ACC pro staff members.
"I'm just going to get up a head of steam and get after them," he said.