ACC pro staffers post solid finishes at championship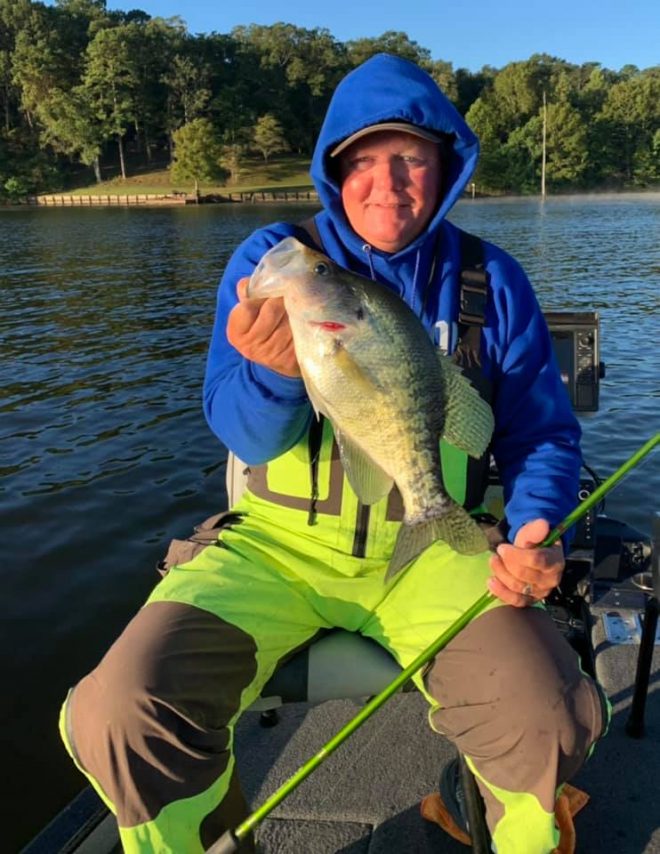 By Greg McCain
For years, Richard Bowling has positioned himself to win a major tournament title.
The veteran Truman Lake (MO) guide, along with long-time tournament partner Gary Lee, has performed well through the years in major events, leading "three or four" after the first day of competition. The ACC Crappie Stix pro staffer found himself in a similar position after Day 1 of the 2021 Crappie Masters National Championship over the weekend (Sept. 24-25) on Lake D'Arbonne.
"You need two good days, and the fish have to cooperate," Richard said. "We had the biggest bag of the tournament (at 12.62 on Day 1), but you have to back it up with another good day. We just couldn't get them to bite."
Despite the opening-day success, Bowling and Lee found conditions more difficult as the tournament continued, eventually settling for a fourth-place finish in the tournament, which brought many of the best crappie teams in the country to the famed northwest Louisiana fishery.
"We're knocking on the door," Richard said. "We're probably the most consistent team when it comes to traveling to different lakes, at least as good as anybody. We're going to do it."
Richard (follow Richard Bowling's Guide Service on Facebook or call 660.351.5361) said pre-fishing was "great" on D'Arbonne despite the fact that his Humminbird electronics did not have the chip for the lake. He was able to scan with his Garmin LiveScope enough to find good fish in practice.
"We found fish on the first day of practice," he said, "and had a great week of pre-fishing. We caught a big fish every day of practice, a 1.85 up to about a two-pounder every single day. That's just sort of playing around."
Richard said the fish were "spooky," a sentiment shared by other teams. The water was relatively clear by D'Arbonne standards, and competitors generally got one drop on a fish before it disappeared.
"They had run off the shallower flats," Richard said. "We found a lot of fish on the 10-foot flats. If you could find a ditch, the fish would be there, places where the water would go from 10 to about 14 feet. That's where we found our fish.
"Even then, you got one shot at them."
Day 1 started with a great bite although some difficulties landing a couple of bigger fish cost Richard and Gary an even bigger bag.
"We broke a big fish off and lost another really big fish at the boat," Richard said. "I should have weighed five really good fish in the first 10 minutes of the tournament. I weighed a 1.74, a 1.68, and a 1.30-something. I had the other two on back to back that I didn't get in the boat."
Even with the difficulties, Richard and Lee had a small lead after Day 1.
"We felt pretty good, but we've led them before," Richard said. "We had about a ½-lb. lead down at Grenada and ended up finishing third."
Day 2 started slow. They scanned their best spots, catching only a single tournament-quality crappie in the early stages. Even that early fish proved troublesome. Hooked deep, it later died and forced the team to weigh a much smaller crappie.
"If you don't weigh that fish, it's really going to cost you in the tournament," Richard said.
A flurry later in the day included a 2.05 crappie, one of the bigger catches of the tournament, but their total of just over 11 lbs came up short.
Richard said he used a "14-foot ACC Crappie Stix spider rigging pole" for most of his tournament catches.
"I had a green pole in my hand most of the week," he said. "It's lighter, and I can reach out that one more foot."
Other ACC pro staffers also fished the tournament, including local guide Wesley Miller (Big Sasquatch Outdoors on Facebook or 318.465.1668.) Wesley teamed with tournament partner Justin Smart for a 10-place finish.
"D'Arbonne is one of the lakes where I guide in northwest Louisiana," Wesley said. "This summer, D'Arbonne has fished so tough that I have rarely taken trips there. The only trips that I have taken have been with people who live there because that's where they wanted to fish. It's been quiet all summer, so I only went over the day before the tournament. That's all the practice that I had."
Despite the limited practice time, Wesley said finding fish was not a problem. The issue was finding tournament-grade fish.
"We had about 11.50 lbs. both days, so we had a consistent tournament," Wesley said. "We never could catch a kicker fish. We were one two-pounder away from being top five. With 139 teams in the tournament, there were only about 10 two-pounders caught both days. The big fish were elusive and hard to find."
Wesley said another issue was the pressure with a crowded field on a relatively small fishery.
"It's 15,000 or 20,000 acres but still fishes fairly small, especially after being pounded in a week of practice," Wesley said.
Using the ACC 11-foot mid-grip jigging rod paired with a hand-tied jig to catch most of his tournament fish, Wesley fished similar deeper flats where Richard found most of crappie. Wesley also echoed Richard's thoughts about the fish being spooky.
"You had one opportunity to present your jig to the fish," Wesley said. "If you didn't catch him, he was going to run. You wouldn't have another opportunity."
The father-son team of T.J. and Alex Palmer won the tournament with a 24.66 two-day total.
The crappie world now turns to another major event this week, the Mr. Crappie Classic and Crappie Expo in Shreveport, LA/Red River. Check the ACC blog later in the week for more info on the event.