5 Tips For Dock Shooting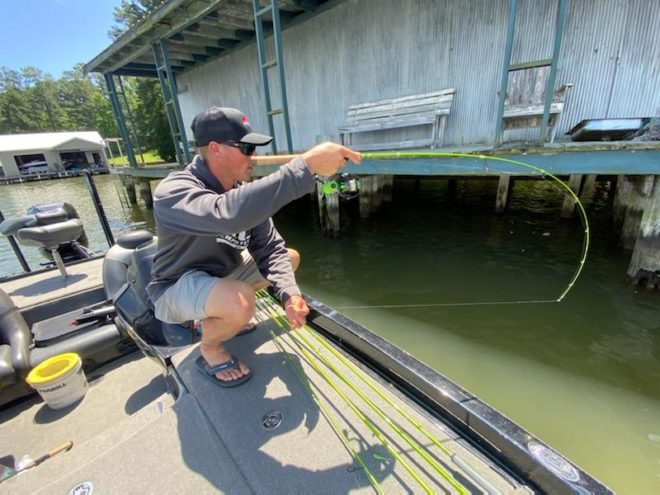 By Greg McCain
Dock shooting is one of the essential techniques of crappie fishing. While not every fishery boasts suitable docks to shoot, plenty of wood or metal structures exist on most lakes to make the repetitive presentation a viable option.
I solicited information about dock shooting from the ACC Crappie Stix pro staff, and they responded with good ideas that would make just about anyone better at the practice. First of all, Illinois guide (www.centralilcrappieguide.com) and pro staffer Reagan Smith provides details about how to shoot docks. Reagan and others then detail other aspects of dock shooting.
"Dock shooting is my jam, and I love teaching people how to do it on trips," Reagan said. "I teach it this way when beginners are learning. When using the 6' or 6'6" ACC rod, line your line up with the rod, use the tip of your index finger, not in the first crease of your index finger but just the tip or the line will catch in the crease.
"Line your jig head up with the "A" in ACC Crappie Stix on the rod. Extend your arm straight; keep rod straight up and down, not sideways. Point the tip of the rod back towards you. This is when you have enough bend.
"Always hold the head of the jig with the hook away from you when starting out. With that much bend, when you release the bait, the line should flow off of the tip of your finger. Boom! You are now a dock shooting machine."
5 things to know about dock shooting
1. More people mentioned the need to practice than anything else. "Practice, practice, practice," said pro staffer Chris 'Sarge' Gill (Asleep at the Reel on YouTube). Reagan repeated those exact words. One gentleman with whom I fished years ago likened the need to practice and the technique in general to his golf game. "Much like golf, it's one of the most rewarding things that I've ever done and one of the most frustrating things that I have ever done," he said. Thus, regular practice, even away from the water, is a requisite for becoming the best dock shooter possible.
"Start with a bucket, then a soda can, then a roll of duct tape standing upright," Reagan said.
Added Blake Hauk, owner of Crappie Cove, an ACC dealer in Maryville, TN,
"The more time spent practicing on the porch or in the yard will certainly create more efficient time on the water. Cut the hook off a jig and fire away at the target of your choice!"
Blake said the idea of practice can be taken a bit too far, adding a moment of levity to the discussion.
"Personal experience," he said, "best not to break the wife's clay flower pot!"
2. Much has been made about the need for boat control while LiveScoping for crappie in recent years. The same is true to a great extent while dock shooting.
"Don't bump the dock," said Alabama pro staffer and guide Jonathan Phillips (Team Phillips Guide Service, 334.3919735). "Stay off the dock and learn to shoot from a little more distance. You'll save yourself a few broken rods and catch more fish in the long run."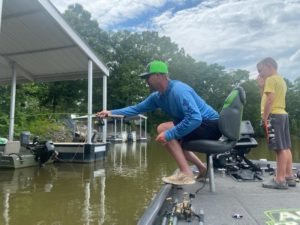 Reagan agreed with that idea. 
"Always stay away from the dock and practice the distance," he said. "The feel and comfort of it comes with time. If far away and wanting a skip of the jig, aim low and lift the rod tip up as the jig is flying to allow a skip or two under a pontoon or docks."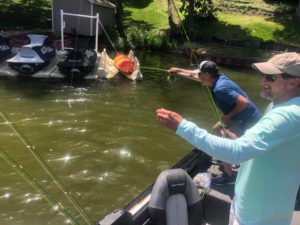 Missouri pro staffer Darin Keim added another element to consider about proximity to the dock.
"Pay close attention to the prop wash of your trolling motor," he said. "If you blow a big puff of water under the dock in their faces, the bite is done regardless of what equipment or technique you are using."
3. A surprising number of pro staffers mentioned using bobbers of various types while shooting docks. While the bobber adds to the degree of difficulty of shooting, various reasons exist to use them.
I was introduced to dock shooting with a bobber years ago at a writer's camp on Alabama's Weiss Lake by BrushPile Fishing TV personality Russ Bailey, who uses a fixed ice-fishing bobber while shooting docks. Weiss is littered with docks that make seeing a tiny bobber feasible.
Nick DeWolf (Wolf Pak Fishing on Facebook) uses both slip and fixed bobbers for his dock-shooting needs.
With a slip bobber, "Let it fall for a foot or so and start working it back to the boat like a jerkbait but just light twitches," Nick said. "It keeps the bait from falling any more and gives it action.
"You can also just pin the bobber and do the same, giving it twitches to get reaction bites."
4. Experiment with jig and line size. Fall rate is important in producing the best bite; crappie respond to an anvil one day and a feather the next.
"Make sure to have a variety of jig sizes 1/32nd, 1/24th, and 1/16th," said Jeremy Lindsey (follow Black Dog Outdoors LLC on Facebook), "along with 4- or 6-lb. line. Experiment with the rate of fall."
Darin, who manages Big Surf Waterpark in Linn Creek, MO, makes use of his facilities to test fall rates, not just because of jig and line size but also because of shape.
"We do a lot of this in my wavepool," he said. "It's amazing how different baits fall."
5. Make use of the technique beyond the docks. Reagan points out how the dock-shooting technique can be productive in a variety of situations, not just around docks.
"Dock shooting is a great technique when not on docks as well," he said. "I use it all the time to shoot a cork under cover like hanging brush or when I have 5 people in the boat. Instead of casting a rod, I can dock shoot it where I want and do not have to worry about hooking anyone."
Finally, consider which ACC rod works best for you. Tennessee pro staff member Daniel Ellis likes the 6'6" or 7'6″ for his dock shooting. Nick favors the 7'6″ paired with a 100 series reel and 10-lb. fluoro. Tennessee guide and YouTuber Matt Xenos (Wired for Crappie on YouTube; www.wiredforcrappie.com) mentioned in a recent blog article that he thinks the 6' casting/shooting rod is the perfect weapon for dock shooting.
Find the one that is most comfortable and put it to use. Dock shooting is perfect for post-spawn fish on many lakes. It is also great therapy, the repetitive nature of shooting allowing fishermen to get lost in the process. Add to your repertoire. You'll thank me later.