Grenada recovering from post-spawn lull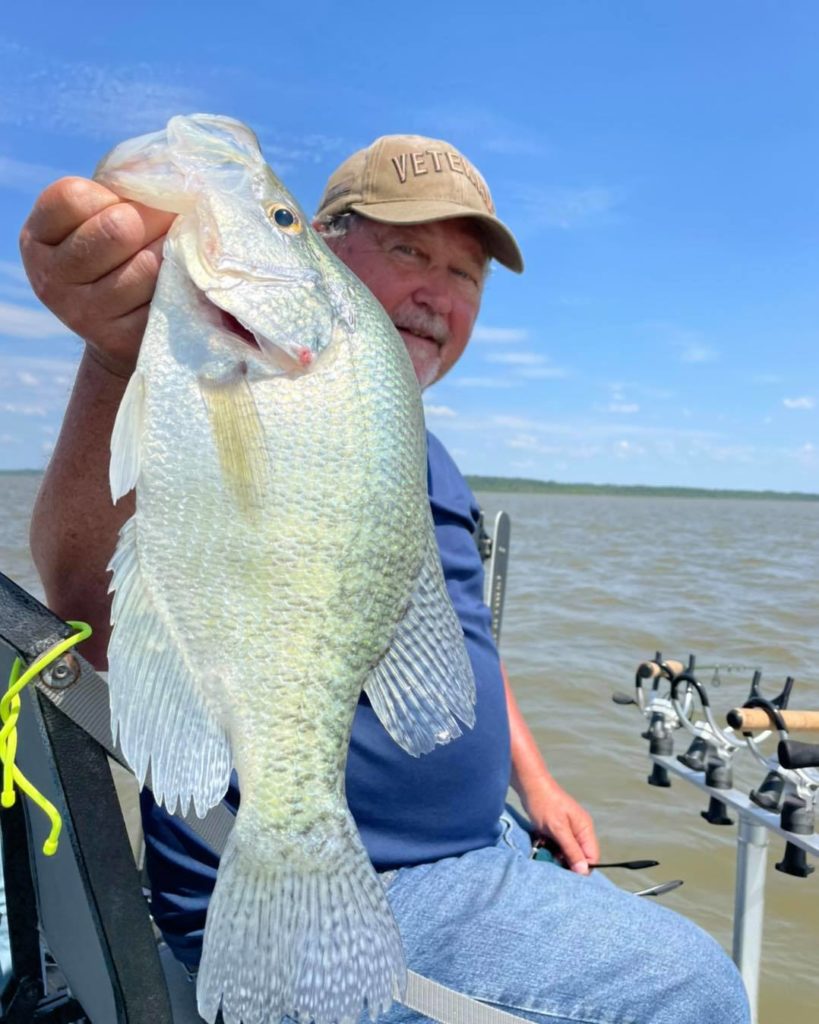 By Greg McCain
Grenada Lake, easily everyone's choice as the top crappie destination in the country, is about to explode again after a lull in activity following the spawn.
At least that's the estimation of guide Tim Howell, an ACC pro staff member from Oakland, MS, who guides on all of the famed Big 4 crappie lakes along the I-55 corridor. The early post-spawn can be difficult, Tim said, and this year has proved exceedingly tough. Tim acknowledged that he and other guides in the Longbranch Guide Service have struggled to find limits of 12-inch keepers in recent weeks.
Gone are the days in early March when the lake, fish concentrated with the water level well below regular pool, erupted with an unparalleled abundance of three-pounders, including a memorable CrappieMasters tournament that saw two teams average over three lbs. per crappie in their 14-fish, two-day limits.
Tim characterized the conditions as something of a perfect storm of crappie fishing at the time. The storm subsided, however, the water levels on Grenada rose, and the crappie performed their yearly spawning ritual. The result was an April funk that turned the fishing from incredible to grueling. Tim actually called it "depressing."
"All (the bigger fish) are scattered and not coming out at the same time, one here and one there," he said.
Tim said the pattern regularly recurs on Grenada and other neighboring lakes like Enid and Sardis. The difficult fishing can last almost the entire month of April in some years. Finding fish is not the issue. Tim said plenty of non-keepers are available, but something appears to dramatically impact the bigger spawners during the period.
"The period immediately after the spawn usually lasts three weeks to a month," Tim said. "You can catch fish during that period. It's just a lot harder and a whole lot more searching and looking. They are not stacked up in any one spot. They are so scattered from here to there. You can find them in four to five foot of water up to 30."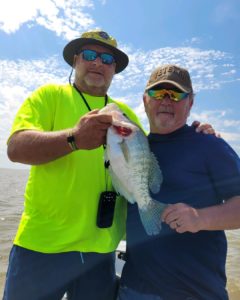 Tim said he still intercepts fish while slow-trolling minnows and jigs around the mouths of creeks as they leave spawning areas. He said the crappie are typically suspended about 10 feet or slightly more over water up to 20 feet deep.
"The fish are there," he said. "There's no shortage of short fish. You can go out there and catch 500 of them a day."
The problem in the early post-spawn period is finding any concentration of bigger females, which are reluctant to bite as they recover from the rigors of the spawn. Tim said a three-lb. pre-spawn female might weigh closer to two lbs. a month later and perhaps until the fall.
"The bigger fish are kind of finicky," he said. "I don't know if it's because they are worn down from the spawn, but they just don't want to eat. You have to put it right on them. It's just a tough time to fish."
The post-spawn doldrums quickly give way to better days ahead, however. Through his experience, Tim can predict dramatically improved fishing any day now.
"The first or second week of May, they get settled down and move toward summer patterns," he said. "From May on, the fishing gets hot.
"It's fixing to get right. The fish will get the feed bag on and get to eating. I think you can safely predict that will happen by at least mid-May."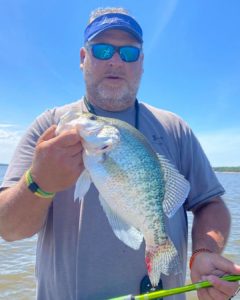 As the fish recover from the spawn, Tim makes a transition with his fishing presentations. He gets more aggressive and puts the ACC Crappie Stix 16' trolling rods to use, pushing jigs out of the front of the boat with a power-trolling technique or long-lining out of the back.
"I will either long-line jigs or power troll, which is the same as spider rigging except using a heavy weight and moving fast," Tim said. "There are times when I will power troll and long-line at the same time, push some out the front and pull some out the back and just cover water.
"This time of year, the key is covering real estate."
As the crappie on Grenada continue their move toward summer haunts, Tim looks for them on flats adjacent to the river. Any area around bigger secondary creek channels or main river channels is likely to hold concentrations of fish in May.
"One day they may be bunched up in 25 foot of water but may only be eight or nine foot deep, suspended in there," Tim said. "If you can get them like that, you can pound on them."
Tim said only one thing might slow down the fish as they move toward deeper water. Recent rains in the region have caused the water to rise about seven to eight feet compared to when CrappieMasters visited Grenada about two months ago. The rising water has pushed into standing timber and into the woods surrounding the lake, not a full-fledged flood but enough increased water volume to hold the crappie shallow for at least a short time.
"They will hold around and stay around the shade, hold on the shady side of that stuff until the water starts falling," Tim said. "Once the water starts falling, they will definitely start moving out of there."
Fishermen follow the falling water – the drop starts on the east end of the lake and moves west toward the dam – as the crappie instinctively ride along with it, usually following baitfish that make the same east-to-west migration.
When the change occurs and water and weather conditions stabilize, some of the most consistent fishing of the year takes place on Grenada and continues until about Thanksgiving, when the water drops enough to prevent boat access.
"One day soon you're going to go out there and it's going to be on fire," Tim said.
Longbranch Guide Service is now booking trips for 2021. Contact Tim at 662.251.5625 to reserve a spot, and he encourages anyone interested to book now because prime dates go quickly. Also follow Longbranch on Facebook for the latest information.
For accommodations central to the Big 4 lakes, consider booking with Rustic Rentals at Enid Lake, an Airbnb minutes from the ramps and a short distance from the other Mississippi fisheries. Rustic Rentals (601.624.5840 or contact them on Facebook) caters to fishermen with ample space and electricity hook-ups for boats.