Big Crappie Bash An Overwhelming Success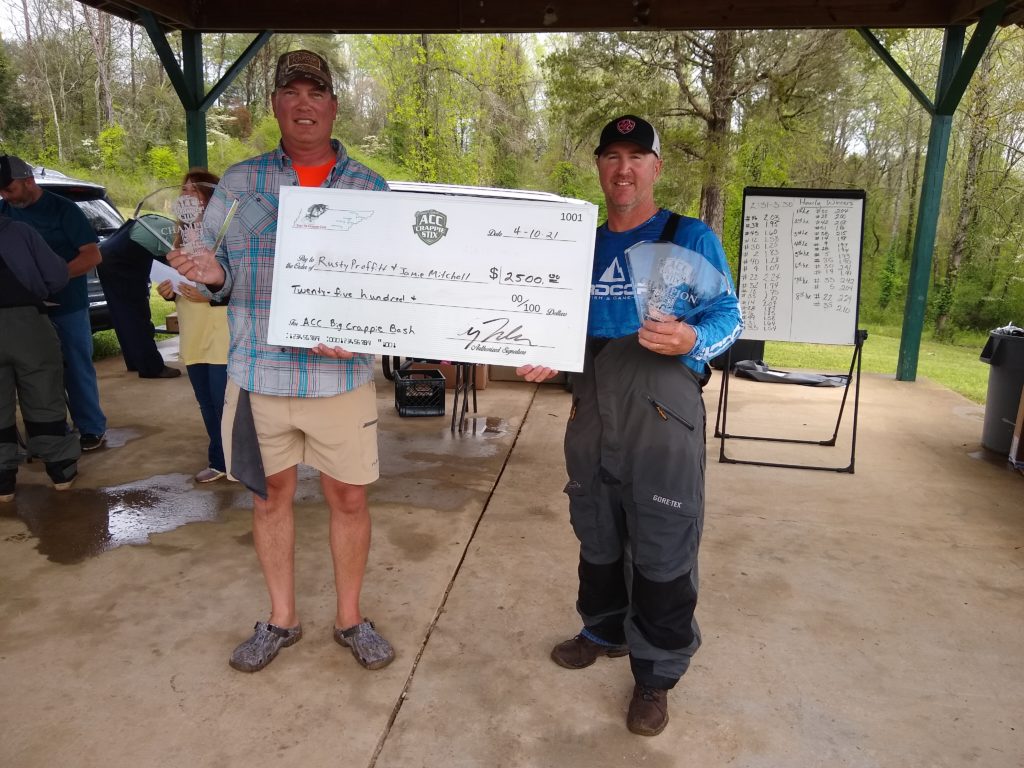 By Greg McCain
Rusty Proffitt and Jamie Mitchell live in prime crappie country in east Tennessee.
They normally fish lakes like Douglas or Cherokee near their home in Morristown. Yet when they heard of the ACC Crappie Stix Big Crappie Bash presented by Crappie Cove, they knew a trip to Watts Bar Lake was in order.
The crappie fishing tandem had fished Watts Bar before with some success. Rusty had caught a 2.84 crappie there the year before, and reports of potential 3-lb. fish made the unique hourly tournament even more alluring.
The event was about six months in the planning. Andy Lehman, owner of Illinois rod company ACC Crappie Stix, and Blake Hauk, owner of all-things-crappie store Crappie Cove in Maryville, TN, had been working out the details of the hourly tournament for about six months, developing a concept first suggested by Matt Xenos, a pro staff member for both groups. The tournament brought together 52 teams, most from the east Tennessee region along with a smattering of other entrants from as far away as Wisconsin and Texas.
While traditional tournaments abound, the hourly contest aroused the interest of teams. The tournament offered hourly prizes for the biggest and the next-biggest crappie weighed in along with the overall grand prize, which paid $2500.00.
When the final fish was weighed and the final drop of water had fallen on a rain-filled day, Rusty and Jamie ranked at the top of the leaderboard with a 2.42 white crappie. They narrowly edged the team of Raymond Reed and Chris Sanders, who weighed a beautifully colored 2.41 black crappie.
"It's a great concept," Jamie said. "We have a little history on Watts Bar and knew we had to fish it."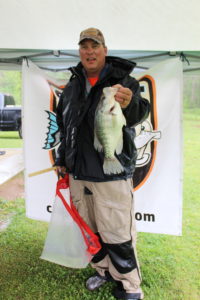 Organizers weren't even sure if the Big Crappie Bash would take place. Another in a series of storms swept through the area in the days leading up to the event and even threatened to wash out the fishing on tournament day. High winds and rain were predicted, compounding the problems associated with the high water from recent flooding.
"We got lucky," Blake said. "We were looking last night and thought we were going to have 20 to 30 mph winds.  It didn't get windy. We just got a little rain."
Anglers braved more than just a little rain. At the end of the day, Rusty had caught the biggest fish. He and Jamie overcame limited and difficult practice to produce the winning crappie.
"We had actually been catching smaller fish," Rusty said. "We didn't know what to expect."
He caught the fish single-poling deep brush. He used a 10-foot ACC Crappie Stix jig pole and fooled the big fish with a Crappie Magnet jig and plastic.
"We knew they were here," Rusty said. "We just had to find the right one."
They weighed the big fish in the seventh hourly increment – 1:30 to 2:30 – of the tournament, highlighting a day when anglers strategized about when to weigh their fish. The risk was weighing a crappie early in the hour and providing other teams the opportunity to top it.
Many teams came to the scales, only to see a weight already posted bigger than the crappie they had in hand.
"You've got to know when to weigh in," said ACC and Crappie Cove pro staff member Keith Acker, who traveled from Louisiana to fish the event.
Keith's strategies worked. In perhaps the most exciting point of the day-long weigh-in, Keith's 1.93 crappie won the fifth hour after a late flurry of fish came to the scales and bumped the top weight up by hundredths of an ounce about five times in just a few minutes.
Ironically enough, Keith later weighed a fish over two lbs. in the seventh hour but finished second in that hour to Rusty's grand prize winner.
"It was just a great event," Keith said. "I was excited to get here and fish Watts Bar, and it didn't let me down. I would like to thank ACC and Crappie Cove – Andy and Blake and Matt Xenos – for organizing the event. I can't wait for the next one."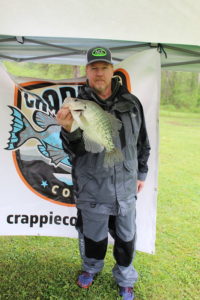 Finishing second overall, the team of Raymond and Chris were about to leave a spot when Chris hooked up with the big black crappie, which won the sixth hour.
"We were shooting a dock, and he was re-tying," Raymond said. "He had gotten re-tied and I was about to pull the trolling motor up, and he said, 'I've got one. It's a big one.' I got the net and thought it was a bass until it rolled up on its side."
Chris caught the big fish shooting Bobby Garland plastics with a 5'6" ACC casting/dock shooting rod. The team also earlier weighed in one of the unique fish from Watts Bar, a 1.66 black-nose crappie.
"We enjoyed fishing the tournament," Chris said. "Sometimes you get beat by the equivalent of a drop of water."
Both Raymond and Chris live in Soddy Daisy near Lake Chickamauga, which is just downstream from Watts Bar.
"We don't really get up here that much even though we're just an hour away," Chris said. "I'm five minutes from about four boat ramps (on Chickamauga), and he's the same way. We live for shooting docks."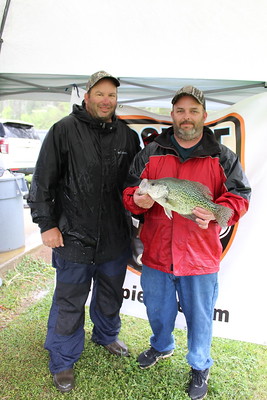 Finishing third overall, Wayne Williams, from Kingsport, TN, caught a 2.24 crappie that won the eighth hour. He and partner Kevin McMillion fish Douglas and Cherokee frequently but brought their LiveScoping skills to Watts Bar for only the third time.
Wayne used the new 13' ACC jigging pole to catch his big crappie. He said it was the perfect tool for the type of fishing he does.
"I love it," Wayne said. "I love how stiff it is."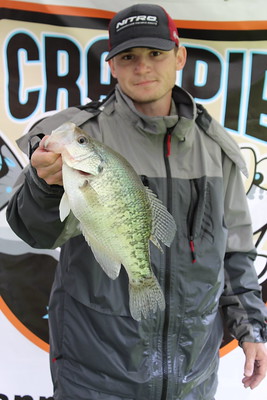 Other hourly winners included hour 1: Jason Ryder and Marvin Bailey, 2.04; hour 2: Barry White and Billy Cain, 2.08; hour 3: Greg Moses and Tracy Maxwell, 2.15; and hour 4: Tyler Key and Ciara Key, 1.97.
"It was a great tournament, 52 boats," said Andy, the ACC owner. "Usually if you can get 40 boats, that's a great turnout. The weather actually cooperated a little bit. It was supposed to blow 30 mph, and the wind never got that bad. I learned a lot about the lake and had fun. Everybody was safe and seemed to enjoy the format."
With the first Big Crappie Bash in the book, the thoughts of numerous anglers turned to an encore. Matt, who was a primary organizer of the tournament, asked the crowd during the awards ceremony if they would like to see a second annual Big Crappie Bash. Yes was the resounding answer.
"I can't promise it right at this point," Andy said. "Between Blake and Matt and me, we all liked it. We liked the format and more importantly the fishermen seemed to like it too. So I don't see why not.
"I am glad and thankful for everyone who came out. Everybody was thanking me, but I didn't do anything. It was all about the fishermen for making it happen in a big way."