ACC, Crappie Cove team to stage unique tournament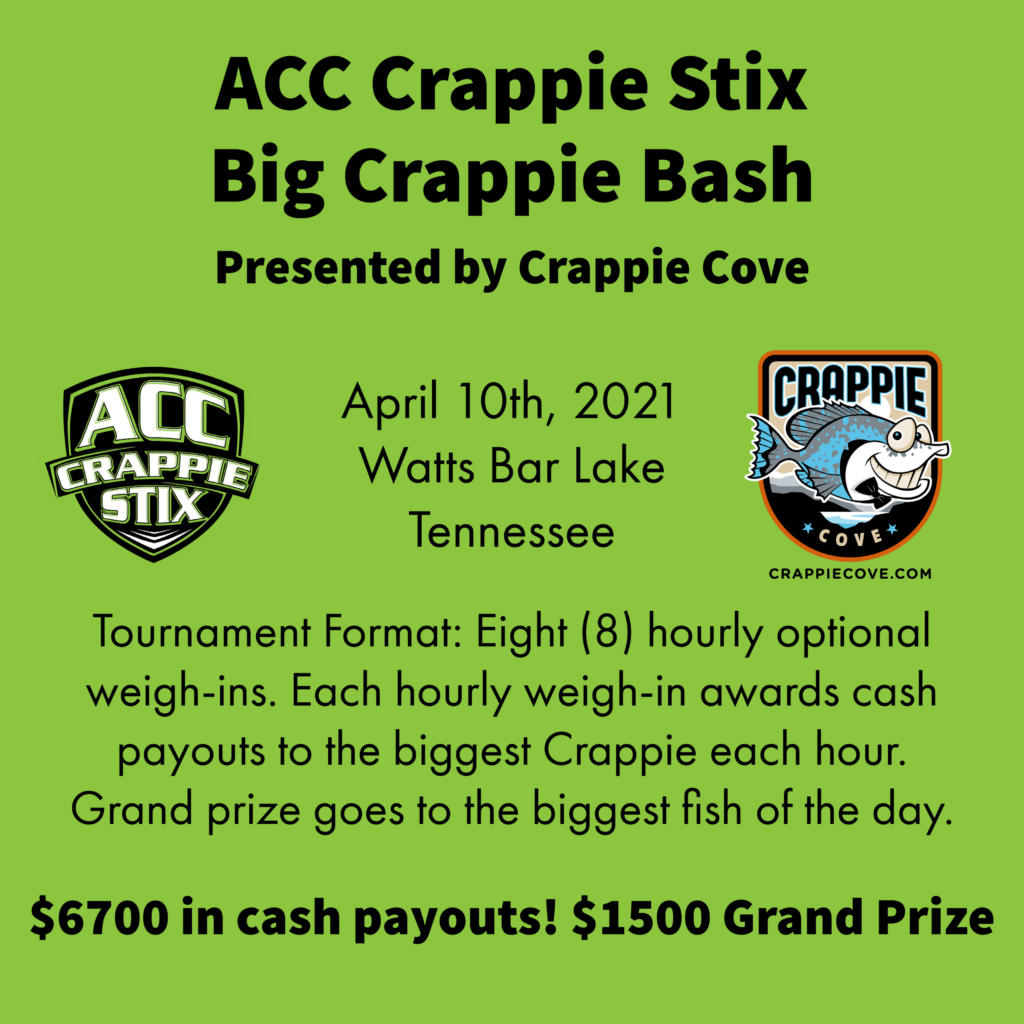 By Greg McCain
Tournaments abound in the current crappie culture.
Hardly a week goes by without a major event held somewhere across the country, mainly in the Southeast, with the standard format pitting teams with the goal of catching the greatest weight from a 7-fish limit of crappie. The current explosive growth of crappie fishing has been partially fueled by the popularity of such events.
ACC Crappie Stix owner Andy Lehman got into the act last fall, holding the first ACC Owners Tournament on Lake Fork in Texas. While there, Andy was pitched a proposal of holding another ACC tournament, this one destined for Tennessee. The idea, however, came with a twist.
Instead of the traditional tournament format, Blake Hauk, a primary sponsor of the Lake Fork tournament and owner of a tackle shop in Maryville, TN, proposed an event with hourly cash prizes for the biggest crappie and for an overall big fish winner. The idea was only in its tentative stages when Andy and Blake left Texas in November.
Next week, the proposal comes to fruition. The ACC Crappie Stix Big Crappie Bash presented by Crappie Cove will be held Saturday, April 10, on Watts Bar Lake in east Tennessee. Crappie Cove (www.crappiecove.com) is Blake's business that caters to crappie fishermen in the region.
"This idea of a tournament with an hourly payout is something that Matt Xenos approached me with about a year ago," Blake said. "We started talking about it, kicking it around, and then Andy and I started talking about it. It's really kind of Matt's idea, Andy and I liked it, and we wanted to do another joint effort between ACC and Crappie Cove."
Andy found the idea particularly appealing because the format allows even novice anglers an opportunity to win money.
"Matt made a great point about the format," Andy said. "He said you don't have to stand on the stage in front of a bunch of people and feel like a loser. This format is fun. Nobody is really going to know how much you caught or didn't catch unless you happen to catch the big one that hour.
"You have to be a really good fisherman to figure out how to catch the 7 biggest fish in a regular tournament. In this one, the odds are much more in your favor."
To register, call Crappie Cove at (865) 233-3471 and ask for Misty. Entry fee is $100 for two-person teams or individuals. Additionally, youngsters under 15 can fish with a team and will be awarded a free ACC youth rod.
Participants should consider a couple of key rules. Anglers may win the hourly $400 prize while fishing any brand of rod but are eligible for an additional $250 contingency prize if using an ACC Crappie Stix model. Only anglers using ACC rods are eligible for the overall $1,500.00 grand prize.
Fishing from a kayak is allowed but bank fishing is not.
"It's really been refreshing to see the level of interest and enthusiasm about the format," Blake said. "It's supposed to be more fun and maybe a little more opportunistic than the average tournament.
"You're not competing against the guy with all the electronics running up and down the lake for 60 miles. You can take your kayak, paddle out to your brushpile, catch that big momma fish, and win $650 out of it."
All participants must check in by 6:15 a.m. at Tom Fuller Memorial Park before the tournament starts. Hourly weigh-ins will take place at the boat ramp in the park. Hourly winners will be determined during the following time slots: 7:30-8:30, 8:30-9:30, 9:30-10:30, 10:30-11:30, 11:30-12:30, 12:30-1:30, 1:30-2:30, 2:30-3:30.
"It's an hourly tournament," Matt emphasized. "Your weights from hour to hour do not carry over. Let's say you weigh in from 7:30 to 8:30, and you weigh in a 2 ½-pounder and get beat by 4 ounces. That 2 ½-pounder does not carry over to the next hour, and it may only take a 1 ½-lb. fish the next hour."
As far as fishing is concerned, expect the crappie to be in a pre-spawn mode. Heavy rains in the region and the recent cold front slowed the bite, but more stable conditions in the days leading up to the tournament should push the crappie back toward spawning areas.
"There should be a lot of heavy females moving in and getting ready to spawn," said Matt, who is president of the East Tennessee Crappie Club and is a regular winner in tournaments throughout the region. "The true pre-spawn pattern, I think, is going to continue into the tournament because we have this cold front coming in.
"Fish will be able to be caught any way next week. You should be able to troll and fish open water, LiveScope open water, brush, docks. The beauty of this tournament is that the crappie are going to be at every depth. Water temperatures are just now starting to approach 60 to the mid-60s."
Matt (check out his Wired for Crappie YouTube videos) said the big crappie of most tournaments ranges from 2 to 2 ¾ lbs. However, 3-pounders are caught fairly frequently, and a crappie at least approaching that size will likely be the grand prize winner. Blake said he caught a 2.80 recently.
For more details about the Big Crappie Bash, click on the following link: https://tinyurl.com/dyaazvbc.
Complete rules are found at this link: https://tinyurl.com/52h9ynk5.