Where to find trophy crappie?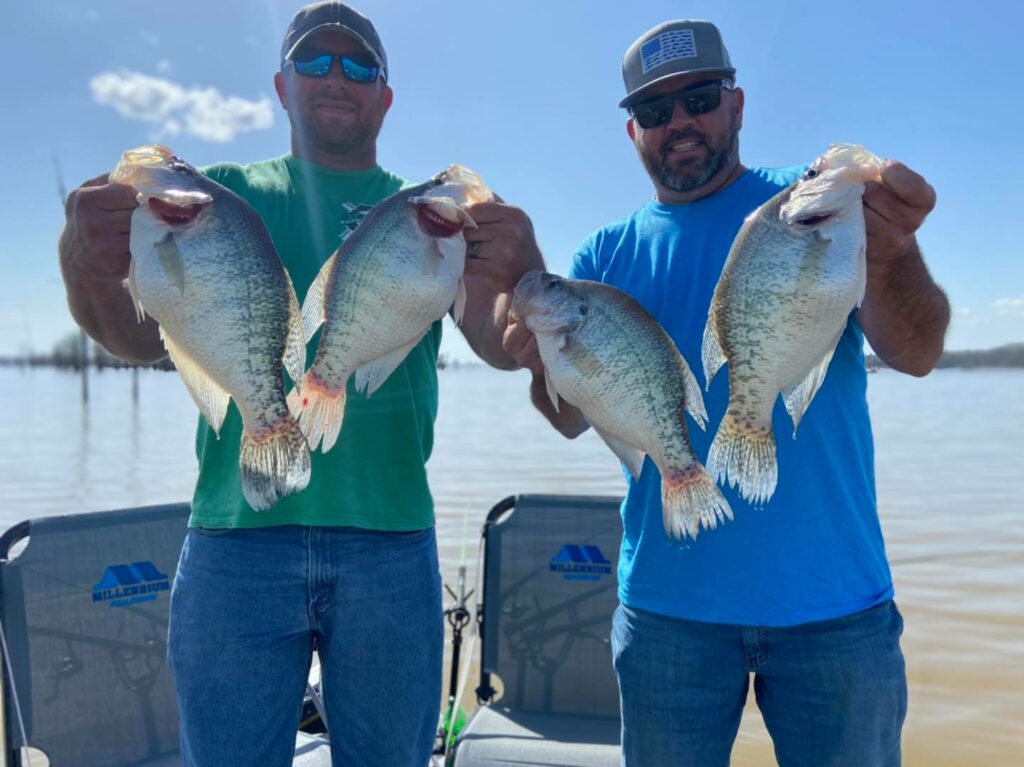 By Greg McCain
Size is relative in crappie fishing. One man's trophy is another man's cull.
So just what constitutes a trophy? Where do you find them? How do you catch them?
I asked those questions and more of several members of the ACC Crappie Stix pro staff. Some of their responses were fairly predictable while others were somewhat surprising because they defied traditional thoughts about catching big fish. Yet each answer and each comment contributed to a pool of information that provides just about everyone, from the novice to the grizzled veteran, better opportunities both to target and to catch the biggest crappie on a particular venue.
With that in mind, we'll tackle the first of the questions. What qualifies as a big crappie? What makes a trophy worthy of a mount or a quick picture and release?
Not everyone is lucky enough to live in or even within easy driving distance of Mississippi, where a local marketing slogan promotes Grenada Lake as "home of the three-pound crappie." That expression makes sense for Grenada but not for other fisheries minus the rich dynamics that make the Mississippi lakes so exceptional.
So while anglers in the recently contested Crappie Masters tournament on Grenada were attempting to cull 2 ½-lb. slabs from their 7-fish limits – and still finished way down the leaderboard – most other fishermen are perfectly content to call similar-sized fish true trophies. Some would even suggest a 2-pounder should start the conversation.
"On most guide trips on Lake Fork, everyone wants a 2-pounder," said pro staff member and Texas guide Jacky Wiggins. "But everybody gets in the 2-lb. club on Fork in the spring time. A typical trip is 5-10 2-pounders per day, especially in the spring. If they get a 2.3, 2.4., 2.5, or even a 2.8, just about everyone is very happy. Then we get the very rare 2.90 or 3-pounder."
But even those biggest fish are the exception even on a lake as good as Fork. Jacky (Jacky Wiggins Guide Service, 972.342.8803) said he knew of about 10 crappie over 3 lbs. caught this year through the winter and early spring fishing, which is prime time everywhere for the biggest fish. That total pales compared to the 30-plus 3-pounders weighed on the first day of the mid-March Grenada Crappie Masters tournament, which was eventually won with a two-day total of 42.84. Over the two days of competition, 45 teams weighed 3-lb. crappie.
Grenada, however, is the outlier. Other anglers are much more realistic about classifying their big fish. Alabama tournament competitor Jeff Jowers, a new member of the ACC  pro staff, pursues crappie primarily on the Coosa River, where a good fish weighs 2 lbs. with the opportunity to catch a few slightly bigger.
"I just caught 1 the other day that was 2.72," he said, adding that he "very seldom" catches them much bigger than that trophy. "I catch them consistently at 2 lbs., maybe 2.15. Those are good fish."
Ultimately, an individual has to judge his own trophies, depending on personal experience and expectations and potential of a lake. That 2.5 fish caught in a northern lake may be ancient and a memorable catch. A 2.5 crappie caught in a southern state may be just shy of its third birthday and be surrounded by multiple fish of similar size.
"We grow big crappie in Alabama but nothing like you see over (in Mississippi)," said Jeff, who is doing advance preparation for his first tournament on Grenada. "I may get over there and get spoiled."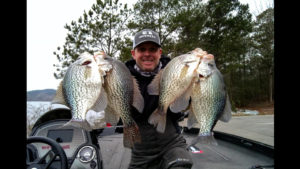 While the definition of a trophy can be debated, little doubt remains about the best place to catch one. The Big 4 lakes of Mississippi – Grenada, Enid, Sardis, and Arkabutla – have long been known as the land of the giants, and this year's tsunami of catches only confirms their reputation. Continuing the weather motif, a perfect storm of conditions has resulted in unparalleled number of trophy fish up to almost 4 lbs.
"I've never seen anything like this (on Grenada)," said long-time guide Tim Howell. "My theory is we've had the last 3 years of high water. The spawn was wonderful, and the fish could stay hidden where they couldn't get caught, 3 years of being unmolested pretty much.
"This year, we've had a low-water year, and the fish were exposed. That and LiveScope has had a large part to do with it. Even without LiveScope, there would have still been a lot of big fish taken out of the lake."
Tim (Long Branch Guide Service, 662.251.5625) and other fishermen like Goose Gutzman (follow Goose on Facebook) practice a practical maxim when asked about where to catch trophy crappie: "Fish where they live." For Tim, that philosophy is fulfilled just a few miles down the road. For Goose, it means travel to the myriad of lakes within reach of his home in Minnesota.
As a general rule, trophy fish can be caught in just about any state. A quick online search reveals plenty of destinations for big crappie. Texas is an obvious second choice. Jacky has moved most of his guiding business to Lake Fork, but he also mentions that Lake O' the Pines, another east Texas big-fish factory, yields a similar grade of crappie.
Beyond Mississippi and Texas, however, what places hold the best potential for yielding a trophy? No right or wrong answer exists for that question. Most of the southern states feature massive reservoirs that grow big fish.
Pro staffers like Jeremy Lindsey and Joshua Jackson tout the potential of the many Missouri lakes like Truman, Lake of the Ozarks, or Table Rock. In Alabama, the various impoundments on the Alabama and Tennessee rivers are known for producing bigger crappie.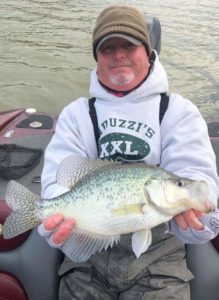 Oklahoma boasts any number of lakes that produce trophy fish although other lesser-known fishing destinations like Nebraska yield a surprising number as well. Georgia and the Carolinas offer excellent fishing with the Santee-Cooper lakes in South Carolina an obvious choice.
Tennessee is another state that produces crappie in abundance, including a good number of trophies. Pro staffer and Wired for Crappie YouTuber Matt Xenos said Watts Barr is his go-to lake for bigger fish and knows of numerous 3-plus crappie caught on the Tennessee Valley Authority impoundment in east Tennessee in the last few years.
Mentioning those few states doesn't really cover all the other possibilities. For every one included above, two more states boast excellent crappie-fishing potential.
Pursuing trophy crappie is not even confined to the states. Canadian fishermen like pro staff member Sebastian "Seabass" Kowalczuk regularly catch big crappie.
Sebastian (follow Cottage Fishing Adventures on Facebook) takes advantage of two opportunities to catch big black crappie, immediately after ice out and later when they return to the shallows to spawn.
"Basically in the spring, right after ice out, there's a window of 3 to 5 days when the crappie come in the shallows," he said. "They feed and then they leave and start staging for the spawn, I would say about May. So there are two windows to catch them in the spring."
Sebastian, who lives and fishes in the Ottawa, Ontario, area was a bit secretive about exactly where he catches his crappie, but he takes advantage of the opportunities and continues to track big specks through the summer months, catching 2-plus fish on orthodox methods like a cork-and-jig and on some unorthodox ones like big jerkbaits, big swimbaits, and even topwater presentations.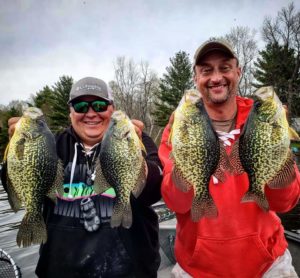 Regardless of where they are found – Canada or the South or anywhere in between – trophy crappie don't jump in the boat on a daily basis. Tim typically puts his big-fish clients, which surprisingly number less than 20 percent of his total clientele, on hold until conditions are right for Grenada giants.
Grenada can be a fickle beast, and Tim normally guides on the other area lakes for numbers. A couple of anecdotes gleaned from Tim's recent experiences on the water illustrate how chasing trophy fish can be not only rewarding but also frustrating at times.
"A lot of them start out wanting to catch big fish, but once they get out there it's a lot more difficult and a lot less action," he said. "They just want to start catching fish.
"But I actually got to fulfill one (client's wishes) a couple of weeks ago. I have a client who's been wanting one over 3.  Of course, with the big fish that's been coming out of Grenada, I called him and we made it work out."
Resolving the issue meant finding numbers for the wife and a trophy for the husband, who had been waiting for 3 years to catch a Grenada giant.
"She wanted to catch a bunch of fish," Tim said. "He wanted to catch a big fish, a 3-pounder. We only had that one day, and the man said, 'Can we go to Grenada for a few hours and then fish Enid for some numbers'?
"We actually made it all happen on Grenada. We caught a limit of big fish."
How big? "We got 3 of them over 3 lbs. and 16 or 17 over 2 ½ lbs.," Tim said.
A subsequent day on the lake, which featured 3 boats from Tim's guide service, yielded a grand total of zero all day long.
"I knew it time to move on (to another lake) after that trip," Tim said.
Trophies and numbers don't always go together. Tim said catching giants requires a totally different mindset than catching numbers.
"I usually go back to places where I've caught big fish before or where I've caught them recently," Tim said during an outing on Enid last fall. "It's almost always a timing deal. You can't just show up on Grenada and expect to catch a 3-pounder every day."
"Live" technology has opened up more big-fish potential everywhere.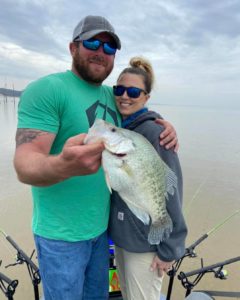 Jacky ignores smaller fish, occasionally taking clients to brushpiles and laydowns that produce quantity but not necessarily quality. But his daily regimen involves targeting big fish on standing timber on Lake Fork.
"I'd say about 75 percent of my clients want to catch big fish," he said. "I don't fish brushpiles and laydowns that probably have numbers on them. I'm looking for solitary big fish on standing timber.
"The way we have changed doing things with LiveScope is targeting individual big fish …. Many of my customers have already fished with me and they want to do this. They want to put those seven fish on a pole and say, 'look at how big my fish are.' Even if they don't want to do that, they want to hold up the two biggest ones.
"That's almost a total contrast to the past when all people wanted to do was fish for groceries."
His point about seeking out isolated bigger fish is repeated by other members of the pro staff. Jeff said he does just that whether tournament fishing or enjoying a fun trip on the Coosa.
"That's all I do," Jeff said. "I fish a lot by myself. I have that tournament mindset, and 99 percent of the time that I go I going after those slabs or trophy fish.
"Normally I have learned that your trophy fish are going to isolate themselves. They don't really hang in 50- or 100-fish schools. That's what I call a nursery. They are going to be 8- or 10-inch fish, clones. I might pitch in there a time or two, but I leave those fish.
"I start looking for bigger fish adjacent to deeper water. They are going to be somewhere on structure with deep water nearby where they can escape. I target mainly the feeder creeks, the creek channels, the breaks, any structure right on the creek channel. The trophy fish are going to be isolated on that structure, usually single fish."
Jeff (follow him on Facebook for regular fishing reports and photos) looks for a distinctive image on his screen.
"My analogy is I'm looking for a north star or Christmas star," he said. "I know that image when I see it. It means a really good fish."
Jacky said occasionally he picks off multiple bigger fish on timber or from stake beds. He also told of a recent trip where he guided a 10-year-old girl to three consecutive catches off a single tree, capped by a 2.7 Lake Fork giant.
"To see those three bigger fish on the same tree the other day was an anomaly," he said. "That's not the norm to see three bigger fish on the same tree. That's just a magic tree on that particular day. It just doesn't happen like that often."
The deception of the big fish is one thing that LiveScope has revealed in its 3 years of existence. Jacky said crappie have probably always been adept at hiding, but "live" technology has truly made that ability clear.
He said crappie, especially smarter, older, bigger fish, will move on the opposite side of a tree from a boat. At other times, he said, they will literally lie on bigger limbs and stumps or bury up on the bottom. Sometimes those fish look like nothing more than a knot on a limb.
"I'll have my clients drop on them," Jacky said. "(Pre-LiveScope), I didn't realize that they were always hiding like that. With LiveScope, we're just now realizing how well they hide on the back of a tree. Now we know that they will hide on the back side of a tree and think that we can't see them. The good thing now is we can reach around with a 10- or 13-foot (ACC Crappie Stix) rod over on the backside and drop a bait down vertical. They will raise up and hit it."
Jacky, who teamed with a partner to boat a 17.10, 7-fish limit in finishing second in a Lake Fork tournament about 2 weeks ago, fools most of his big fish with typical crappie-fishing presentations. While I watched him throw a 4-inch swimbait on a big jig – and catch multiple 2-pounders in the process – last fall on Lake Fork, he said smaller is usually better in the spring. The "go-big-or-go-home" premise doesn't always apply for catching giants.
"I will throw some bigger baits in the winter when the fish are really aggressive," he said at the time.
"For spring time, dirty water, we are using new 1/8th Steelhead hook jig heads that do not flex at all, super strong hooks. We're putting a 4B Baits shad-shape body (about 2 inches) that I had designed for darker water, black with purple and silver flake with a chartreuse tail. They will crush that thing, I mean back-of-the-throat crush it."
The strong hooks are one key to handling big fish for Jacky. The other is his tackle set-up. He uses a variety of ACC jigging poles from 10' to 13'. Another advantage is using straight braid, 20-lb. Suffix 832 Elite hi-vis green, which provides good hooksets and helps move fish away from the timber.
Both Tim and Jeff also said they smaller lures can catch as many trophies as bigger ones.
"I'm normally a big-bait guy with 2 ¼-oz jigs on each line (for spider rigging)," Tim said. "Lately, I've been downsizing."
Added Jeff, "The only time I upsize is in a really muddy-water situation. These Coosa River crappie seem to like a smaller bait, so I'm using a 2" or 2 ½" body unless it's real bad muddy and I need more bulk."
Jeff uses a variety of ACC rods, shorter versions like the 6'6" for casting and longer ones for pitching or vertical jigging. Tim can typically be found deploying the 16' trolling rods both for spider rigging and occasionally for one-poling.
Now is the time to catch trophy crappie although the window is quickly closing in the Southern states. Most fisheries still boast massive pre-spawn females that have reached their greatest weight of the year. Target these fish and the fisheries that hold them. The result may be a fish of a lifetime.