Johnson experiences thrill of narrow win in Magnolia event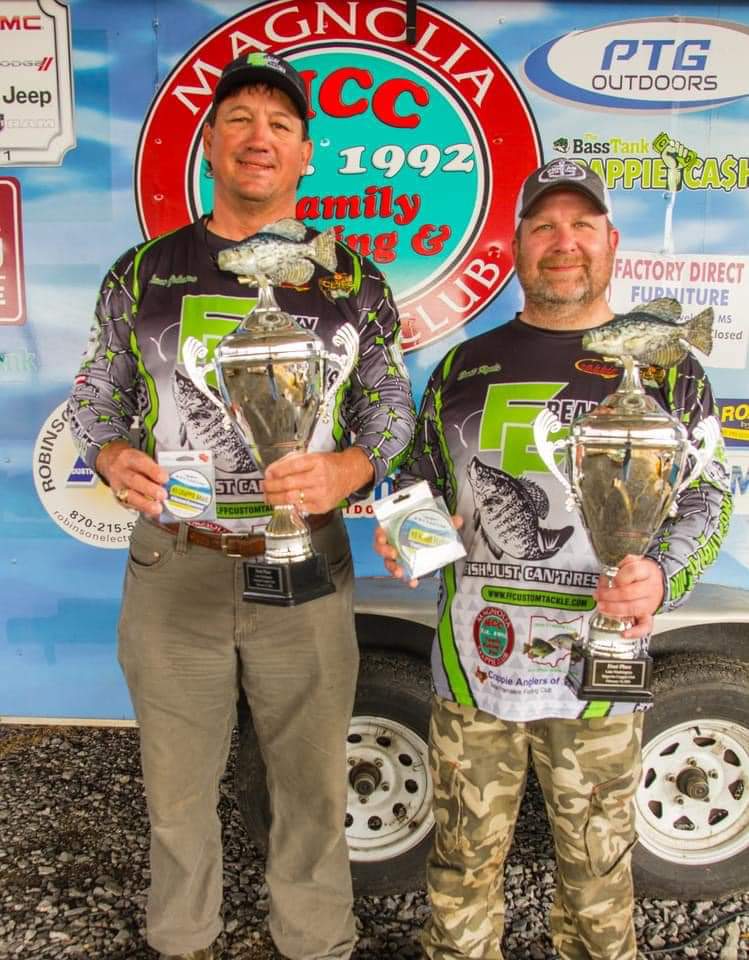 By Greg McCain
Most competitive fishermen have endured the deflated feeling of losing a tournament by a fraction of an ounce.
ACC pro staff member Shane Johnson got to experience the opposite feeling Saturday (Feb. 27). Fishing in the Magnolia Crappie Club tournament on Lake Washington in the Mississippi Delta, Shane and team partner Scott Ryals experienced the thrill of victory by a razor-thin margin.
When the final fish had been weighed, Shane saw that his team had won by less than an ounce. Their winning seven-fish limit weighed 14.60. The second-place team weighed 14.56.
"We've been beat like that before too," Shane said. "Every hundredth of an ounce counts."
Indeed it does in ultra-competitive Magnolia events. For the last 30 years, the Magnolia club, which bills itself as the largest in North America, has brought together a collection of some of the best crappie fishermen in the country.
Shane said he was in his third year of competing in Magnolia events.
"Last year, we just hoped to finish in the top 10," he said. "This year, our goal was to try and win one. Here we are."
The 54-boat event was fished about a week after ice and snow disappeared from the region, leaving the water cold and muddy. Shane, of Madison, MS, had spent a little time on Washington earlier in the week helping with a media event, and Thursday, he managed to get in some serious pre-fishing.
"Pre-fishing was tough earlier in the week," he said. "I took a couple of the guys (from the media event) out, but we didn't have very good luck."
His fortunes began to turn on Thursday, however.
"I filled the boat up with fish," he said. "I caught them one after another. It was unbelievable."
The fish were in the same places Saturday. Shane said he cranked the big motor at the launch area at Cordell's Landing, ran a few hundred yards down the lake, and didn't crank up again until time for weigh in.
"We knew it was going to be a numbers game," Shane said. "We had to go through numbers of fish to find the quality ones. We probably caught 60 fish during the tournament."
Shane said he knew they had deposited some decent fish in the livewell but wasn't sure about the weight.
"My partner was really helping me taking fish off and putting minnows on," Shane said. "I kept telling him that if we could just get a couple of those bigger fish, those 2 1/2-pounders, then we might have a chance. We never did find any that I thought were super fish. We had some quality in the boat but thought we needed a little bit more."
Shane helps with the weigh-in for Magnolia tournaments, so he made a quick dash back to the ramp and immediately started his duties there.
"We didn't weigh any of the fish that we took to weigh-in," he said. "We just put our seven best in a bucket and didn't know what we had. Because we were helping, we were next-to-last to weigh in.
"We weighed our two biggest fish. When we put our biggest fish on the scales, they weighed something like 2.50 and 2.51. We already had a couple of those bigger fish that I thought we needed and just didn't realize it."
Shane said he found the best fish in open-water sections of the middle of the lake.
"Every time we went somewhere else, the quality was just not as good," he said. "We'd go back to fishing the middle."
Shane normally uses a 16-foot ACC Crappie Stix trolling rod even when LiveScoping. While ACC makes a variety of jigging rods, Shane sticks with the longer trolling rod, especially in open-water or shallow-water situations. It's light enough to sub as a day-long jigging pole.
Shane also using the longer rod was pivotal in keeping the jig away from the boat in the shallow water of Lake Washington. Most of the better fish were caught in water about seven feet.
Another key on tournament day was tipping with a minnow. Shane and his partner tie their own jigs and normally don't use minnows unless forced to spider rig. Shane said he wasn't sure what the wind would do Saturday, so he brought along some minnows just in case.
He had used just a jig in pre-fishing and "caught so many, they destroyed it. Part of the body was halfway down the hook."
He preserved the frazzled jig for use in the tournament and decided to tip with a minnow.
"They were annihilating it," Shane said.
The winning fish were caught on a 1/16th-oz. silver jig with a 1/2-oz. weight secured up the line.
"There's a lot of good crappie fishermen in this club, and a lot of good fish weighed in Saturday," Shane said. "I'm happy to win one against this competition."