Ice Fishing Tackle Tips To Catch More Crappie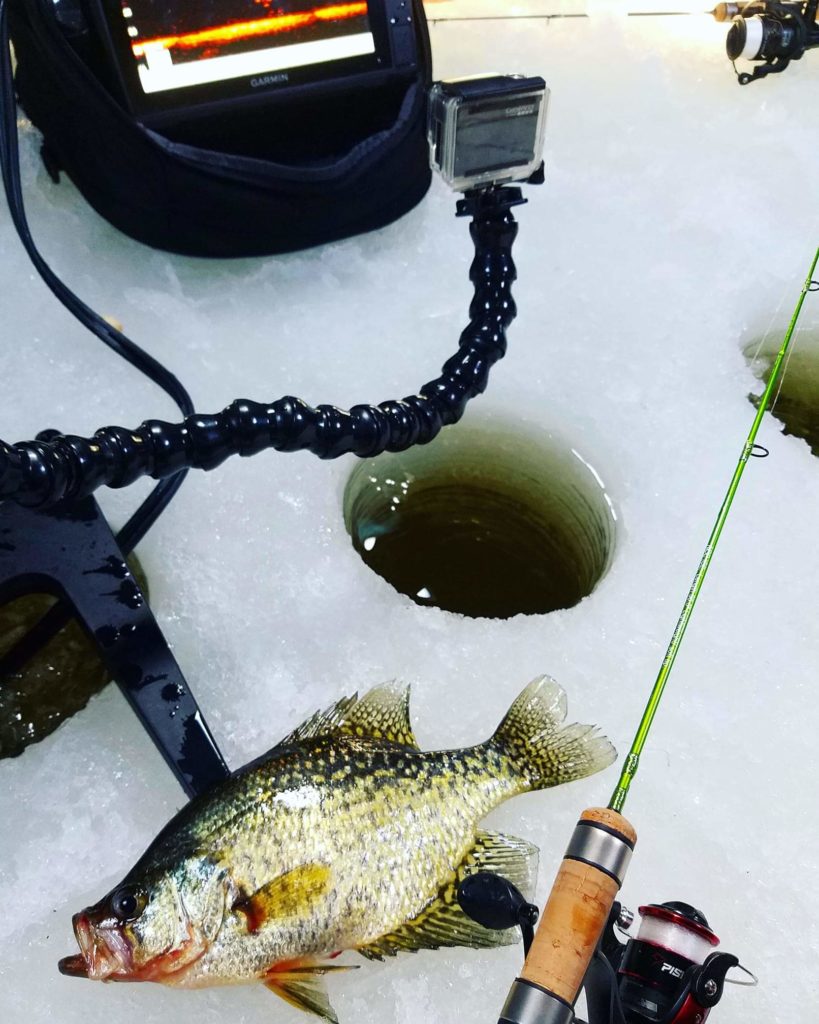 By Greg McCain
Ice fishing is a time-honored tradition among a certain segment of northern anglers.
Fishermen by the thousands take to the ice each year, and the practice continually evolves in terms of equipment, tackle, and techniques. Veterans follow the trends and regularly upgrade their equipment and accessories to better practice their craft, in much the same way that an open-water angler does each year.
But what about the other would-be fishermen out there who have never ventured out on the ice, even those considering a late trip this winter or those planning ahead to the 2021-22 ice-fishing season? What are the basic necessities needed to get started?
The list to complete successful – and comfortable – trips onto the ice takes some planning, and buying tackle and complementary equipment can be pricey. The average fisherman might already possess a few lures, possibly even some electronics, and suitable clothing that will suffice for ice fishing, but the sport normally involves specialty equipment.
We spoke with two members of the ACC pro staff, Wisconsin resident Davis Lenzen and Goose Gutzman, of Minnesota. With years of ice-fishing experience between the two, they provide the details about the necessities for a beginning fisherman.
Let's start with tackle, which is generally moderately priced compared to some of the other high-end items needed for ice fishing. As pro staffers, both Davis and Goose tout the quality of the ACC rods, which come in 28-, 30 ½-, and 32-inch lengths. Each of the rods has its strengths. The 28 Ice, for example, excels in the close quarters of an ice shack where space is minimal.
Pair the rod with a regular spinning reel – Goose said he uses Pflueger or Lew's Wally Marshall models – and you're set. Davis also mentioned the specialty inline reels, like those produced by Piscifun. Davis uses the ICX model, which looks to combine elements of spinning, baitcasting, and fly reels.
Regardless of the type reel employed, quality line leads to more fishing success. Davis suggested using the specialty ice-fishing mono in 2- or 4-lb. test. The coating on these lines allow ease of use in extreme cold. Goose uses a braid to mono combo, spooling with 4-lb. Suffix 832 braid and adding a 2-foot section of 2- or 3-lb. leader.
Regardless of the choice, quality rod-reel-line combinations can be found in the $100 range, and 2-3 combos is usually sufficient, especially considering that certain states restrict the number of rods that can be used by individuals.
When choosing lures, Davis said to keep it simple, adding that panfish are a likely starting point for beginners.
"This is one thing that many people already have," Davis said. "You need your smaller jigs and a smaller fly box, with jigs from about 1/32nd up to about 1/16th.
"You don't need a ton of them. Choose a few in basic colors, and put them in a flybox in a pocket of your jacket."
Moving from one end of the price spectrum to the other, both Davis and Goose discussed several more expensive items that are now considered necessities for the modern ice fisherman.
"Everybody needs a good locator," Goose said.
Like the electronics found on boats, ice fishermen use a variety of fish finders. Goose uses a Vexilar, one of the popular names in ice-fishing electronics. Davis mentioned Vexilar and Humminbird models.
Budget models of the Vexilar can be purchased for about $200.00 with some online deals running slightly less. Top-end versions in the series run close to $1,000.00.
Goose catches plenty of fish, mainly "sunnies" (bream) and crappie, with a Vexilar 20 model flasher although he says he likes to accompany friends with LiveScope technology, which appears to work as equally well under the ice as it does in open water.
Davis, see his Flopping Crappie videos on YouTube, continues to refine his LiveScope game and said an option is to convert boat electronics to a functional ice-fishing unit.
"If you do convert, what's really nice is having your GPS mapping system that shows the lake contours and more detailed stuff like that," he said.
An equally important tool to consider for ice fishing is an auger. Traditional manual augers can still be had for about $100.00 and up.
"Nils makes a nice one that goes through the ice really well," Goose said. "If you're not prepared to spend a lot of money, it's something to consider. You've got to have one. You can at least get through the ice."
Both Davis and Goose, however, said modern technology has truly changed ice fishing. Electric augers with lightweight lithium batteries are readily available and can handle just about any depth of ice. Gas augers can still be purchased and are useful when ice gets its thickest, but the need for gas power is waning as electric models evolve.
"It's gonna cost a little money if you want to go lightweight," Goose said. "The Milwaukee Fuel with the pistol bit by Eskimo is a good choice. The Strikemaster lithium 24-volt is a pretty nice unit for $400 bucks.
"You can probably get 30 holes in 2 feet of ice out of it. You can buy an extra battery for about $100, so that gives you about 60 holes in a day."
Added Davis, "The beauty of power augers these days is that a lot of guys just buy a Milwaukee M18 drill with adapter for the auger bit. That's what I use."
With tackle, electronics, and auger in hand, beginning ice fishermen are almost ready to go. What's next?
For Goose, it's comfortable clothing and footware.
"You definitely want warm clothes and boots," said Goose, who rarely fishes from an ice house but chooses to brave the coldest of weather outside. "Don't skimp on your boots if you can afford not to. I wear boots called Inferno by Cabela's. My feet don't get cold even when I'm on the ice all day."
Concerning outer wear, which ranges from $200.00 at the low end up to about $800.00, Goose mentioned bibs and jackets by Clam and Striker. Davis stays warm in Norfin Element gear, which is affordable but also comes equipped with flotation technology and other advanced features often associated with more expensive brands.
"That's one of the great things about the Element suit and is probably something that open-water fishermen who are out there regularly in the coldest weather should consider," Davis said. "You don't need a life jacket."
A sled is another specialty item used by both Davis and Goose. Otter models, typically about 2 ½ feet wide and up to 5 feet long, work well for both anglers. Whether pulled by the fishermen or by an ATV, the sled needs to be large enough to carry equipment.
"I'm able to fit my ice shack, chair, heater, minnow bucket, ice rods and tackle, fish finder and tow it all around," Davis said.
An ice shack, also referred to as a shanty or house, is another consideration, especially when northern winter days or nights are at their coldest.
While Goose said he prefers the mobility of open-air fishing, Davis typically chooses to fish inside as the season progresses.
"When it's getting down to zero or below in December and later in the year, then I've probably going to use some type of shack," he said.
Enclosures run the gamut of prices and features with some as simple as a sled (some with fixed seating) that coverts to a shack to other structures so large that they have to be towed onto the ice.
Davis typically has a small heater like the Mr. Heater Little Buddy propane model available in extreme cold. The Mr. Heater line is affordable, and most models come equipped with safety features (like oxygen sensors) associated with using gas heaters indoors.
Goose said safety is always an issue on the ice, and that idea applies to using a heater in an enclosed space.
 "I don't use a heater," he said. "I think they can be dangerous if not used correctly, but a lot of people use them."
Aside from the comfort afforded by quality clothing, shelters, and heaters, other accessories also make for more comfortable time spent on the ice. Some of them are likely items that the beginner would never consider.
"I can think of a couple of other things that make ice fishing easier," Davis said. "A good (ice) skimmer is really nice to have. To get as compact as possible, many people are using plastic minnow scoopers as skimmers. You can use your hand, but after a while, it's going to get really cold.
"Another thing that makes ice fishing easier is an ice cleat thrown over your boots. They are especially useful before there is much snow cover. A cleat makes walking on the ice a lot easier, especially if you're pulling a sled."
We've covered the basics. Some items are easy to find at an affordable price. Others require a financial commitment. Goose regularly pointed to the cost of items and said purchasing everything at once may not be an option.
"It may take time to build up your arsenal," he said. "You might have to do it over a period of time because everything costs money. That may mean buying one expensive item one year and something else the next."
Davis also said that fishermen can overwhelm themselves with gear, tackle and accessories, emphasizing the "less-is-more" philosophy can still lead to fishing success.
With the basics in hand, ice-fishing is still an option at least for a short time this year. If not intended for immediate use, then slowly acquire the gear needed to enjoy a new experience in the outdoors. Make a list and check it off as you acquire each item. Veteran ice fishermen suggest it will be worth every penny.