Crappie bite stays hot even in cold weather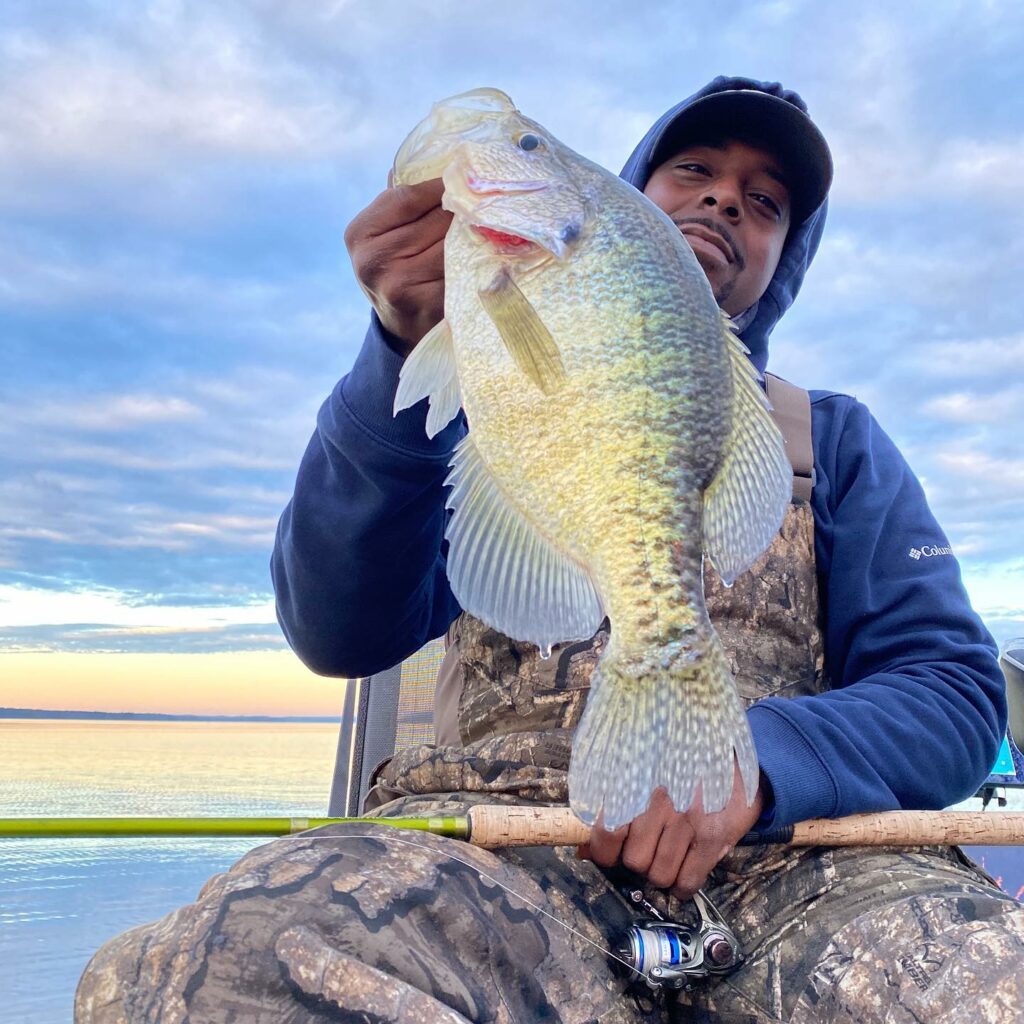 By Greg McCain
Crappie fishing is a seasonal affair for many anglers. They await the annual movement of fish from deep to shallow in the spring, catch a few limits, put some fillets in the freezer, and then retire their crappie tackle until the next year.
What these fishermen ignore is the idea that the crappie bite never ends. Even in the coldest winter weather, the crappie never stop feeding. Their habits may change. The bite may slow as their metabolism adjusts to the cold water.
Crappie may prefer one presentation over another, but the opportunity to catch fish remains constant despite the fact that a large percentage of crappie gear is stowed away for much of the year. The fishing, in fact, may be even better and more consistent at times during the winter months because the fish are easier to pattern compared to fishing during the weather vagaries of spring.
"It's a year-round affair for me," said Texas guide and ACC Crappie Stix pro staff member Jacky Wiggins. "I may have a few days off in the winter to go hunting, but I'm usually out on the water. If a client can stand the cold and the wind, the crappie are out there waiting for them. I'm out there working in it regardless of the weather."  
Not all lakes are created equal for crappie fishing in the winter. Jacky has guided on many of the best Texas lakes for years. His experience suggests that some fisheries are better than others, and that idea especially pertains to winter fishing. The premise likely applies to crappie waters across the country.
"Some lakes are good winter lakes, and some lakes are bad winter lakes," he said. "It depends on the fish on a particular lake and how the patterns develop on that lake. Lake O' the Pines (in east Texas) sets up with a really, really good deep-water bite in front of the dam on that lake. It's very popular.  If you go there through December and January, that lake is going to be absolutely full of people. It looks like you can go out there and walk from boat to boat to boat it's such a good winter bite. The word get out quick, and people recognize when the bite turns on through fishing reports and social media.
"(Lake) Fork is also a good winter lake. It has a good deep-water bite. Palestine is a good winter lake. On the other hand, Ray Roberts – I guided on it for years – is such a bad winter lake that I wouldn't even fish on it between the first of December and the spawn. Nobody knows why, but it becomes the dead sea."
Other crappie fisheries remain consistently good through the winter months due to unique characteristics. Just a little research will help anglers find the best crappie fishing in their region, even when the cold winds blow and ice forms in rod guides.
Elbert Spears, who owns Ellis Crappie Shack (follow Ellie Crappie Shack Live Bait & Tackle on Facebook) in the Paducah, KY, area, points anglers toward a couple of lakes in his region that produce well at times in the winter.
He has visited Lake of Egypt just across the Illinois line frequently in the past. A warm-water discharge there, the result of power generation, keeps the water temperature at a level conducive to a good crappie bite even in rough weather. Such warm-water fisheries are located throughout the country.
Elbert also fishes Mermet Lake, an Illinois lake perhaps best known for its waterfowl hunting. Mermet – and often other lakes or parts of them – is off limits for fishing during waterfowl season but produces a torrid bite at times once the final shotgun shell is spent.
"Those fish are not pressured through much of the winter and will bite pretty much anything you throw at them right after duck season," Elbert said. "They are pretty aggressive at times."
If all else fails, "head south," Elbert said. While a winter fishing vacation may not be an option for everyone, the crappie will almost always be found feeding regularly in the southern states. Elbert mentioned traveling to lakes in Arkansas and Mississippi where the fishing conditions are more favorable. Even then, winter fishermen must pick their spots because weather can be brutal one day but spring-like the next.
Once a destination is selected, the next key is locating fish. The winter transition occurs at different times in different places. Rather than checking the calendar, a more likely indicator of winter fishing is water temperature.
For Jacky, winter fishing starts for him on Lake Fork when the temps drop into the high 50s. For anglers farther north, water that chills into the 40s creates the winter bite.
"That's usually when the transition from fall to winter starts in Illinois, when the water drops into the 40s," said ACC pro staff member J.P. Onhiser (Hook-em Up Fishin, 618.367.5573). "They become fairly predictable based on water temperature and time of year."
 Some lakes have definite migration routes where the crappie can be tracked each year. Just as many fish move shallow to spawn in the spring, the opposite is often true in the cold-weather months. Movement toward deep water around dam areas is a definite winter characteristic to consider on most crappie waters.
"On Rend Lake (in southern Illinois), the fish will migrate all the way down to the south end of the lake," J.P. said. "They will seek out the deepest water on the lake. They will travel down the creek channels, through the bridges, and move at least close to the deepest water on the lake.
"They may be holding on stake beds in 12 feet of water, but the deepest water to be found is close by."
Guide Les Milligan (Lake O' the Pines Fishing Guide Service, 903.445.6804) calls Lake O' the Pines his home water and spends hundreds of days a year on that lake with his clients.
"The fish that I target generally don't move that much in terms of changing areas of the lake," Les said. "They are pretty much in the same areas year round. The only difference for me is finding where the fish are holding vertically on timber. They move down in the water column where they will find the warmest water on the lake during the winter.
"Crappie will always find the most comfortable water on the lake. On Lake O' the Pines, that's usually deeper in the winter, and shallower in the summer because they can't live below the thermocline."
Deeper is generally better in the cold-water months although a few places – Wheeler Lake in north Alabama comes to mind – have a unique shallow-water winter bite during the winter months on warmer days.
"The fish start moving deeper," said Louisiana ACC pro staffer Keith Acker, who visits various local waters and also fishes in Texas during the winter months, "usually sometime in November depending on how cold the weather has got.
"They don't necessarily have to go that much deeper. We haven't had the cold the last couple of years to push them deeper all the way to the bottom. They will still go down there about 20 feet and hold.
"They will move to the channels and suspend. A lot of times when they get out there, there is no structure. They will just be holding in open water. Take Lake Bistineau (in Louisiana), for example. The fish will literally get out there and sit on the bottom in the coldest water."
For winter fishing, the presentations vary just about as much as the fisheries. For every crappie expert who suggests "slow down and downsize," another advises "put the minnows away and give them something big to eat."
"As I said earlier about finding the right lake, you have to stay on top of the fish in Texas and figure out what they want," Jacky said.
He is one person who follows the "bigger-is-better" idea at times in the winter.
"We have an extremely strong jig bite," Jacky said. "December, January and through February, when we began to think about spawning fish, we usually throw nothing but jigs at them, and at times, they want a really big bait."
Jacky (Jacky Wiggins Guide Service, 972.342.8803) defines a "bigger" bait as anything over two inches, but he will definitely go to extremes at times with small swimbaits otherwise intended for bass fishing. He fishes the bigger baits on heavier jig heads than normal, up to 3/8th-oz. The bigger heads also help get the lure deep, always a consideration on Lake Fork, where the crappie will suspend down to 50 feet deep on timber.
"The fish on Lake Fork become more aggressive and will actually respond to a bigger bait at this time of year," Jacky said. "That bite lasts through January and into parts of February. The cooler water temps don't seem to affect the bite. It actually turns it on, and these fish feed throughout the winter."
Most experts, however, advise slower presentations and usually with smaller lures, even in regions where the water temperature remains relatively warm.
"The smaller bait usually works better for me," J.P. said. "The fish get a little more finicky and you have to make them bite at times.
"The bite is lighter. They rarely ever just hammer it like they do at other times of the year. That's what makes fishing with these ACC rods so great. They are super sensitive and allow you to detect those light bites."
If he has a choice, J.P. said, he favors a one-pole approach, usually an ACC Crappie Stix 12-footer, and alternates between hair and plastic on his jigs. He normally uses 1/8th or 3/16th jig heads with pink/chartreuse or black/chartreuse hair or plastic. J.P. added that those color combinations seem to work well on just about any lake in the country that he has visited.
In general, varying the speed of presentation and also changing lure size will often trigger more strikes from finicky winter fish.
"Some days they are just full," Les said. "They will be spitting out bait as I bring them up. In those situations, I might go to a smaller bait; they just want a snack and not a full meal. They've already eaten their full meal.
"They don't necessarily always want a fast-moving bait or even one moving at all. In the winter, I am typically dead-sticking or maybe strolling, just trolling along real slow."
Keith finds the Louisiana crappie often react in a similar way in cold water.
 "In they are hugging the bottom, drop your bait to the bottom and just lift the tip of your rod," he said. "You don't want to be too high off the bottom. If you come up too high, you will never get bit. Lift just a little and let it rest. Many days, that's all the fish want."
Regardless of location, crappie rarely stop feeding even in the coldest of winter weather. Fishing for slabs is not just a spring-time pursuit. Choose a moderate weather day or put on cold-weather gear and brave the elements. Get a jump start on spring fishing. The results may prove surprising, especially for fair-weather crappie fishermen.