5 top patterns at ACC Owners Tournament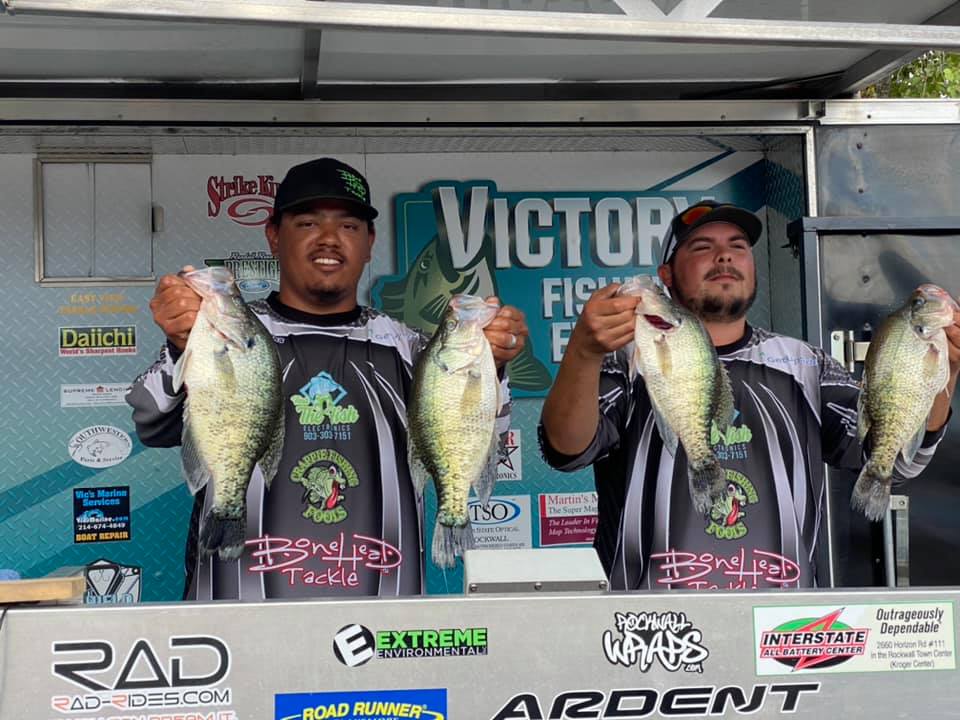 By Greg McCain
The play-the-wind pattern dominated the first ACC Crappie Stix Owners Tournament on Lake Fork.
A cold front swept through east Texas and brought sustained winds of about 20 mph with gusts up to about 30. While the cold that accompanied the front didn't set in until after the tournament, the wind played havoc with fishing and boat control, creating difficult conditions for LiveScoping.
"I appreciate all of you who came out and fished in these conditions," ACC owner Andy Lehman told the crowd after the weigh-in. "I know the fishing conditions were not the best, but I'm glad for the turnout we had and that everyone managed to fish safely."
Even with the wind, some quality stringers came across the weigh-in stage. Almost all of the teams appeared to be exclusively LiveScoping, some with jigs only while others tipped with minnows. The winning team actually downsized its baits to catch their fish while others used bigger baits to fool the Lake Fork slabs.
Most of the top stringers came from the south end of the lake near the dam, where teams managed to escape from the worst of the wind.
"It was really tough," said Fort Worth angler Jason Holleman, who paired with Lake Fork guide Jordan Sanders to put together the winning stringer. Sanders and Holleman brought in 13.67 to edge the second-place team of Stu and Stan Miller. Sanders and Holleman also topped the big fish category with a 2.47 crappie.
"We thought we had found a place that was out of the wind," Jason continued, "but there was no escaping it today. We were out there to win, but it was still rough fishing today."
Jordan, who lives about an hour from Fork in West Tawakoni and fishes the lake "six days a week" with his Find the Fish guide service, said the team ventured to a new area that he rarely fishes, just to find a little protection from the wind.
"Yesterday we went out for an hour after a trip," Jordan said. "We knew the wind would be gusting up to about 30 miles per hour, so we went as far south as we could go looking for a spot that was at least somewhat protected by the wind.
"We found a flat with timber on it. We did some scanning around in water 25 to 36 foot. They were holding 25 to 32 foot down. Our first fish was a 2.60 yesterday. We didn't drop another jig. We kept looking, and there were other quality fish. We pretty much stayed there all day."
The team used Bonehead Tackle Stumps Bugs and hand ties from Slab Syndicate. Key colors were gray and white/chartreuse. With the Stump Bugs, they used 1/16th-oz. jig heads with a 1/8th-oz. egg sinker pegged above it.
Despite finding fish the previous day, the early bite was disappointing. Jordan said he had been on "a really good pattern" and expected to bring in at least a 14-lb. limit. Jason said a strategic move was coming back to the original tree line where they started.
"There were good fish there," Jason said. "When we started, they didn't eat. When we came back, they were eating."
Both Jordan and Jason mentioned another pivotal change to their fishing during the course of the day.
"They wanted a smaller bait," Jordan said, "something about an inch long."
They modified the Stump Bugs and also downsized to smaller hair jigs as well. The normal Stump Bugs are only 1 ¾ inches, but the team cut them down even smaller.
"To modify, cut the flappers at an angle," Jason said. "Sometimes they like a smaller profile bait. Today they liked a smaller presentation. This morning they were hitting regular-sized Stump Bugs, but we noticed after a while that they weren't reacting to them. That's when it's time to modify."
Other than the wind, the only other problem the Texas team dealt with was a couple of dead fish. The team would have probably had their 14 pounds otherwise.
"We left about a pound in the boat," Jordan said. "One of them was the shallowest fish we caught, about 18 foot. It just died.
"Even with the wind, it was an awesome tournament. We're glad to come away with the win."
The second-place team of Stu and Stan Miller didn't identify their location other than to say "mid-lake on a creek channel in 32-34 foot of water." Stu said the fish were suspended on timber at 22-25 foot.
The Illinois team took advantage of their week on Lake Fork, finally identifying their successful pattern and location after several days of scouting. They finished with 13.52 and the second biggest fish, a 2.46.
"We found the channel that we fished two days ago," Stu said, "knowing that we could have to play the wind. That was a big factor in anything we did today."
The Millers also said the practice time led them to another conclusion.
"We caught our fish on hair jigs and minnows," Stu said. "We found out (early in practice) that we were going to need minnows. Normally we don't fish with minnows, but it became apparent early on in the week that we were going to need them. We're jig fishermen."
Stu, who can be found on YouTube or Facebook at Total Angling Experience, and Stan both said the week on Lake Fork was great. The event, in fact, was the team's first-ever tournament.
"We got along most of the time," Stan said. "It was a good week of fishing, and we finally found the right fish. I appreciate ACC for putting on the tournament."
The third-place team of Justin Smart and Wesley Miller (Big Sasquatch Outdoors) took advantage of limited practice time but managed to put together a quality stringer that weighed 13.45. Justin was on the lake for only the fourth time while Wesley fished Lake Fork for the first time.
Like the winning team, Justin and Wesley went as far south as possible, fishing most of the day near the spillway area at the dam.
"We went as far as we could to try to get out of the wind," Justin said. "It was still rough in the dam area."
Added Wesley, who guides on the Red River, "We fished trees and brush tops. With the wind as bad as it was, one of us would fish and the other would cull fish. If we both tried to fish, we would stay hung up on everything."
The Louisiana team used a couple of different jigs to boat their fish, a pink, purple, and chartreuse model called the Bistineau jig while they used other jigs in natural shad colors.
"We put a ½-oz. weight about 18 inches above the jig, dropped it down, and tried our best to keep the weight from getting tangled up," Wesley said. "If you could get it straight down, the fish would swim over and eat it.
"The only trouble was the wind. We're pretty proficient, but the wind can get frustrating."
Another Louisiana tandem, ACC pro staffer Keith Acker and Josh Starkey, finished fourth with 12.85. Keith said they fished ultra deep water down to about 55 foot with the fish holding from 20 to 40 foot on timber and Bois D'arc trees.
"I caught some using the new ACC jig heads that I had hand-tied to specific color patterns," Keith said. "The bait that worked the best was a ¼-oz. hair jig from Mudhole Outdoors Crappie Jigs called the "Crazy Shad" that looked more natural."
Unlike other teams in the field, bigger was better for Keith and Josh.
"The fish on Lake Fork are definitely from Texas because they believe in the 'go big or go home' saying," Keith said. "No bait was too big for the bigger fish."
Keith added that the bite was slow until about 10 a.m., and then every fish started to react to their baits.
Rounding out the top five was the Missouri team of Mike Vallentine and Craig Hansen with 12.75.
Mike, the owner and president of Crappie Masters, said his team's plan was "pretty simple."
"We concentrated on the main channel where the flats were 20 to 25 foot deep, which made the channel around 25 to 30 foot deep," Mike said. "We stayed within a boat length of the channel all day and tried not to cover the same water twice."
Mike said that he and Craig fished smaller baits, alternating between 1/16th oz. gray hair jigs and the 2.5" Freaky Frank's silver worm on a 1/16th oz. head.
"The fish seemed to want the bait right on them," Mike said. "You had to put the bait right on them, and they would hit it pretty hard."
The entire field appeared to use LiveScope technology to target their fish. Even with the wind, the screen-watching approach put the teams on crappie.
"The majority of the people that I saw appeared to be LiveScoping," Keith said. "The ones that didn't appear to have LiveScope were fishing the visible timber in 18 to 30 foot of water."