Visiting Mississippi's Big 4: Longbranch has them covered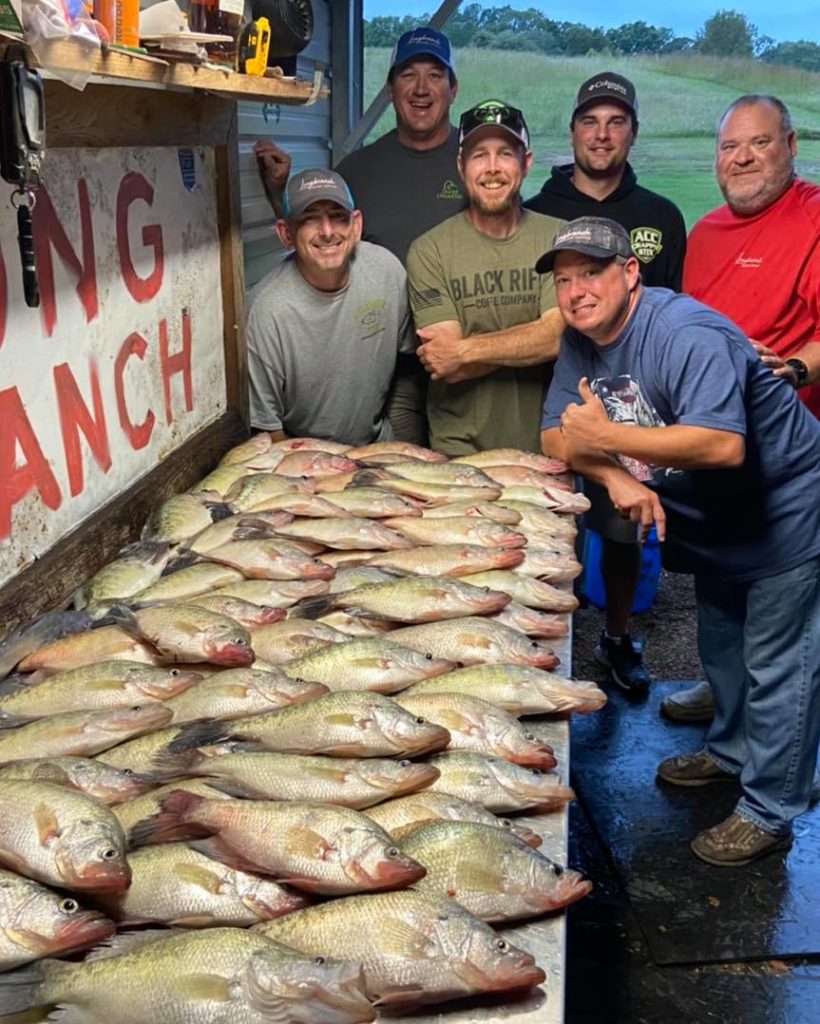 By Greg McCain
Some fishermen are blessed with a quality crappie lake near their home. Make that quadrupled blessed for Longbranch Guide Service.
The Longbranch guides – ACC pro staff members Tim Howell, Brian Fletcher, and Kevin Stockbridge – take advantage of their location in the middle of Mississippi's Big 4 on the I-55 corridor and put clients in the best setting to catch limits of slabs and trophy fish on occasion.
The lakes, from south to north, Grenada, Enid, Sardis, and Arkabutla, produce crappie from late winter to late fall (severe drawdowns prevent fishing through the coldest months). Of course, Grenada is the most famous, home to the "three-pound crappie" but not always the most consistent.
Particularly when quantity is the goal, Longbranch guides normally target the middle lakes, Enid and Sardis, their headquarters strategically located in Oakland, Ms. They work Grenada into the regular rotation when the bite gets hot there or if a client wants a chance at a big fish. Arkabutla is also a big-fish destination.
About five years ago, Tim found himself retired from the Mississippi state police and running a bait shop when the idea for a guide service was launched. He actually credits Brian and Kevin with the guide service idea.
"We put together the guide service and the bait shop to co-exist," Tim said. "It was my job to book the trips, and these guys were going to run the trips. I was going to be the back-up guide. But they were still working full-time jobs. As we got established and started booking more and more trips, I had to fish more and more. Now I fish seven days a week pretty much."
That full schedule runs to about 250 days a year with the number of total trips easily doubling considering that Longbranch puts multiple boats on the water on the busiest days. Weekends find all three partners guiding, and they also call on other local guides to help out when needed. That situation normally occurs on weekends although clients typically face difficult conditions due to a variety of factors.
"We have five or six boats out most weekends," Tim said. "Weekends fill up quickly, and the fishing is sometimes difficult. The weather in the late winter and spring is unpredictable, and we have a lot of activity during the summer months with pleasure boaters. Boat ramps are crazy. During the week is the best time to come."
Tim notes that clients normally want to fish during the traditional "crappie season" of late winter and early spring. Based not only on weather variables but also on fishing pressure, early-season fishing is not always the best. While Mississippi weather jump-starts the crappie bite as early as mid-February, waves of cold fronts impact fishing until about late April. The amount of rainfall is another consideration.
"Everybody wants to fish in March and April, but in my opinion, it's probably the worst time of year to come down here and fish," Tim said. "We have fluctuating water levels on the Big 4 here in Mississippi, and you never know what the water level is going to be in the spring.
"The last three years it's been 20-foot higher than normal, and it turns a 35,000-acre lake into a 75,000-acre one. It's kind of hard to find fish in those conditions. They get back in the woods where you can't get to them.
"When I say the woods, I mean the woods. You can't get a boat to them. Crappie are going to go as shallow as they can get to spawn. We just have to wait them out."
Some unique characteristics of the lakes still provide regular, consistent fishing when water levels are stable in the spring.
"They don't all spawn at the same time," Tim said. "That gives us an advantage. If they shut down on Enid, we can go to Sardis and Grenada. The last few years they've sort of cycled out two to three weeks apart. You fish one lake until it slows down and jump to another lake that's hot and fish it until it slows down and then move on to another lake. By that time the first lake has settled back down, and the fish there are ready to eat."
Tim said spawning activity typically starts first on Enid, followed by Grenada and then Sardis.
Both Tim and Brian emphasized that the fishing remains hot beyond the traditional spring bite in recent years. Tim said the summer bite has been consistently good, and Brian said the fall can be even better than the spring.
"By about May, they are able to pull enough water and the fish are done spawning," Tim said. "They start moving back out to the main lake where you can catch them. It's been really, really good at that time the last few years until this year.
"May to August has been unbelievable, the hotter the weather, the better the fishing has been. In July and August, it was nothing to come out here and knock out a boat limit in three or four hours."
Tim explained that 2020 has been a highly unusual year, mainly because of water volume. Current ran through the lakes most of the summer, preventing the thermocline from setting up and allowing the fish to suspend vertically even in the deepest water.
Beyond spring and summer fishing, the fall transition starts at some point in September.
"September and October are also busy months for us," Brian said, "and in many ways, the fishing can be even better than the spring. It's more consistent. The fish are more predictable and are easier to catch."
Fishing normally ends by Thanksgiving, when all ramps are high and dry due to the water drawdown. Even so, fishing potentially remains hot until that point. The fish follow the dropping water and also begin feeding heavily.
"I think the fish sense the lake drawdown," Tim said. "Normally all the fish are on the east end of the lake, the shallower end. The fish pull back this way. They follow the water. They start feeding, gorging on shad.
"That starts to occur as early as middle to late September. The fish are back up in shallow water, from five to about 12 feet. They don't move as much. You find them and you can get on them in the same spots for a couple of weeks. You can go wear them out every day."
Longbranch guides use a variety of techniques throughout the year, starting and ending with slow-trolling minnows. The spider-rigging technique is particularly effective for anglers who want filets in the freezer.
Tim and his fellow guides normally slow-troll through the early season and then transition to what he calls power-trolling in late spring, still using the same spider-rigging spread but upsizing tackle and lures.
"It's the same principle as spider-rigging the minnows except using three-oz. weights and ¼-oz. jig heads," Tim said. "When we're using minnows, we are moving .3 to .5 mph. When we're power-trolling, we're moving .9 to 1.4 mph, covering water for a reaction bite."
The hottest summer months usually find Longbranch guides pulling crankbaits, and they revert back to slow-trolling minnows by September.
Even though the lakes, especially Grenada and Arkabutla, are known for yielding huge crappie, Tim said most Longbranch clients prefer limits over size. On the Big 4, the limit is 30 per boat per day for two people or 40 per boat per day for three or more. Minimum length is 12 inches.
The opportunity to catch bigger fish remains one of the draws for the Mississippi lakes, however.
"If a client is after a trophy fish and he doesn't care if he gets another bite, we go to Arkabutla or Grenada and fish where I've caught big crappie in the past," Tim said. "It's kind of a completely different mindset than your normal guide trip.
"I have a few clients who come pretty regularly for trophies. If we get on a run of big fish, I'll call them and tell them it's time to come. The best time to catch the big fish is mid-February to early March or then at the end of October. Those big sows will be full of eggs. They have fed up on shad all fall and winter. A 16- to 17-inch Grenada fish is going to be right at three lbs."
Tim and Brian said that the genetics are a key to Mississippi's big crappie but not the only reason they grow bigger than usual. A perfect storm of climate, lake fertility, and even the winter resting period contribute to the freaks produced on Grenada and the other lakes.
"There's something to all of those things," Brian said. "I'm pretty confident there's a new world record swimming in either Grenada or Arkabutla. Without a doubt, those are the places to go to catch big fish. They are muddier and shallower with more places to hide.
"Some of these fish look like they have been swimming 100 mph and hit a tree. They grow like a football, huge across the back."
A September trip that included ACC owner Andy Lehman offered a brief picture of the potential of the Big 4. The trip didn't produce a three-lb. crappie, but the crappie stabilized after remnants of a tropical storm washed out fishing for a couple of days.
"We slammed them the last couple of days," Andy said. "We had a trip on Sardis that was unbelievable. If you want someone to put you on fish in Mississippi, Longbranch Guide Service is the group to call."
Regardless of what a client wants, Longbranch guides make a promise.
"We obviously can't guarantee a limit, but we take them to the best place where they have the best chance to catch fish," Tim said. "We have a pretty good network of other guides that we stay in contact with daily from the time we launch until the time we are off the water and even at night. We compare notes, who did what where and with what.
"Normally there's somebody on each lake. You get a good idea of what's going on and what we're going to do the next day. Those things allow us to put our clients in the best situation to catch the crappie that they want."
Longbranch Guide Service is now booking trips for 2021. Contact Tim at 662.251.5625 to reserve a spot, and he encourages anyone interested to book now because prime dates go quickly. Also follow Longbranch on Facebook for the latest information. In addition to ACC Crappie Stix, another Longbranch sponsor is Grenada Lake Tackle and owner Patrick Stone (www.grenadalaketackleco.com). Kevin Stockbridge is also associated with Strike King Lures.
For accommodations central to the Big 4 lakes, consider booking with Rustic Rentals at Enid Lake, an Airbnb minutes from the ramps and a short distance from the other Mississippi fisheries. Rustic Rentals (601.624.5840 or contact them on Facebook) caters to fishermen with ample space and electricity hook-ups for boats.