Team Phillips: Family, Firefighting, Fishing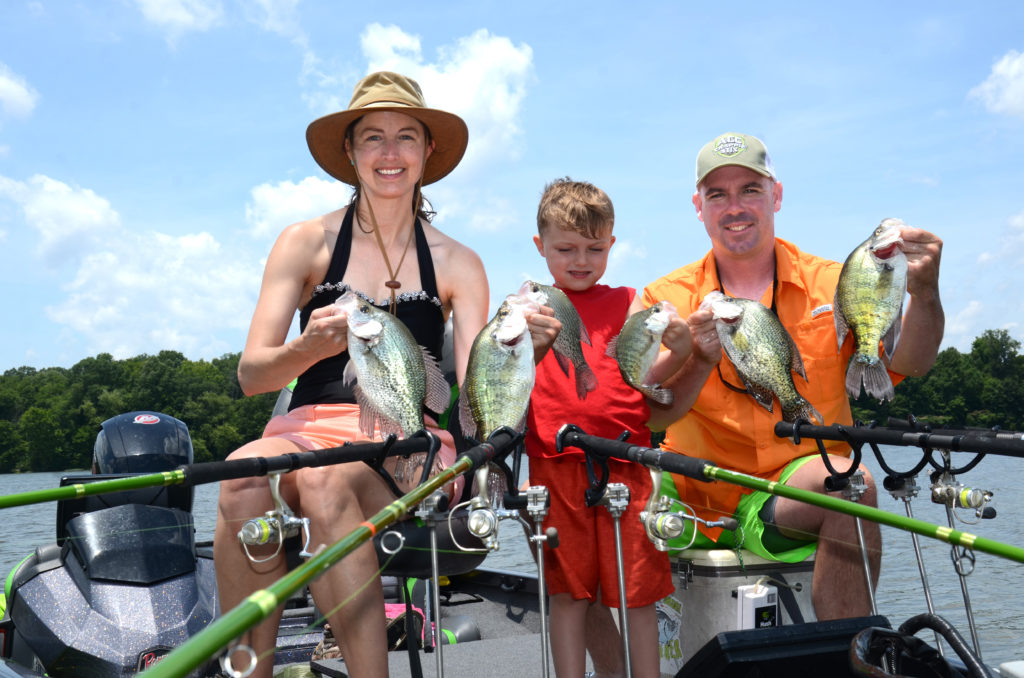 By Greg McCain
The passion for family, firefighting, and fishing runs deep for Jonathan Phillips.
The ACC Crappie Stix pro staff member and guide has long been a fixture on local tournament circuits in the central Alabama region, and he has acquitted himself well in national events also. Check tournament results, and the name Phillips is likely near the top of the leaderboard.
The tournament scene is the most visible place that the passion for family exhibits itself to outsiders. Since Jonathan first started competitive fishing, he has shared the boat with his wife, Alicia. Team Phillips is indeed a family affair, and they have a trophy case full of evidence to chronicle their success.
The family passion for fishing doesn't stop with Jonathan and Alicia, however. They have cultivated a love for crappie fishing and for all things outdoors in their son Wyatt, and he can frequently be found alongside Jonathan on the Coosa or Alabama rivers near their home in Wetumpka, AL.
Jonathan is also firmly committed to his job as a Montgomery firefighter. A 16-year veteran of Montgomery Fire/Rescue, he had held the rank of captain for four years until the spring when he was promoted to the position of District Fire Chief.
"Firefighting is different depending on where you work," Jonathan said. "I work at a metropolitan fire department with a really high number of runs per day. It can be a high-stress job but also one that is very rewarding.
"There is a lot of attention to detail. We're trained that way. The training is very military-like in some ways. The small details are instilled in that training, little details that most people don't realize are part of the job."
Jonathan said fishing is an outlet from the high-stress environment of the firefighting world. Take away the traumatic calls and the high volume of fire runs, and Jonathan said the attention to detail learned from his long-time career carries over into his fishing pursuits.
The success in tournament fishing is obvious, but Jonathan also runs Team Phillips Guide Service in the small number of days when family and work obligations allow. He stresses that he only guides part-time but also frequently fun fishes with Wyatt and Alicia.
The Team Phillips success story added its latest chapter in early September with a win in the Alabama Crappie Masters State Championship on the Alabama River. Day 1 was a grind with Jonathan and Alicia trailing the leaders by over three pounds with their 8.69 limit.
Although making up three pounds rarely happens in crappie tournaments, it is possible on the Alabama River where the fish run big with a bounty of two-pounders waiting to be caught. Team Phillips made the right moves on Day 2 and came to the scales with 12.65.
"I had the right plan, but I vacated it on Day 1," Jonathan said. "I normally don't fish creeks at this time of year, but we started there and left to try some river fish. That didn't work out."
Team Phillips returned to the creek to start Day 2 and found one magical stump that produced most of the fish that they weighed.
"There were four or five or six boats in the same general area, and I don't think any of them caught more than eight pounds," Jonathan said. "We found a stump that morning, not brush or anything like that, but a natural stump with some really good fish on it. I caught two two-lb. crappie on the first two casts."
Jonathan had learned a lesson during the previous day's fishing. The crappie were not biting aggressively, and he lost two or three that would have upgraded their Day 1 total.
"I would get a fish on, and the hook would just come out," he said. "(On Day 2), I did something that I haven't done much of. I loosened my drag to the point that you would have thought I was reeling in a wahoo. I didn't lose any fish on Day 2. I babied them. It would take me a minute to reel these fish in. There was no muscling them, no swinging them in."
The crappie also demanded pinpoint casting, which the team accomplished with the ACC Crappie Stix GS66M rod and a spinning reel spooled with 4-lb. Gamma Polyflex.
"I have recently fallen in love with that rod," Jonathan said. "It allowed us to make the type of casts that we needed to get to the fish. We had to make perfect casts and let it drop straight down. I had to stop that bait. You couldn't let it hit the fish or plow through them. They wanted you to stop it on a dime and bounce that jig. You had to get it right there. There wasn't going to be a lot of chasing or following it back to the boat."
Jonathan and Alicia caught five of the seven crappie that they weighed on that single stump.
"There's a gazillion stumps in these creeks," he said. "Why they find that particular one, I just don't know. Fish in the two-lb. range like to group up together. There may not be but four or five of them on one spot, but you can often catch multiple bigger fish from the same place (on the Alabama River). We got lucky and found the right stump that day."
Casting to the fish was a bit unusual for Team Phillips in tournament competition. Jonathan uses a variety of presentations – trolling, one-poling, and dock shooting, among others – while tournament fishing and also while guiding. The Crappie Masters win is the first for the team exclusively casting. They used 1/16th SugarBug hair jigs and ATX Lures jigs to fool the fish.
"I don't like to go fishing without having multiple ways to catch fish," he said. "I worked on casting privately, not that I hadn't done it before, but I wanted to get better. With the addition of LiveScope, the ability to cast to the fish and to know when to set the hook has really added to my arsenal."
The Day 2 limit was the tournament's biggest and boosted their total to 21.34 for yet another Team Phillips win, this one by over two pounds.
The feeling was more than a bit bittersweet for Jonathan because the future holds a slightly different course. Jonathan and Alicia, an environmental biologist, announced prior to the Crappie Masters event that it would be her "last" tournament. The quote marks come from Jonathan himself.
"She's been my partner since I started tournament fishing," he said. "That made it a really special tournament to me. Not that I don't always put my best effort into it, but I wanted to make this one extra special for her and send her out with a good chance to do well in the tournament.
"It's not something she let go of and said, 'I'm glad I'm out of it.' It kind of touches her heart when people ask why she's getting out. We've got an eight-year-old. It's harder for her to get off work. She has to burn all of her vacation time fishing tournaments, and she wanted a couple more beach trips and family vacations. A lot of people want to wonder why, but it's nothing bigger than that."
While Jonathan has already partnered with a Coosa River stick for future tournaments, he said that he and Alicia will likely fish competitively together again.
"I think I can convince her to fish (another tournament) somewhere down the road," he said, "so I don't know if it will really be her 'last' one."
The next stop is a big one for Jonathan. He and his new partner will fish the Wally Marshall Crappie Classic in Branson, Missouri, in late October. The Crappie Classic brings together about 100 of the top professional teams from around the country. The tournament and the Crappie Expo that accompanies it are billed as the premier crappie fishing event of the year.
Full details have not been revealed, but Jonathan said the new partner is an experienced tournament fisherman and part-time guide with some serious knowledge of the Coosa River.
"I'm really looking forward to it, and I'm honored to be included among a group of great crappie fishermen," he said.
Beyond the Classic in Branson, expect more of the same from Jonathan. Family, firefighting, and fishing will be dominant threads in the life of the Phillips clan. The passion runs deep for all three.
To book a trip with Team Phillips Guide Service, contact Jonathan at 334.391.9735 or follow Team Phillips Guide Service on Facebook. Jonathan also encourages anyone visiting Alabama to check out Stoddard's Bait & Tackle in downtown Wetumpka. He said they carry all of the products that he uses to catch Coosa River and Alabama River crappie.
Greg McCain is a freelance writer from prime crappie country in northwest Alabama. He has hundreds of credits in state and regional print publications and digital outlets in addition to producing content for the ACC Crappie Stix blog.