Day 1: Why Texan Kennieth Pierce Fishes a Single ACC Crappie Stix Rod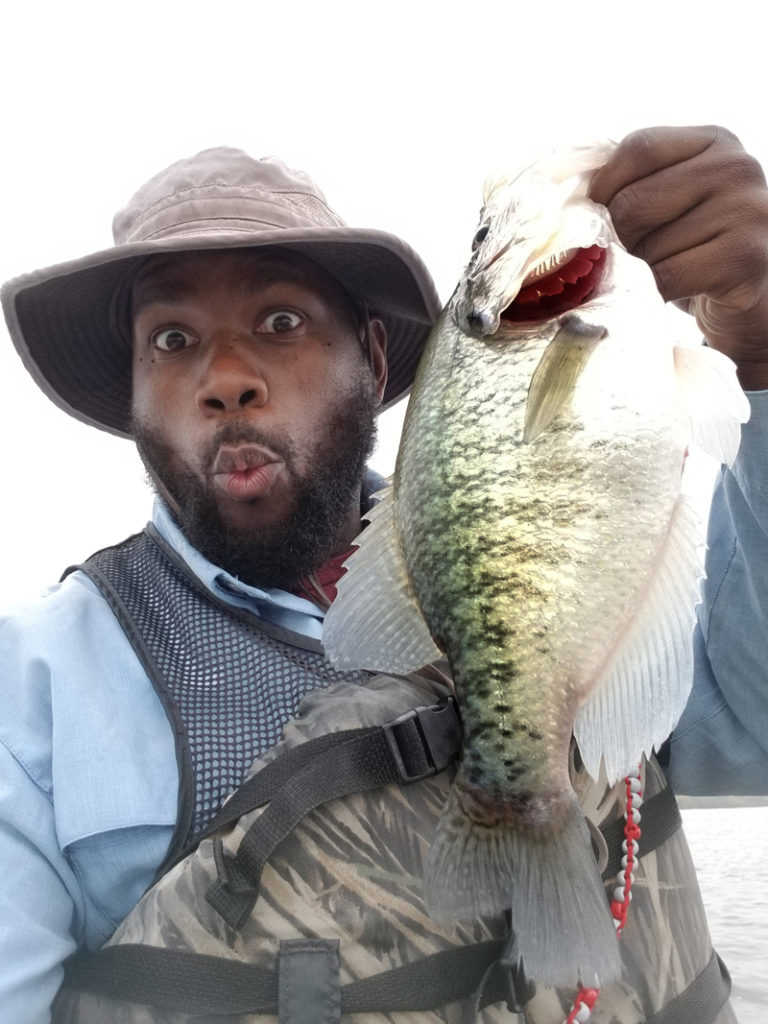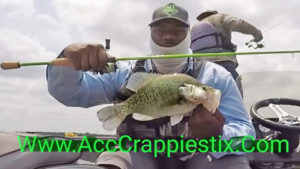 Editor's Note: Thirty-five year-old Kennieth Pierce of Quinlan, Texas, fishes Lake Arlington in the Dallas/Fort Worth metroplex as his home lake. Pearce's daddy started him crappie fishing when he was 5-years old.
I'm a single-pole guy, and I fish brush and open water. I have a Humminbird Mega 9 DI
(https://hummingbird.johnsonoutdoors.com/fish-finders/helix/) on the front end of my boat. On the console, I have a Humminbird Mega 10 FI 9. I fish with ACC Crappie Stix rods. I mainly fish with the 7'6" split grip and the 8' Crappie Stix rods (https://acccrappiestix.com/). I like those rods because they enable me to fish close to the cone of my depth finder and closer to the front end of the boat. I can track my jigs and see the fish by using these rods. I also feel like I get a better hook set, and I can flip crappie into the boat better with these rods.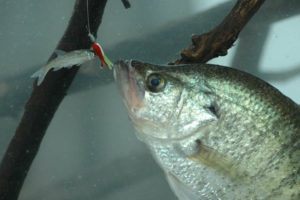 I like 10-pound test PowerPro (www.powerpro.com) braid line, because it has no stretch. Using this line, I get the most sensitivity that I won't have if I use another type line. Although the strength of the line is 10 pound, the diameter of the line is the same diameter as 2-pound-test monofilament line. I tie that braided line straight to the jig. I like to fish 2-inch soft-plastic grubs on my jigs. I fish a 1/8-ounce jig head if I'm in heavy cover. If I'm fishing open water, I'll use two, 1/16-ounce jig heads on the line. Most of the time, I have soft plastics that are a shad or minnow-type grub. Sometimes I fish Bobby Garland (http://www.bobbygarlandcrappie.com/) Grubs with the joker tail or the curly tails. I also use the Strike King (http://www.strikeking.com/) Crappie Punisher and Limits Tackle grubs (https://www.facebook.com/LimitsTackle/).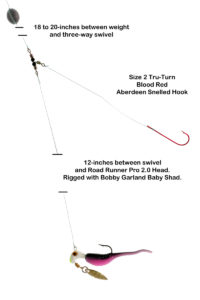 I put out some of the brush piles that I fish, but I also use the side-imaging feature of my Humminbird depth finder to look for and GPS other brush piles that someone else has placed in the lake. I also fish a lot of humps and underwater ledges coming up off the bottom. Sometimes the humps and ledges have brush on them, but often, the crappie are just relating to the humps and ledges. Some of the ledges I'm fishing are 40-feet deep. Oftentimes I'll find the crappie holding right on the lip of the ledge, but sometimes the crappie will be concentrating up 20 to 25 feet above a 40-foot ledge. If I'm fishing a 25-foot deep ledge, the crappie often will be sitting right on the bottom of the ledge or just barely off the bottom. When I'm fishing ledges and humps for suspended crappie, I usually tie two, 1/16-ounce jig heads about 1 to 1-1/2 feet apart on the main line. I use two loop knots on the main line to make that a double rig for fishing in open water. I don't put a lead on the end of the line like some fishermen do. Sometimes for those suspended crappie, I have to dead stick (try to hold the jigs as still as I possibly can) to get them to bite. At other times I have to move the jigs a little bit to get the crappie to bite.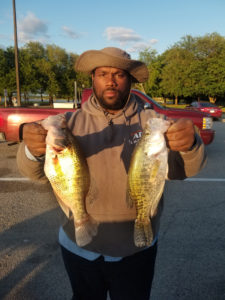 As I've mentioned earlier, I like to use the double rig when I'm fishing for open-water crappie that aren't holding on brush. But when I'm fishing crappie holding on, in or near the brush, I use a single jig, so I won't get hung-up as much in the brush. I use light wire hooks, whether I'm fishing a double rig or a single rig. If my jig gets hung, and I can't get it free, I can pull on the 10-pound test line, and the hook will straighten out and come out of the brush.
To see how and where Kenneth Pearce fishes, go to his YouTube channel at hookcitytv
(https://www.youtube.com/channel/UCdcuACQzEadZ-ihtqH28uOQ), and watch some of his videos. Most of his videos are crappie fishing, but he has several videos on bluegill fishing too.