Day 5: How to Decide Whether to Spider Rig or Vertical Jig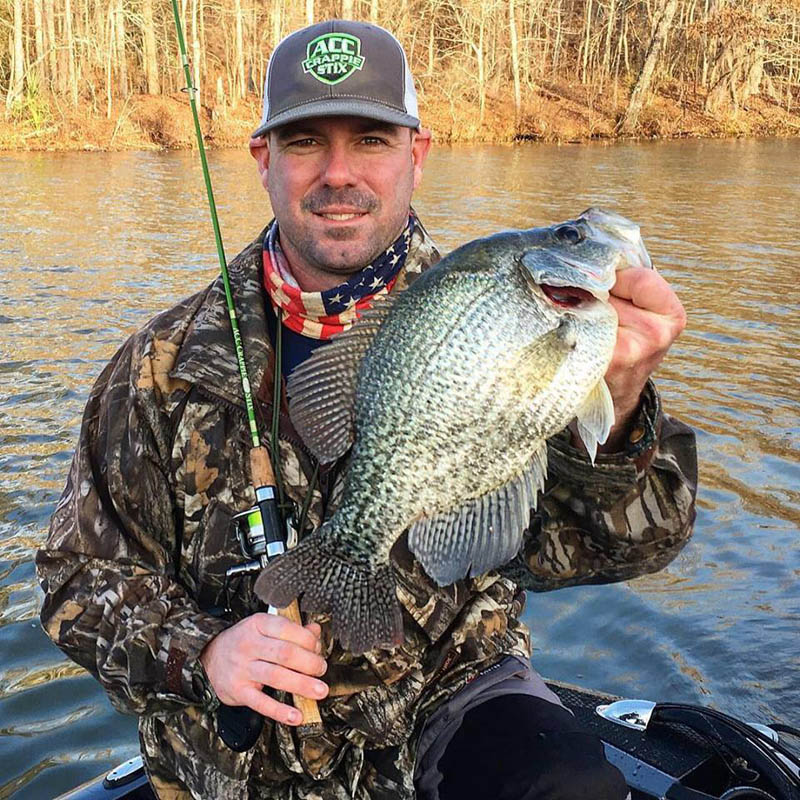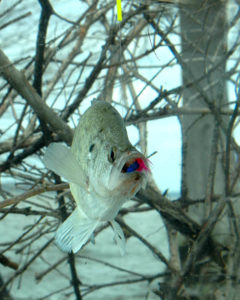 Editor's Note:  Jonathan Phillips of Wetumpka, Alabama, guides on both the Coosa and the Alabama rivers and lakes, mainly Lake Jordan near his home, and fishes crappie tournaments with his wife, Alicia, as his partner. He's the winner of one state crappie championship and has had numerous wins with top-10 finishes in state and national crappie-fishing tournaments.
As I've mentioned, I spider rig as well as vertical jig for crappie. I'm often asked how I decide which tactic to use. The easy answer to that is if I've found crappie holding on brush and stumps, then I'll generally single pole fish and vertical jig. If I learn the crappie are nomadic and are roaming in open water, I'll spider rig. At the beginning of 2018, in February, my home state of Alabama had some very-cold weather. I discovered crappie scattered out on about 100 yards of bank. To catch those scattered crappie, I spider rigged rather than vertical jigging. The crappie seemed to be moving back and forth between two big underwater trees out in the river where we were fishing. If my client and I had single pole fished, we'd only have caught a crappie every now and then. However, by spider rigging, we caught more crappie quicker, fishing back and forth on that 100 yards of bank, between the two underwater trees.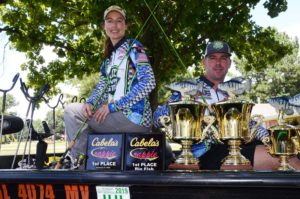 When people ask me how many poles I put out when spider rigging,  I mention that in a tournament where the regulations allow multiple poles, I may put out eight poles oi the front of my boat – four poles each for me and my partner. When I'm guiding clients, I generally only put out four poles – two for each angler, which is a much-more relaxed way to fish than attempting to keep up with four poles per person. I use 14-16 foot ACC Crappie Stix https://acccrappiestix.com/product-category/trolling-rods/. I like these poles because I know and like the owner of the company, Andy Lehman. I've had a personal relationship with Andy for the past 4 years, and he's been very receptive to my suggestions on what I'd like to see in a very-good trolling or a vertical jigging rod. The 16-foot Crappie Stix pole has quite a few of my suggestions built into the pole. The 2019 16-foot ACC Crappie Stix is the finest trolling rod ever made for crappie fishing.  I personally like the 14- or 16-foot Crappie Stix because I can  spread my rods out more and cover a larger expanse of water to fish when the crappie are scattered. I believe I can catch more crappie having a wider spread of baits with these rods than I can when I have a spread not as wide. I've also gotten accustomed to the hook set I need to use with those 16-foot Crappie Stix.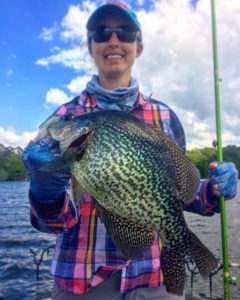 I remember when I first picked up a 16-foot pole, and I told myself, "You've got to be kidding, if you think I have to use a pole this long to catch crappie." But within two weeks, I was well-acclimated to the longer poles and understood why they helped me catch more crappie. One of the first questions I'm generally asked by anglers who don't spider rig is, "How do you get a crappie to your boat when  that fish is out there 16 feet from the boat, and you have at  least 16 feet of line on that Crappie Stix?" The simple answer is that you have to use a long-handled dip net. I like a Jenko 12-foot dip net https://jenkofishing.com/collections/landing-nets. Whether I'm using the 16-foot ACC Crappie Stix and spider rigging, or I'm fishing  the 11-foot ACC Crappie Stix and vertical jigging, if the crappie cooperate, then two customers and myself can catch three limits of crappie in a half a day of fishing.
I like to fish as close to daylight as we can get on the water for crappie, and if we're doing a full day trip, we may come off the water at 3:00 – 3:30 pm. I guide and tournament crappie fish year-round. The advantage that I have from doing this is whether I'm fishing in the cold winter months, the hot summer months, in rain, sleet and snow and/or weather so hot you almost can fry eggs on the sidewalk, I've learned to catch crappie under all types of weather, water and temperature conditions. Although we're fishing for crappie, those other fish in the rivers and lakes don't know that the baits we've put down are intended for crappie. Sometimes we'll catch catfish, bass, bream and just about any species of fish that swims in the body of water where we're fishing.
I'm often asked whether I primarily fish jigs or minnows, and I answer that, "I fish with whatever the crappie are biting." I carry everything from cow crap to collard greens with me when I'm fishing (grin). I'll have live minnows and jigs – different sizes of both – because I never know on a day what size, color or type of bait the crappie will bite on that day and every part of the day. I'll often change from minnows to jigs in the first half of the day or perhaps switch from jigs to minnows.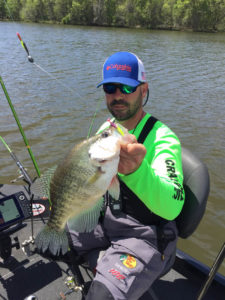 Other folks want to know whether or not I fish double hooks or single hooks on my line. Unless I'm in a tournament, I usually only fish single hooks on each pole. To simplify that answer even more, let me say that I fish double hooks in open water and single hooks when I'm fishing vertical. I enjoy people asking questions on my Facebook and Instagram sites about fishing for crappie.  If there's a question I can answer in a short video, I'll try to make a 1-2 minute video and send it to that person.
To learn more about Jonathan Phillips' crappie fishing, visit https://www.facebook.com/Team-Phillips-Guide-Service-935028296557829,  or call 334-391-9735, or email [email protected].  Go to https://www.youtube.com/channel/UCHGXqHJWGFlgveqMxu_lWjw.