Day 4: Spider Rigging for Crappie with Matt Mavigliano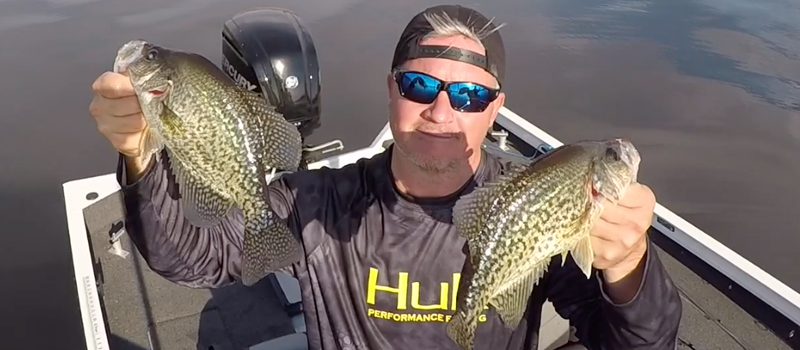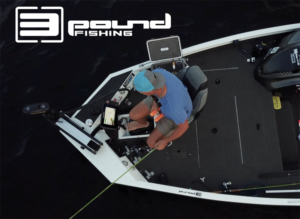 Editor's Note: ACC Crappie Stix (https://acccrappiestix.com/) Pro Matt Mavigliano from Carterville, Illinois, has fished for crappie the past 8 years and has guided for 1 year, primarily on the 2300-acre Lake of Egypt near Marion, Ill., 7,000-acre Crab Orchard Lake in the Crab Orchard NWR, 1700-acre Cedar Lake near Makanda, Ill., and Rend Lake, 18,900 acres near Benton, Ill. In 2019, Mavigliano will be fishing the Crappie Masters (www.crappiemasters.com) events at Mississippi's Lake Washington and Grenada Lake. He says, "Crappie fishing is a passion of mine. Catching a 3-pound crappie is much like trying to make a hole in one when you're golfing. We all strive to catch a 3-pound crappie, but rarely, if ever, does anyone catch a crappie that big." You can email Mavigliano at [email protected], or visit his website, http://3poundfishing.com.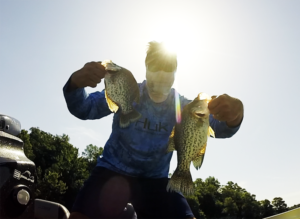 I do most of my spider-rigging when I'm tournament fishing but do spider rig for crappie on the Lake of Egypt, Cedar Lake and Rend Lake. I primarily spider rig when I'm fishing over stumps, drop-offs and different elevation changes in the bottom. When spider rigging in the spring, I'm usually running my jigs in about 4 feet of water to target crappie in about 6 feet of water, however, during the summer months, I may spider rig to fish 12-14 feet deep for crappie. The Lake of Egypt is where I do most of my spider-rig fishing, although it's more of a tournament tactic for me rather than an every-day strategy. If I'm fishing by myself or with a customer, I prefer to vertical jig, cast a jig on a tight line or cast and retrieve with a cork above the jig. Spider rigging is also a tactic I use when the bite gets tough, because you can cover more water and find more-active crappie using this tactic than you can the other three techniques I've just mentioned.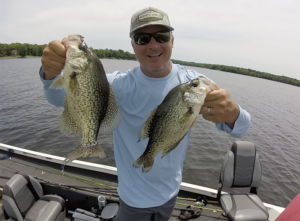 On the Lake of Egypt, we can have three rods out per person. On Crab Orchard Lake, Cedar Lake and Rend Lake, it's two per person. We put all of our poles on the front of the boat, where my partner and I are both sitting when we're spider rigging. We use Driftmaster (www.driftmaster.com) individual pole holders. We also fish with high-vis line, because we're not going to feel the bite, and we don't have a bobber to see the bite. We depend on the sensitivity of the tip on the Crappie Stix to show us when we're getting a bite. We use a 10-pound-test main line that's high-vis, and we tie on an 8-pound-test leader line going to the hook and bait. We use a No. 4 hook with single-minnow and single-jig set-ups. We don't put more than one jig or minnow on each pole, which prevents tangled lines. Then we don't have to stop fishing as often when we have only one bait per pole. We've tried double-rigging each pole (two hooks with two baits), but we've learned we waste less time when we use a single minnow or jig on our poles. Last year we started simplifying our crappie spider-rigging program to one pole with one bait.
We've also learned to be as still as possible when we're spider rigging. Our Crappie Stix are spread apart equally, and we want the tips of those rods to all be the same distance from the surface of the water. We want the same size weights on each rod, so that if we see any change in our rod tip, we'll know we've got a bite and can set the hook.
Another critical tool that we use when we're spider rigging is a Jenko Big T Crappie Net (www.jenkofishing.com), which I believe to be the best, lightest-weight net on the market. This net extends out to 12 feet, and the net and handle are very light because it's not made for landing 9-10-pound bass. I can put the net out with one hand, since it's so light and narrow. I keep it near my pedestal seat on the front of the boat, so I easily can reach it.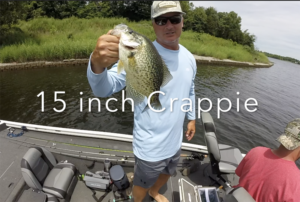 In the tournaments we fish, we're only allowed to weigh in 7 crappie. The best 7 that my partner and I have weighed in for a tournament weighed 10.60 pounds. We caught those fish on the Lake of Egypt, and we got second place in that tournament. The first-place team had 12 pounds and some change. I wasn't too sad about getting second place, because the first-place team was headed by my mentor, who taught me an awful lot about crappie fishing.
You can watch Matt Mavigliano's crappie-fishing videos on YouTube at https://www.youtube.com/channel/UCMXtGdqpAmdK6fcG8x10whg.