Day 4: How Reagan Smith Drop Shots for Wintertime Crappie at Illinois' Lake Sangchris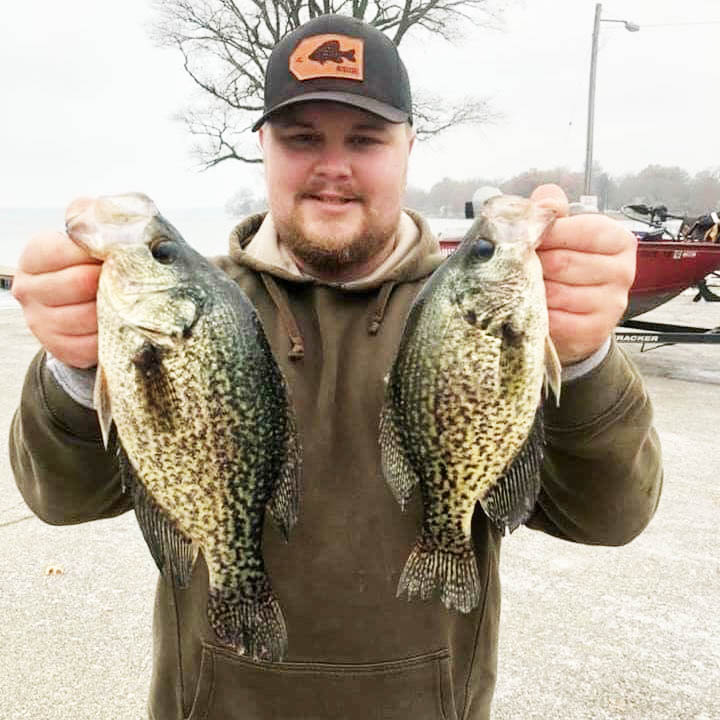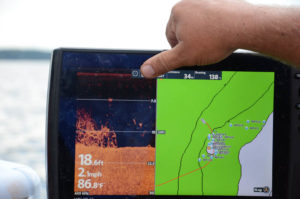 Editor's Note: Twenty-seven-year-old Reagan Smith (Reag's Guide Service) of Tremont, Illinois, says he's been crappie fishing forever, and he's been guiding crappie fishermen for the last three years. "All the lakes I fish are more or less in Central Illinois. I guide on Lake Springfield in Springfield, Illinois; Sangchris Lake near Rochester, Illinois; and Clinton Lake in Clinton, Illinois."
Lake Sangchris is also a power-plant lake, but it doesn't have as many docks as Lake Springfield does. On Lake Sangchris, I change boats because you can't use more than a 25-horsepower motor there. Lake Sangchris homes all three types of crappie – white, black and blacknosed crappie in it. At Lake Sangchris, we mainly fish brush piles. In the State of Illinois, anglers aren't permitted to put out brush piles unless they go through the state DNR. However, the state  will  certify Boy Scouts, who are working on their Eagle badges, to put-out brush piles. Or, they'll sanction crappie clubs to put out brush piles. However, no matter who you are, you must go through the DNR and get permitted to do that. Lake Sangchris also has quite a few trees that have fallen into the water. I have more than 100-brush piles marked in my GPS as waypoints in my Humminbird (www.humminbird.com) electronics.
I use a different type of rig when I'm fishing the brush piles than I do when I'm shooting docks, fishing around bridge pilings or fishing for white bass. When I'm fishing brush piles, I vertical jig with a drop-shot rig. I tie a 1/4-ounce drop-shot weight on the end of the line. About 8 inches to a foot above that weight, I'll tie on a #2 Tru-Turn (https:/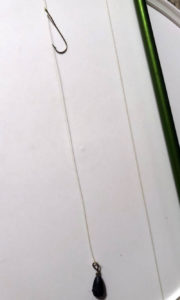 /www.ttiblakemore.com/product-category/tru-turn/) hook on the main line. Usually, I'll bait with minnows instead of plastic. Here's the advantage of rigging like this. If your hook gets hung in the brush, you can drop your rod tip, and the weight will pull the hook out of the brush. This way, we can save our minnows and catch more fish.
I decided to use this rig, because one day when I was out fishing, I saw a bass fisherman vertical jigging with a plastic swimbait. He was fishing a 20-foot-deep brush pile with a bass rod. I asked him, "Why are you vertical jigging in a brush pile?" He laughed and said, "Big bass hangout in the same brush piles where crappie live." As I watched, if his swimbait got stuck in the brush, he lowered his rod, and the swimbait on his hook would come free from the brush. I decided that technique should work really well when my clients and I were fishing in brush piles with minnows. So, I started using this drop shot method of crappie fishing, and I discovered that my clients and I got hung-up less, caught more crappie and lost fewer minnows.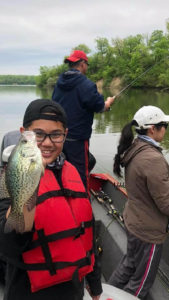 I do crappie seminars at Bass Pro Shops (www.basspro.com). Sometimes I'll have fishermen book crappie trips with me just to see how I'm rigging this drop-shot method, and to learn how they can fish in the thickest, underwater brush without getting hung-up. If the bite is strong, and we're catching a lot of crappie out of brush tops, I may put plastic on the hooks instead of minnows. However, most of the time, I'll use live minnows with this technique.
When I'm fishing with minnows on Lake Sangchris, I'll get a couple scoops of small minnows and two scoops of medium-sized minnows. Lake Sangchris has the same size limit that Lake Springfield has on crappie you can keep – 10 crappie that are 10 inches or more. In the fall of 2018, we caught and threw back a lot of crappie that were 9-7/8-inches long. So in 2019, all those crappie we threw back should be at least 10 inches or more, especially during the spring.
Fishing on Lake Sangchris is closed down during duck season. Then it opens back up when duck season ends. This system gives the crappie some rest from crappie-fishing pressure too. Although we only can keep 10 crappie at Lake Sangchris, we catch and release a lot of crappie less than 10 inches to get 10 per person. This lake characteristic is another advantage to fishing Lake Sangchris with families. The youngsters will pull in a lot of fish and stay busy catching crappie.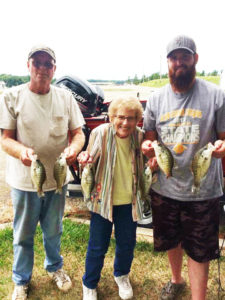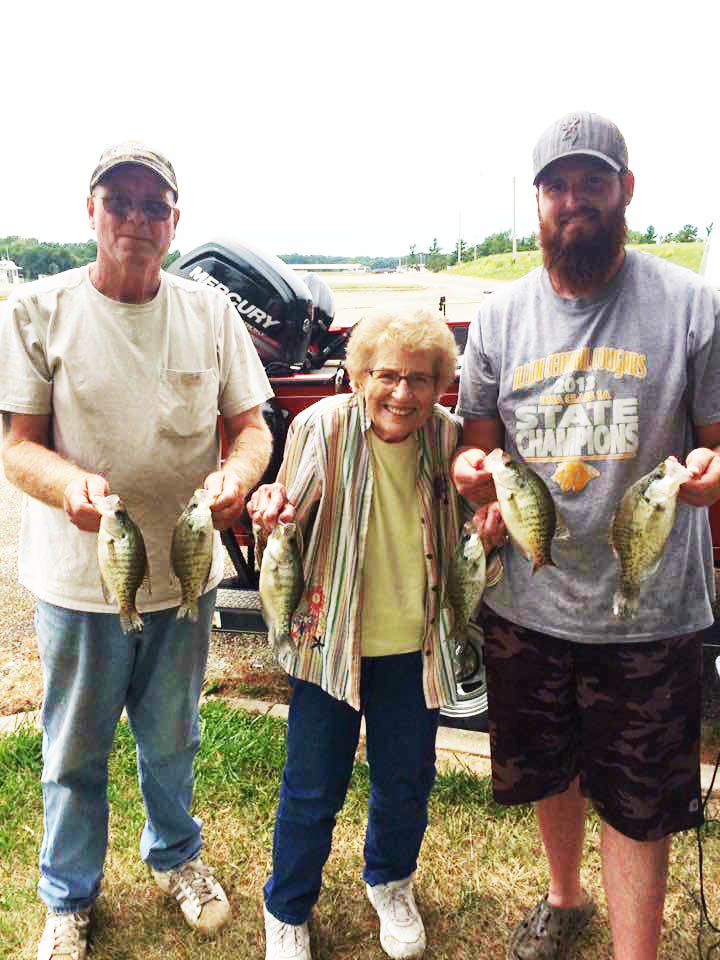 You can go to Smith's webpage www.centralilcrappieguide.com to see the fish he catches, his trip information and pictures of his clients and the crappie they catch. You can call him at 309-642-8106. He also has a Facebook page https://www.facebook.com/reagsguideservice.