Day 2: How to Fish for Crappie and White Bass in 30 Degree Water at Lake Springfield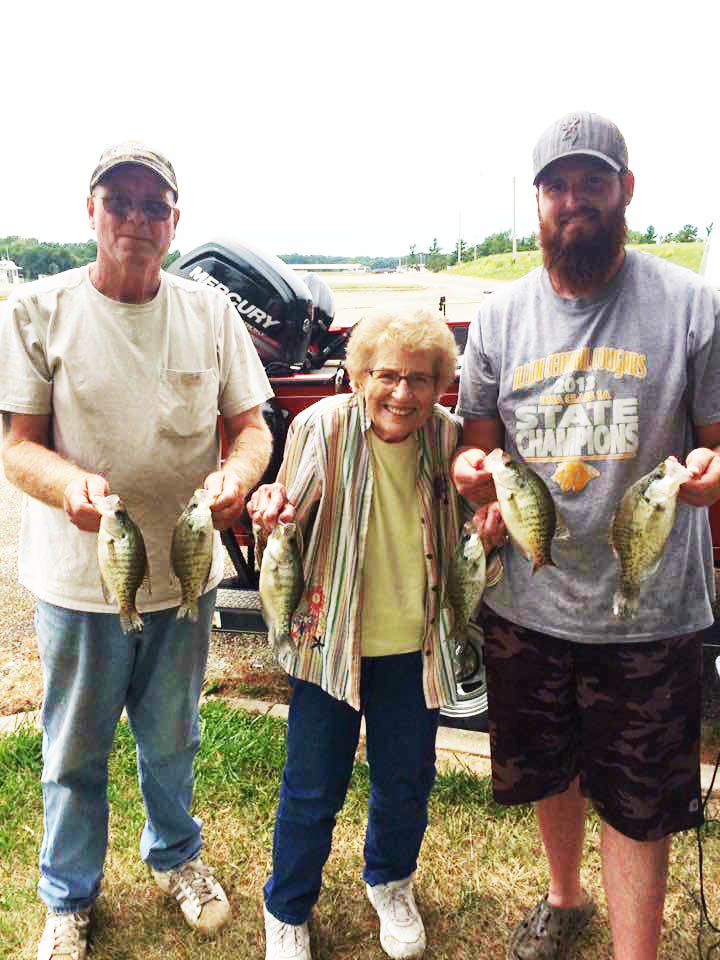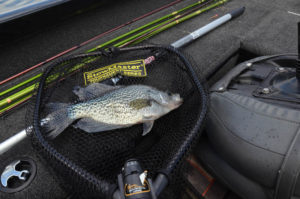 Editor's Note: Twenty-seven-year-old Reagan Smith (Reag's Guide Service) of Tremont, Illinois, says he's been crappie fishing forever, and he's been guiding crappie fishermen for the last three years. "All the lakes I fish are more or less in Central Illinois. I guide on Lake Springfield in Springfield, Illinois; Sangchris Lake near Rochester, Illinois; and Clinton Lake in Clinton, Illinois."
We'll still be shooting docks even if the water's 30 degrees. Although Lake Springfield does have brush piles like all the other lakes do, I've found the most-productive places for my clients to catch fish are around the docks and the bridges. If we can get to the bridges, I like to vertical jig with my ACC Crappie Stix rods. But to be honest, I'm very addicted to shooting docks. For me, it's a more-exciting way to catch crappie.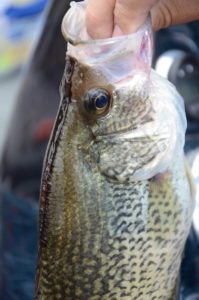 I guess I'm a teacher at heart, and I like to teach people how to shoot docks. There is a real thrill that comes to an individual when he can: hold a jig in one hand; pull back on the line; bend the rod with his/her finger holding the line in the other hand; look at the place where he wants the jig to land; release the jig; and have the rod shoot that jig to the exact spot he's wanted to hit. Then the angler can begin to slowly reel the jig in until a nice-size crappie eats it. I try to teach all my clients how to dock-shoot. But if they're having a difficult time learning, we'll put bobbers on their lines and cast into the docks with minnows or jigs under the bobbers. If we're fishing the docks with bobbers, we use the same jigs that we use when shooting docks. We like to either shoot or cast our jigs to the backs of docks, and then let the jig swing like it's on a pendulum back to the front of the dock. Some people put brush in or around their docks. But most of the docks we fish, the crappie will be holding on the pilings that support the dock.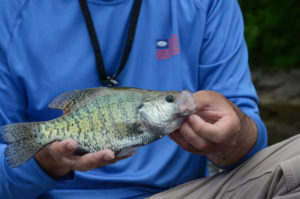 The question I'm often asked is, "When do you fish with minnows, and when do you fish with jigs?" Personally, I'd rather fish with jigs. However, if we're taking a family with some youngsters, the youngsters primarily will want to catch crappie. They don't care how big the fish are, or whether they can keep what they catch or have to throw them back. So, we may fish minnows. During the winter months, the crappie seem to prefer the smaller minnows. Most of the time, I'll mix my minnows with a scoop of Tuffies and another scoop of shiners. When we're fishing minnows, we either use slip bobbers, or I'll try to get the boat as close as I can to the pilings supporting the docks. Then my clients can vertical fish with minnows. Depending on the ages of the children, sometimes they really don't want to fish. They may prefer to play with the plastic jigs, or put the crappie in the livewell, or watch the crappie swimming in the livewell, which is fine with me. I just want them to have a good time.
I can take up to four people on a guide trip, which is my max. But most often, I'm guiding groups of two or three people. Another thing to remember is to be able to keep 10 crappie that are 10 inches or more, a person may have to catch 50 crappie to cull down to his 10 keepers.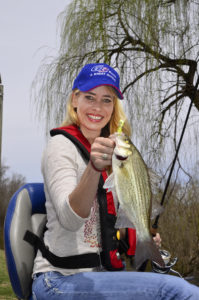 Crappie aren't all we catch on Lake Springfield. We catch numbers of white bass too from the summer months until about March. Although Lake Springfield doesn't have a limit on white bass, there is a state limit. You only can keep three white bass over 17 inches, but you can keep all the white bass you want to keep that are 17 inches or smaller. Usually I tell my clients, "I'll clean 50 white bass, unless you're having a big fish fry, and you need more than 50 for your fish fry." Some days, when I have families with children fishing with me, we may catch 300 white bass. I've had some families call me and say, "Let me know when the white bass are biting." On those days, we may catch and clean 300 white bass. As I've mentioned earlier, youngsters like bent poles. The more fish they can catch, the better they'll enjoy the trip. White bass can make an exciting day of fishing at Lake Springfield. Catching white bass is very addictive, and I've booked numbers of white bass trips. If crappie fishing is slow, and my customers want to start catching white bass, we'll switch the trip from a crappie trip to a white-bass trip, if that's what the customer wants to do.
All my clients have to do is show-up. I'll have 30 ACC Crappie Stix rods in my boat for different types of fishing. At the end of the day, I clean my customers' catches, put the meat in Ziploc bags and place them in their ice chests. Then they've got plenty of fish for several dinners or a fish fry. All they have to bring is an ice chest to put the fish in, and I ice the cleaned fish down for the trip home.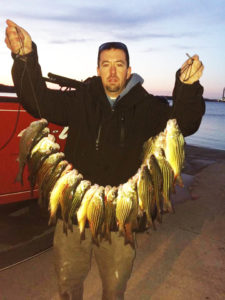 I'm often asked, "Why do you have 30 ACC Crappie Stix rods in your boat every day you fish?" I don't do any spider-rig fishing. If I'm having a white-bass fishing trip, we have from 100 to 200 white bass in the boat, and my client says, "We've got enough white bass. Let's go crappie fishing," I'll roll up my white bass rods. For crappie fishing, I'll have six poles rigged for dock shooting, six poles rigged with slip bobbers with 1/32-ounce jigs, six poles rigged with 1/16- ounce jigs and 10' and 11' ACC Crappie Stix rods for vertical jigging bridges. So, however my customers want to fish, and regardless of what type of fish they want to catch, all I have to do is reach in my rod locker and pull out the poles that are pre-rigged for that style of fishing. I don't have to waste any time rigging rods or tying on jigs.
You can go to Smith's webpage www.centralilcrappieguide.com to see the fish he catches, his trip information and pictures of his clients and the crappie they catch. You can call him at 309-642-8106. He also has a Facebook page https://www.facebook.com/reagsguideservice.