Day 1: What Equipment to Use to Catch Winter Crappie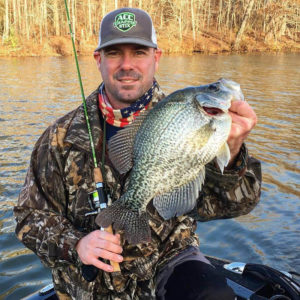 Editor's Note:  Jonathan Phillips of Wetumpka, Alabama, guides on both the Coosa and the Alabama rivers and lakes, mainly Lake Jordan near his home, and fishes crappie tournaments with his wife, Alicia, as his partner. He's the winner of one state crappie championship and has had numerous wins with top-10 finishes in state and national crappie-fishing tournaments.
I like to fish in the wintertime for crappie because that's when there's the least boat traffic, as compared to the spring, the summer or the fall. The quality of crappie is probably the best in the winter that it will be all year. I also believe that crappie taste extra delicious due to their coming from cold water. In the winter months we find crappie under normal river conditions in 18-25 foot-deep water. The wintertime crappie where I fish are holding on two different types of structure. The nomadic crappie are free schooling with the schools of shad and attacking and eating those shad. The other crappie in our region are structure-oriented.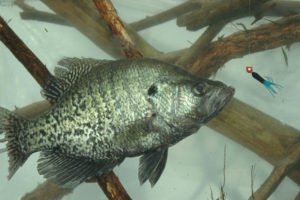 The method I'm fishing determines the size of ACC Crappie Stix I'll use. If I'm spider-rigging, also known as slow trolling, I'll use ACC Crappie Stix's 14- or 16-foot trolling rods https://acccrappiestix.com/product-category/trolling-rods/. If I'm vertical jigging for crappie, I'll  use an 11-foot ACC Crappie Stix jigging rod https://acccrappiestix.com/product-category/rods/. For vertical jigging I use 10-pound-test braided line, since I'll snatch my hook straight up from my jig. Generally that line produces a good grip on the crappie's mouth. As long as you keep tension on the line, you'll rarely lose a crappie like this. The other reason I like braided line tied  directly to the jig is that this line is much-more sensitive to a strike than monofilament line is.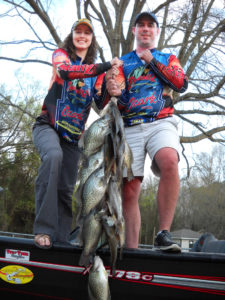 I like Shimano http://fish.shimano.com/ and Mitchell http://www.mitchellfishing.com/ spinning reels and Midsouth jigs http://www.midsouthtackle.com/. Then for vertical jigging in the wintertime, I prefer a 1/8-ounce jig head, especially in deeper water. Or, I'm fishing two jigs at a time, I'll use two, 1/16-ounce jig heads. The colors of jig bodies I fish will depend on the color of the water where I'm fishing, but coral and chartreuse are hard to beat for effective winter fishing. I like the Humminbird www.humminbird.com Helix 12 side scanner, and I use a Humminbird Helix 10 on my bow.
When you're fishing vertically for crappie, you must hold your boat right on top of the fish. Having the transducer on the trolling motor where I'm actually fishing is a major key to my ability to catch crappie. In the wintertime, we usually catch 30 crappie per person when I'm guiding clients, with those fish weighing about 1-1/2-pounds each.  On Lake Jordan, our catch will be about 99% black crappie in the winter, with an occasional white crappie that often will be  bigger  than 1-1/2-pounds. When we're fishing on the rivers around my home in the winter,  we'll generally catch about 50% white crappie  and 50% black crappie.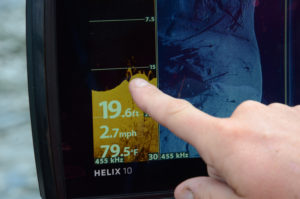 To learn more about Jonathan Phillips' crappie fishing, visit https://www.facebook.com/Team-Phillips-Guide-Service-935028296557829,  or call 334-391-9735, or email [email protected]. Go to https://www.youtube.com/channel/UCHGXqHJWGFlgveqMxu_lWjw.