Day 1: Matt Mavigliano's Crappie Equipment and Fishing His Favorite February Water – Illinois's Lake of Egypt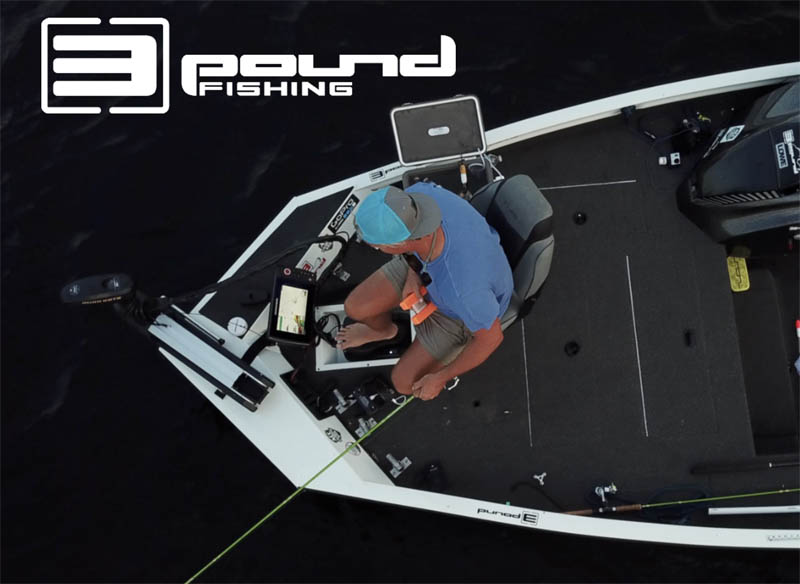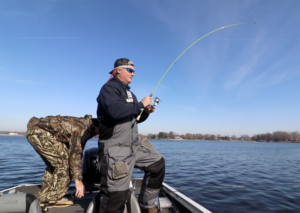 Editor's Note: ACC Crappie Stix (https://acccrappiestix.com/) Pro Matt Mavigliano from Carterville, Illinois, has fished for crappie the past 8 years and has guided for 1 year, primarily on 2300-acre Lake of Egypt near Marion, Ill., 7,000-acre Crab Orchard Lake in the Crab Orchard NWR, 1700-acre Cedar Lake near Makanda, Ill., and Rend Lake, 18,900 acres near Benton, Ill. In 2019, Mavigliano will be fishing the Crappie Masters (www.crappiemasters.com) events at Mississippi's Lake Washington and Grenada Lake. He says, "Crappie fishing is a passion of mine. Catching a 3-pound crappie is much like trying to make a hole in one when you're golfing. We all strive to catch a 3-pound crappie, but rarely, if ever, does anyone catch a crappie that big." You can email Mavigliano at [email protected], or visit his website, http://3poundfishing.com.
I catch most of my crappie vertical jigging with the lightweight 4.6 ounce 10-foot ACC Crappie Stix that feature fast tips, strong backbones and sensitivity. The 10 footers with a mid-seat are my favorite fishing poles. I position my spinning reel in the middle of the pole's grip, instead of at the end of the handle. The main reason I position my reel in the middle of my grip is because that's where I've always placed my reel, I've grown accustomed to that position, and I feel I can jig and cast better with my Crappie Stix with the reel in that position.
I fish with both minnows and jigs every day. I start out fishing with both types of baits. I'll have one Crappie Stix rod baited with a single minnow and a second rod rigged with a single jig. I let the crappie tell me which bait they prefer on that day of fishing. If the bite becomes tough, I generally fish minnows primarily. If the crappie are biting aggressively, I'll use jigs. I've been very surprised that on most days, jigs will get as many bites as minnows will.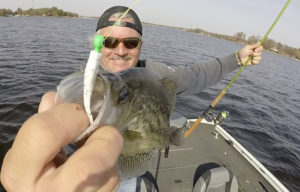 I know many people tip their jigs with minnows, but I usually don't. I will tip my jigs, however, with Berkley's Crappie Nibbles (http://www.berkley-fishing.com/berkley-bait-dough-berkley-powerbait/powerbait-crappie-nibbles/1285453.html) that spread a scent cloud or some other type of scent. I use a wide variety of jigs, including Crappie Monster (https://crappiemonster.com/), Jenko (https://jenkofishing.com/) and Garland http://www.bobbygarlandcrappie.com/). I like the baby-shad jig shape in the 2-inch size. If I'm casting and retrieving, I prefer the curly-tail jig in the 2-3 inch size. I use 6-pound-test line and no more than 8-pound-test line when I vertical jig. When I'm casting, my line size will be 6-pound test. If I'm spider rigging, I use a 10-pound main line with an 8-pound-test leader.
My favorite lake is the Lake of Egypt, which homes fantastic-sized crappie. The lake is a power-plant lake that's located in Marion, Illinois. This lake has lots of shad that are active all year. The lake never freezes over, allowing the crappie to feed heavily there throughout the year. I don't catch very-many small crappie on the Lake of Egypt. All the lakes I fish have plenty of crappie in them, but the Lake of Egypt seems to have the biggest crappie. I don't catch many 9-inch crappie on this lake. An 11-inch crappie on the Lake of Egypt is the average size we catch and keep. However, you'll pull numbers of 12-inch crappie too from this lake that contains an abundance of brush and stumps. We also fish the underwater humps there and the drop-offs all the way around the humps. We target-fish the dozer piles too. When the lake was created, bulldozers pushed up piles of limbs and an occasional tree. Many of the lake's humps and dozer piles will have grass on them.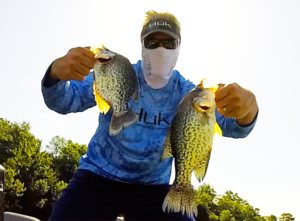 To find the structure at the Lake of Egypt, I use a Humminbird Helix 10 SI unit (https://humminbird.johnsonoutdoors.com/fish-finders/). If I don't catch a crappie off that structure in 15 minutes, I'll move to another structure. During February, the crappie will be very shallow at the Lake of Egypt. Since this lake is a power-plant lake, I target the coves into which the wind is blowing. The wind pushes the shad into those coves, and where you pinpoint shad, you'll generally find crappie.
We'll fish off the back of my boat. Whether we're fishing jigs with tight lines or with corks, we'll only fish about 4-feet below the surface. Most of the time we'll throw 1/16-ounce jigs under corks and use a baby-shad-type soft-plastic body. I never fish minnows on the Lake of Egypt during the winter months, because we rarely if ever need to fish a minnow then to be successful. If I see fish on my Humminbird depth finder, and we're not catching them, I'll switch from the baby-shad shape to a curly-tail grub and use a very-slow retrieve. If we're still not catching crappie, I'll change the size of the curly tails to give a smaller presentation to see if we can get the crappie to bite.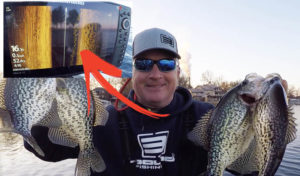 Usually we limit out on crappie in a day at the Lake of Egypt during the winter months. The secret to success there is to fish on the days when the wind blows from the same direction into certain coves, and the crappie numbers tend to build-up in those coves. Without a good wind, I use my side-imaging Humminbird to identify the crappie, since the schools of crappie will be scattered then and not holding tight in the coves. The schools generally will be more shallow than at other times when the wind's blowing into the coves. The crappie you catch on the days without wind may be smaller. That's when I'll start off searching for crappie on points. The colors of jigs we fish will be gumdrop, blue grass and patriot.
You can watch Matt Mavigliano's crappie-fishing videos on YouTube at https://www.youtube.com/channel/UCMXtGdqpAmdK6fcG8x10whg.