Day 1: How Reagan Smith Crappie Fishes at Illinois' Lake Springfield in February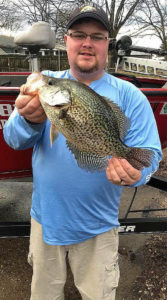 Editor's Note: Twenty-seven-year-old Reagan Smith (Reag's Guide Service)  of Tremont, Illinois, says he's been crappie fishing forever, and he's been guiding crappie fishermen for the last three years. "All the lakes I fish are more or less in Central Illinois. I guide on Lake Springfield in Springfield, Illinois; Sangchris Lake near Rochester, Illinois; and Clinton Lake in Clinton, Illinois."
All three of the lakes I fish are power-plant lakes. During the winter months, you'll have a hard time finding any lakes other than power-plant lakes that aren't iced-over in our section of the country. When the power plants generate electricity, the water coming out of those plants is warm enough to keep part of the lake or all of the lake from freezing. Also, the crappie, other fish and bait fish in the lake prefer to hold in that warm water, especially in February. We really have some fantastic crappie fishing then, not only in Lake Springfield, but also in the other two lakes I fish.
My favorite technique to use for crappie on Lake Springfield is shooting docks. I can shoot docks from where the water comes out of the power plant all the way down the bank, until the lake starts icing-up. Sometimes I'll be fishing 60-degree water, and farther down the lake I may be fishing in 34-degree water. There are brush piles in Lake Springfield, but I've found that we usually catch bigger crappie on the docks nearer the power plant.
We fish with ACC Crappie Stix https://acccrappiestix.com rods. My clients usually prefer to shoot the docks with the 5'6" Crappie Stix rods, but I like the 7'6" split grip. We use six-pound test Crappie Maxx monofilament line, Bass pro Series and Pflueger President (http://www.pfluegerfishing.com/) spinning reels. We usually shoot 1/32-ounce crappie jigs. I make minnow-head style lead-headed jigs. I not only make the 1/32-ounce, but I also make 1/16-ounce jigs. We use the smaller jigs when we want the jigs to fall slowly, and we use the 1/16-ounce jigs when we want a faster fall. I fish the 1-1/2-inch long Charlie Brewer Slider Crappie/Panfish Grubs  (https://www.sliderfishing.com) with the chartreuse or the funky monkey tail colors. Both these soft plastics are paddle-tail style grubs.
We catch three different kinds of crappie at Lake Springfield – primarily, black crappie, white crappie and the blacknosed crappie.  In Lake Springfield, we can only keep crappie that are 10 inches or longer. One of the advantages I have on Lake Springfield is that I'm the only crappie guide there. In Illinois, catching a 2-pound crappie is a really big deal. From November, 2018, until the first of February, 2019, we've caught seven crappie that weighed 2-pounds each or more there – one white crappie and the other six blacknosed crappie.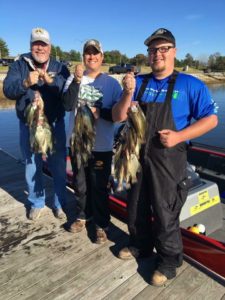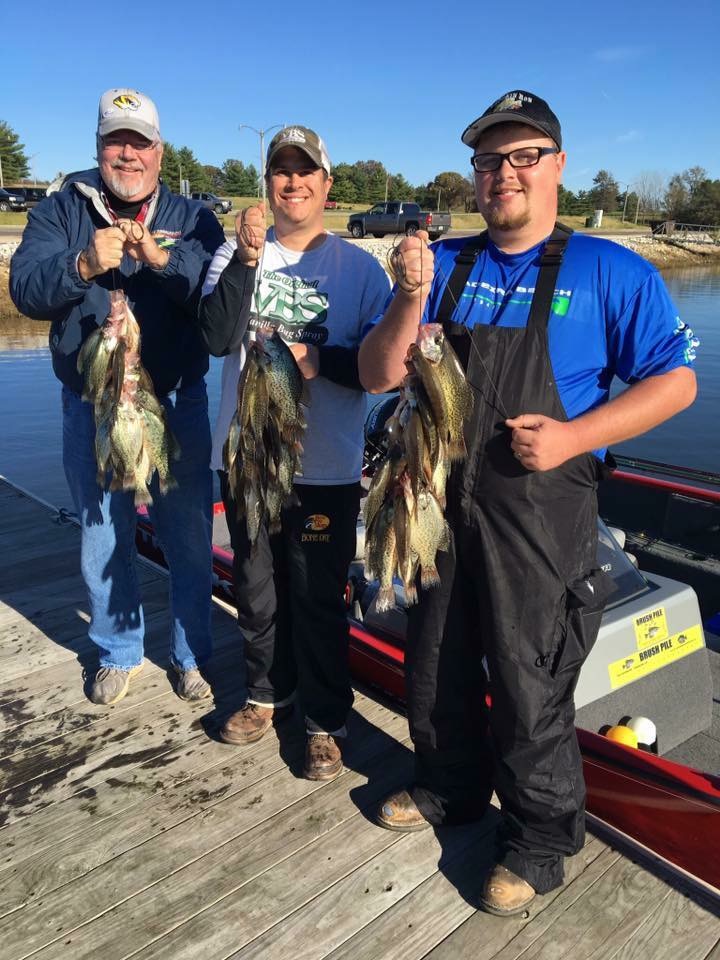 I think the ACC Crappie Stix rods give my clients and myself not only the best chance to hook a crappie but also the best way to put a big crappie in the boat. I explain it this way. "If you take the tip off the best crappie rod made and marry it to the best bass rod made, you'll have an ACC Crappie Stix rod." I explain how these rods work this way by saying, "If you put a 2-pound weight on the end of your line, the tip is so sensitive you can feel the crappie almost breathe on the line. However, when you set the hook, the Crappie Stix rods have the backbone in them to not only allow you to get a good, hard hook set but also to pull that 2-pound crappie all the way from deep water into the boat without stopping."
Our limit on Lake Springfield is 10 crappie over 10-inches each. If I have two customers fishing with me, we can keep 30 crappie. If I have good dock shooters fishing with me, we may be able to get that limit in 2 hours. If two anglers who never have shot docks before are fishing with me, it will take us a little bit longer to limit out.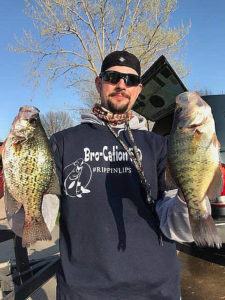 You can go to Smith's webpage www.centralilcrappieguide.com to see the fish he catches, his trip information and pictures of his clients and the crappie they catch. You can call him at 309-642-8106. He also has a Facebook page https://www.facebook.com/reagsguideservice.