Do you miss your wife or the dog?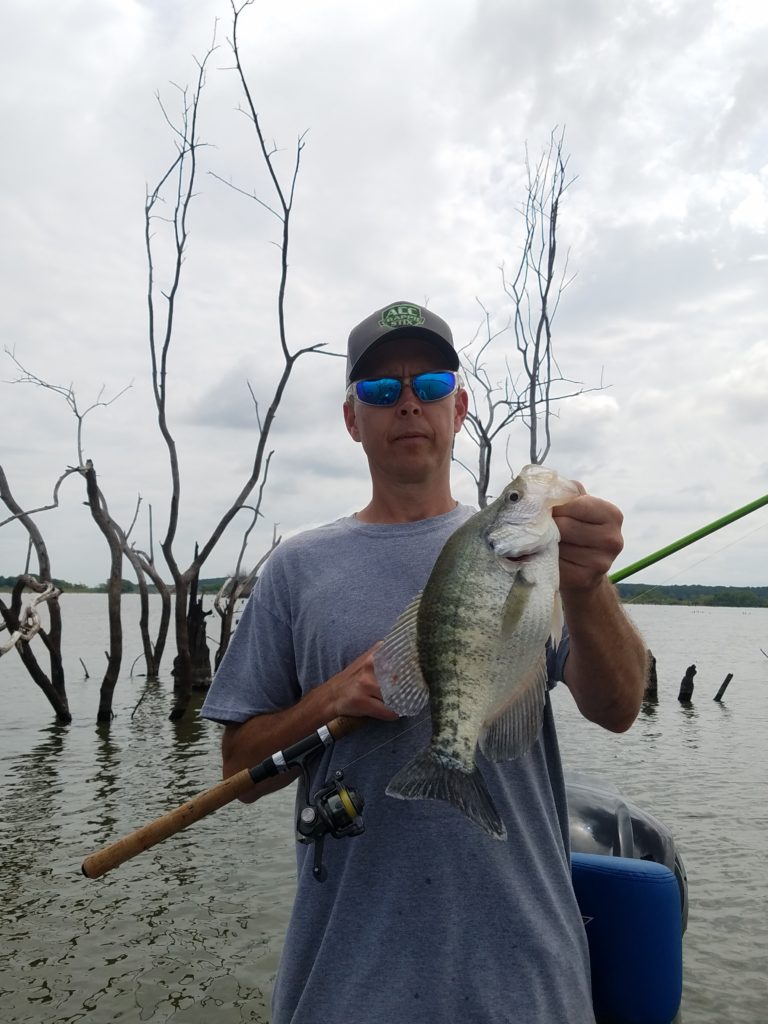 You like fishing wood? Well ya better get to Truman lake in Clinton Missouri. They have plenty to spare. You can run at 325 mph for 2 and a half days and still only cover 1/60th of the lake.
It will drive you nuts trying to figure where to start. You just have to put the trolling motor down and start jigging fence rows. You can do it!
Just got back from a 3 day fishing trip with a couple of my good buddies and had a great time and caught lots of Monster Crappie. Fishing was actually a little slow before we arrived and picked up substantially after we left (that's hard to believe) but we still hammered down and got to feel the THUMP! We tried jigs, jigs tipped with minnows and straight minnow rigs. The minnows with a split shot 6″ above did better by far than any other rig. This time of year those fish have sooooo much food to choose from they generally don't have to eat plastic to make it through the day. We fished brush piles some and fished stump rows most of the time. We fished some of the mid lake stuff and caught lots of good eater sized fish then we went to the upper end to hog hunt. Big fish are always in the upper end of a lake due to more stained water and more stumps, cover etc. Anyway, we had a blast but I still get homesick. I hate that part of fishing trips. You enjoy the company of your good friends but start missing the wife, kids and Hank (yes I miss my dog when I'm away from home) and try to keep the guilt of being away from business and family from seeping in too deep. I did manage to get the rods in Bucksaw marina so it was a worthwhile trip.
I got the privilege of fishing with a very knowledgeable local that also guides out of Bucksaw Marina. His name is Josh Jackson and he is one cool dude. No arrogance, very patient and truly understands the lake. He has been catching limits on a daily basis and loves to take kids of all ages from 5 to 95. I'm glad I got to make the trip as it is great to get to get away and get to know the pro staff guys on a personal level. We teamed up and made a good choice with Josh. He knows how to find the fish in the miles of trees and loves to use the Winn Grips on the 10′ jigging rods to do so.                                                                                                                                                                                                                                                                                             So how do you guys deal with being away from your family while chasing Crappies? I don't go out of town too many times but when I do I still feel kind of bad about it. I don't think I could justify chasing the tournament trail for too long. I know there is nothing wrong with enjoying the great outdoors and it is something that we should take advantage of but it's still difficult to balance business, family and pleasure. I guess I am lucky, I have some friends that aren't allowed to do anything they enjoy. That's called prison and kids don't marry a girl or guy that won't allow you the freedom to follow your passion as long as it is within reason. There's been a lot of tournament guys especially in the Bass world that have lost everything over a shiny fish. Don't be that guy. Keep a good balance, enjoy the outdoors and take care of your family. Hell, take your family fishing! What a great way to enjoy a day on the water with no guilt at all. My wife isn't a huge fisherwoman due to the fact that she doesn't fish at all. She will catch some rays and read a book and that is good enough for me. The kids are getting older and entirely to cool to hang out on the lake with me but that's fine I don't have to provide shelter or food do I? The best thing you can do is a get a fishing dog. No one loves you more than a dog that loves to fish. Anyway, time to go and as always we love your feedback at [email protected] and be good out there and take those kids fishing (while they still like you). See ya, Andy Lehman.