Team Phillips. An Introduction.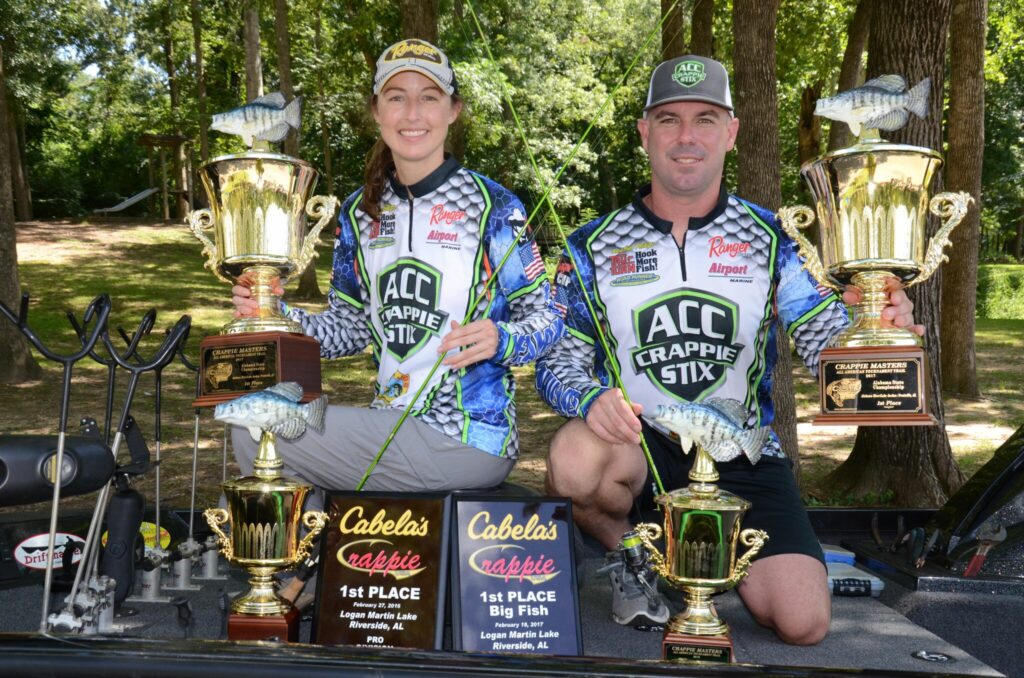 If you have remotely followed the Crappie Masters or Crappie USA, you have heard of these two; Jonathan and Alicia Phillips. They also help out in a huge capacity to run the Central Alabama Crappie Club, a trail designed to teach anyone who wants to learn how to become better at Crappie fishing. As a married couple, they love to travel and enjoy all that quality time together. As a fishing team, they are always a threat to be in the top 10 and generally in the top 5. They show up at a tournament to win and win they definitely do on more than one occasion. In fact they have amassed 13 top 10, 9 top male/female, 3 big fish wins, 4 first place victories, 3 top 10 State Championships, 1 top 10 National Championship, 1 Central Alabama Club Championship and 1 Alabama State Championship and a few he couldn't remember. So needless to say they have figured out how to produce during tournament time.
These 2 call Alabama home and the Alabama River is where they honed their skills. This river system is a very diverse fishery that holds lot of secrets and allows for many different techniques to deliver on huge White and Black Crappies. Jonathan and Alicia are very proficient at Trolling, long lining, vertical jigging and using a cork and minnow (yes there is an art to that too). In order to succeed at tournaments you generally can not be a one trick pony. Jonathan began fishing on the Alabama River with his Father and if you would ask all the greats I would guess that this is a similar situation. Learning anything at a young age definitely gives an advantage. However you are still never too old to learn how to Crappie fish.
Jonathan remembers using cane poles with his Father and eventually buying his own stick steer boat. He would drag heavier jigs along the bottom, get hung up and toss a marker buoy over. This is a far stretch from the electronics he uses today. I think it helps to start from humble beginnings as you will learn to master the basics. It's amazing how far Crappie fishing has came in the last 10 years. I wonder where it will be in 10 more?
Alicia is an Environmental Biologist and Jonathan is Captain at the Fire Station. Jonathan also has a hugely successful Guide Service on the Alabama River called "Team Phillips Guide Service". If you want to learn how to fish and navigate a great Crappie fishery, give him a call at 334.391.9735.
Jonathan and Alicia love to fish and win trophies as a couple but what they truly love is to get in the boat with Wyatt their young boy that keeps them hoppin'. Wyatt will be a force to be reckoned with in the coming years as he is already learning the ins and outs of putting big Crappie in the boat. Keep an eye on this family cause they are far from done. Follow Facebook at "Team Phillips Guide Service" and Instagram at "teamphillipsguideservice" Feel free to approach them on the water or at a tournament with any questions you may have. They are super friendly and love to teach others about the great sport of Crappie fishing. Folks, thanks for reading and stay tuned as this is just an introduction to one of the best fishing teams on the water. There will be a part 2 that will cover tournament secrets and  what to do when the bite is tough.
Be good out there and take those kiddos fishing!
Oh and follow us on Instagram at ACC_Crappie_Stix. Sign up for our cool newsletter right here on this website. You will get cool info like on this blog. Thanks again and I will stop now.